21st Century Ukrainian Society and Fonts
30 May, 2023 · Yevgen Sadko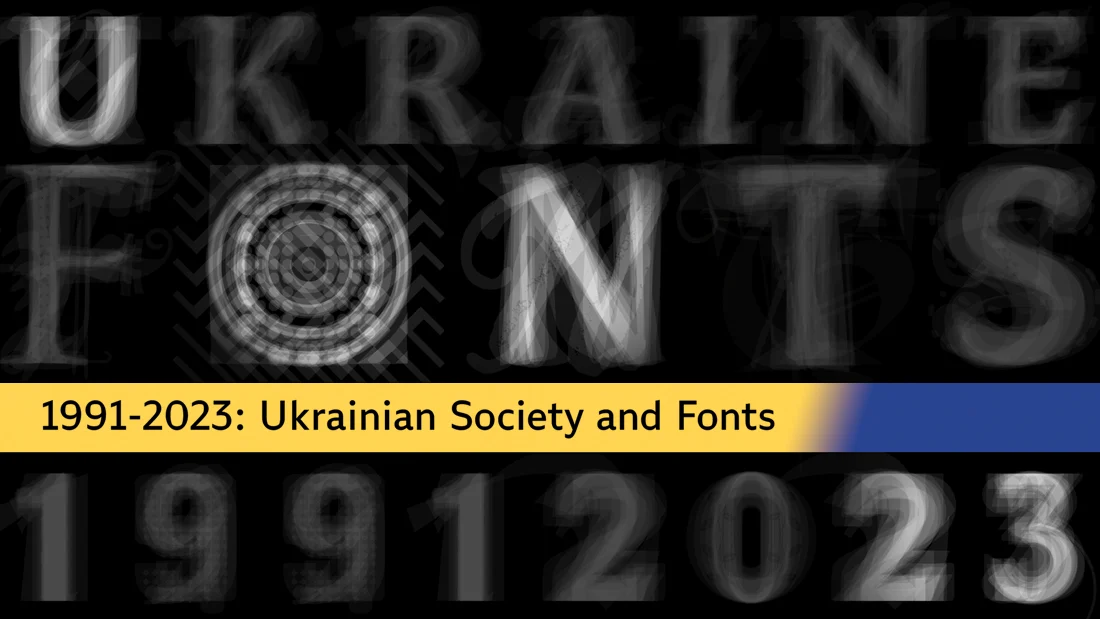 This is a corrected text version of Yevgen Sadko's speech at ATypI Paris 2023. A look at Ukrainian society as two groups: font users and font designers. Description of changes in attitude to fonts of these groups in four periods: 1991-2005 (post-Soviet time), 2005-2014 (awareness of independence), 2014-2022 (hybrid war), 2022-2023 (full-scale war).
Introduction
Hello, I'm Yevgen Sadko from Kharkiv, Ukraine. I am delighted to speak to professional typographers. I rarely do this, more often I talk about fonts to a less prepared audience. I am sure that in Ukraine the topic of fonts should go beyond the information bubble of designers. And the topic of Ukrainian fonts should go beyond Ukraine.
The most common metaphors for fonts are clothes for information and voice of information. These are good comparisons, but not accurate. Because all the people distinguish clothes and voices and use them confidently. This is not the case with fonts. So I use a psychological metaphor to describe design, where color, form, composition are conscious, and fonts are unconscious. Fonts in design are like unconscious motives in human behavior.
My review of the history of independent Ukraine through the prism of fonts, their authors and their users will be a journey from the unconscious to the conscious. From automatic passive perception to conscious expression.
Realizing the history of one's people is in a strange way similar to how a person becomes interested in design. At some point, you discover the importance of fonts, their history, the history of printing, writing, and language. Under russian occupation, Ukrainians were forbidden to use their own language, with over 50 legal prohibitions passed at different times. We also were forced to use the imperial version of Cyrillic.
In 1991, after the fall of the USSR and the advent of the digital font era, we were able to develop our own fonts for the first time on the basis of market competition, but there was one problem. Due to the centralized nature of the Evil Empire, Moscow inherited most of the font base of the Soviet Union. This former center continued to attract people and resources out of habit. Therefore, the independent development of Ukrainian fonts and competition with Moscow for the Cyrillic market began with the most unequal conditions.
1991-2005: Post-Soviet Ukraine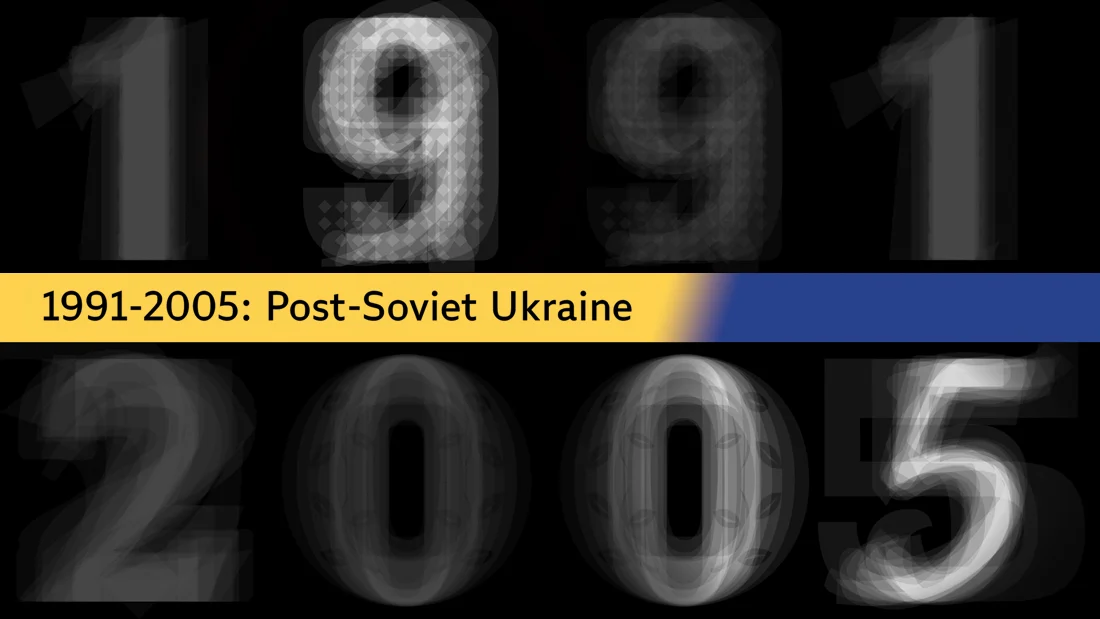 After the restoration of independence, there was actually no graphic design in Ukraine, as well as in other former Soviet republics. Yes, there was no design in the USSR.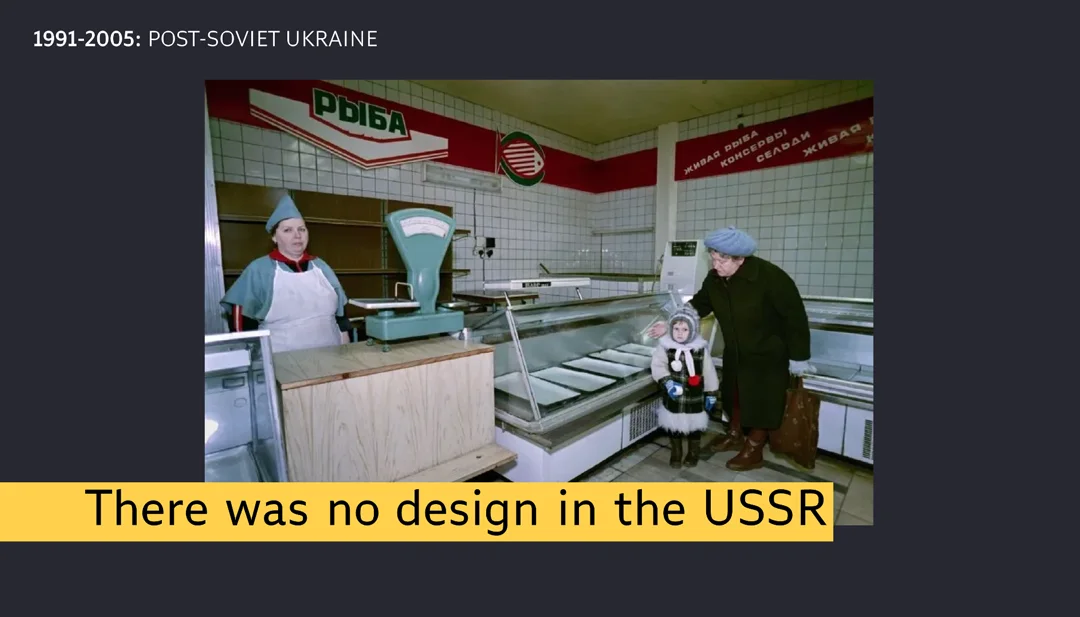 There can be no design in a planned economy without competition. There was no branding, no advertising in the prison of nations. Soviet design, or rather imitation of design, did not compete for the attention of the viewer or buyer. A good product was the one that just existed, a bad product was the one that didn't.
Ukraine's similarity to russia in everyday design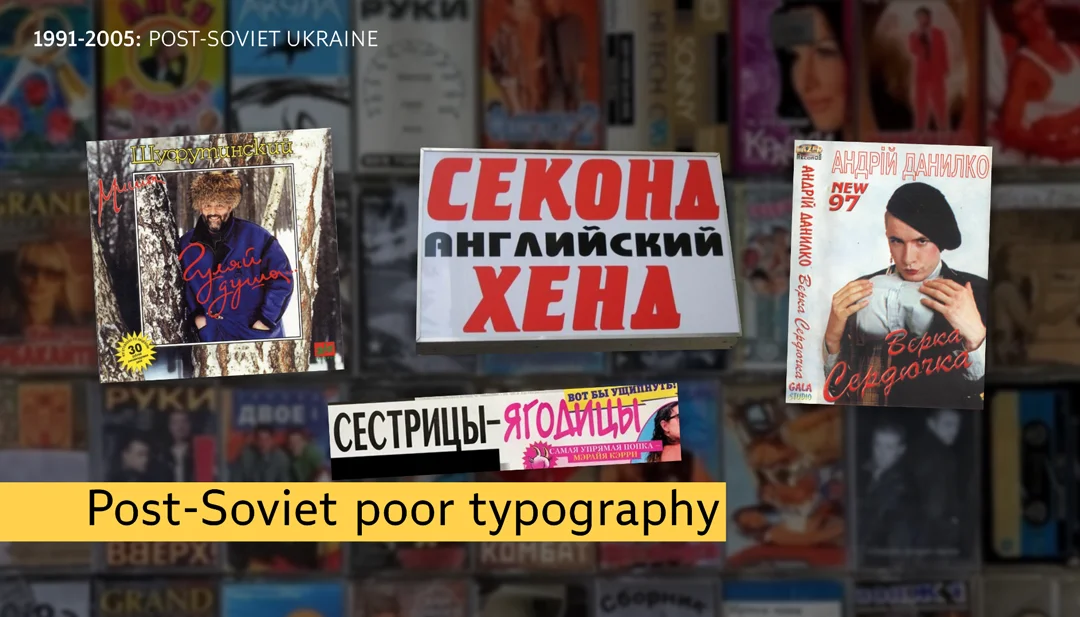 Due to a lack of understanding of design, post-Soviet people were surrounded by poor quality typography. Fonts were something deeply unknown to them and were perceived as a part of the computer. And all the computers, advertising, design, were perceived as something foreign, from a new and unfamiliar capitalist world. This shaped people's alienation from fonts.
The font choice was usually quick or playful.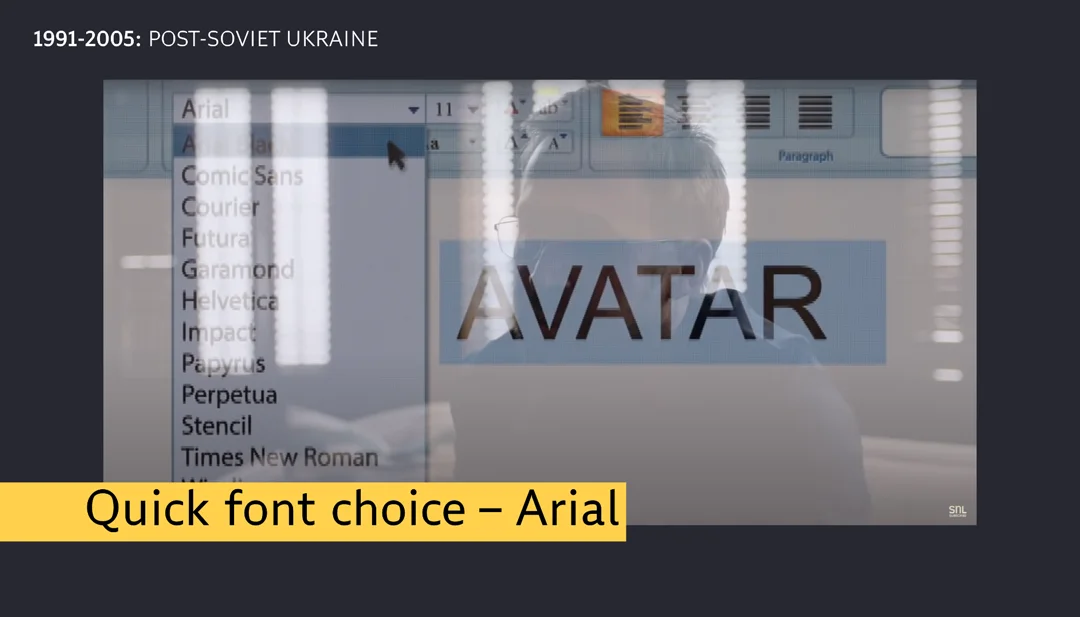 No time to choose. Pick Arial – the first font on the list!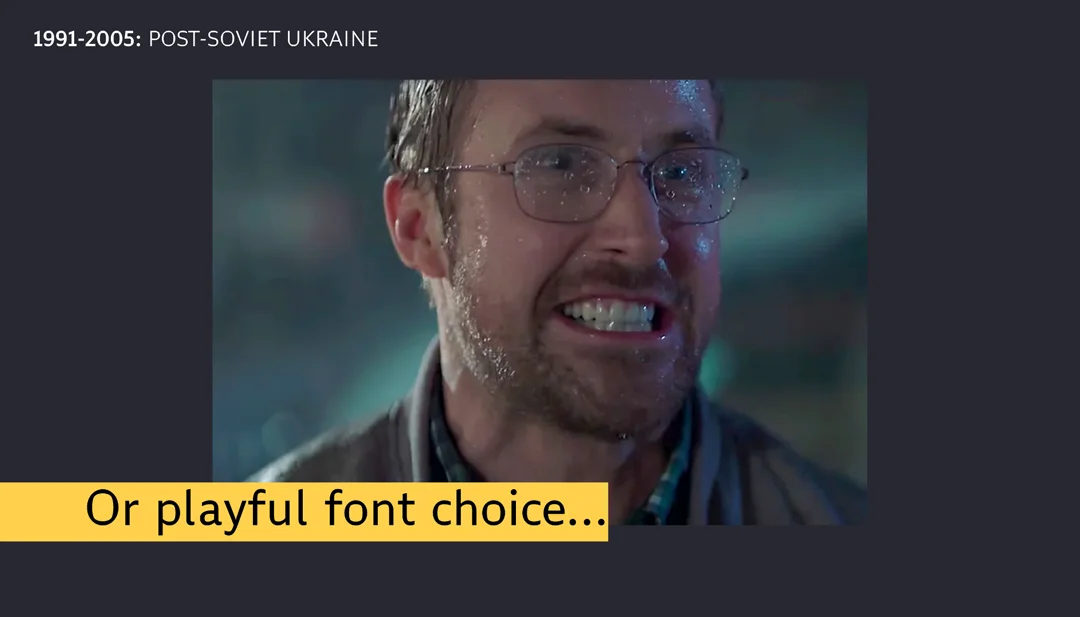 Or be like a thoughtless child, just wandering by a garden, yanking leaves along the way =)
All fonts are pirated, if Cyrillic, it's from russia
Of course, we had people who understood design, there was some education, people read foreign books, but even if they had an idea of what kind of font was needed for a particular design task, Ukrainians had an additional problem – the lack of Cyrillic fonts.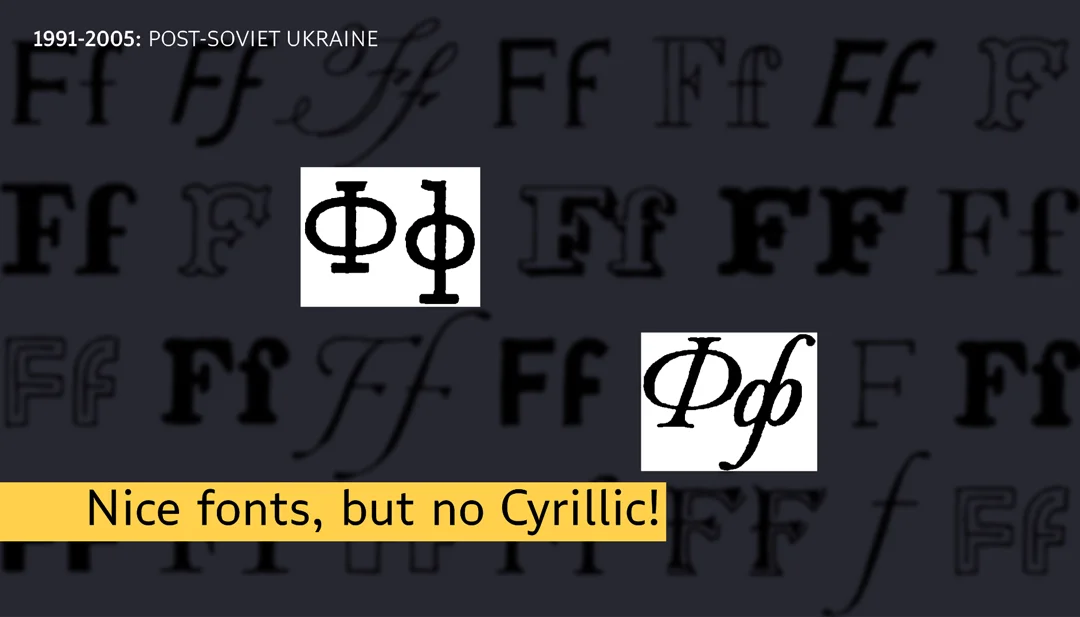 The available Cyrillic fonts were usually made in russia, for the mentioned imperial reasons. There was almost no opportunity to buy licensed fonts. They were bought on pirated CDs, just like music, games, and movies.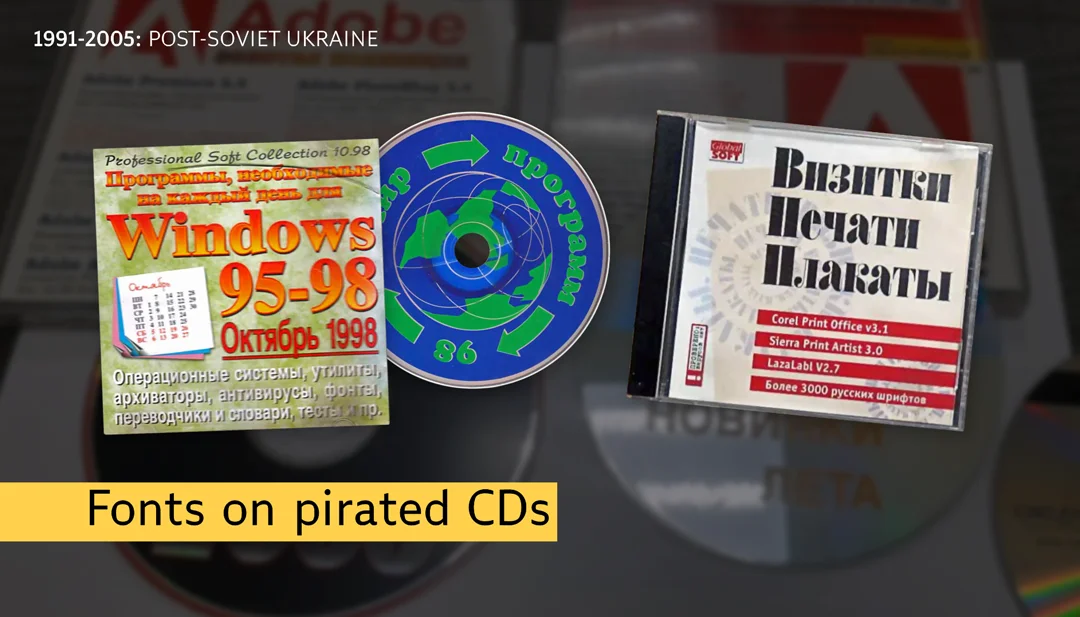 And even if there had been an opportunity, no one would have bought fonts anyway, because people had no understanding of the concept of intellectual property. The Soviet ideology, which despised intellectual work, distorted our mindset.
Few Ukrainian authors and Ukrainian fonts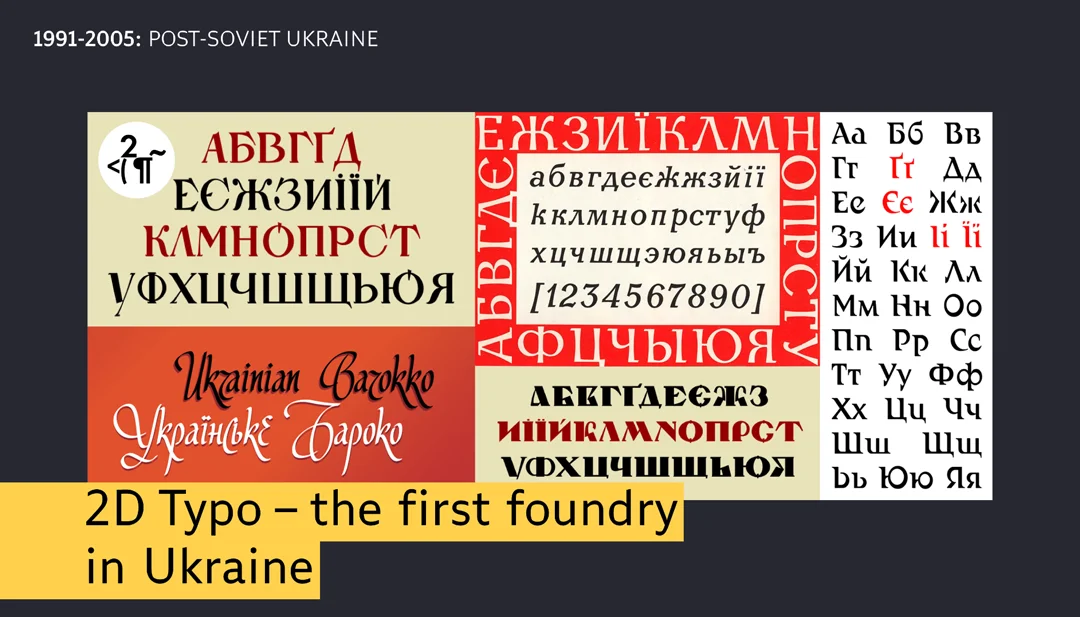 During this period, there was only one type foundry in Ukraine, 2D Typo. It produced original fonts, often in a historical Ukrainian style, such as calligraphic font Ukrainian Baroque and digital revivals of fonts by Heorhiy Narbut, Heorhiy Yakutovych, Mark Kirnarsky, Vasyl Khomenko.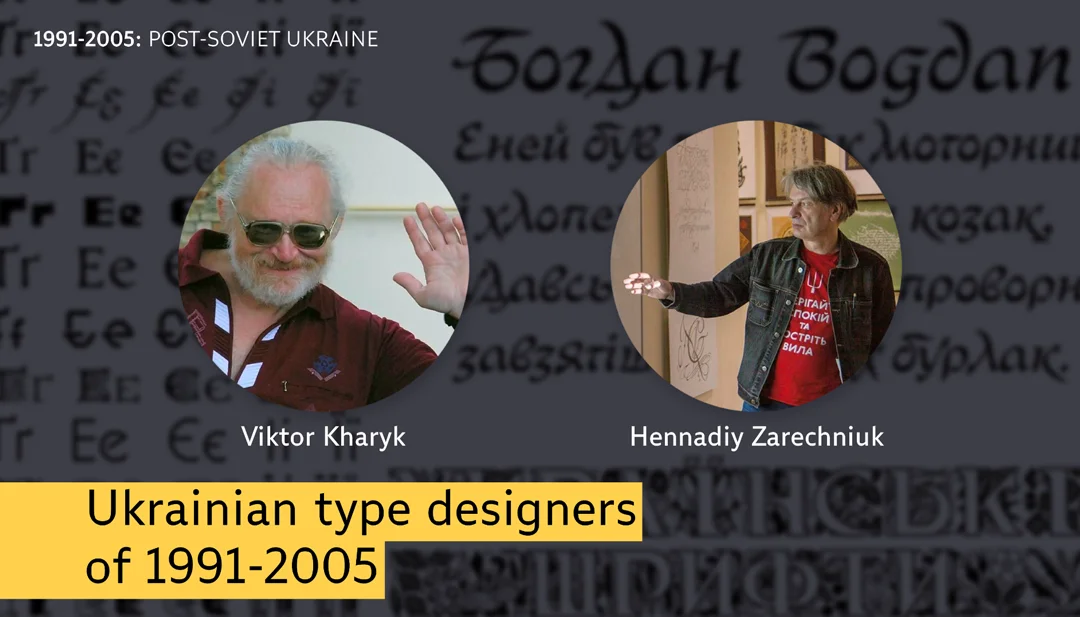 The number of type designers was measured in units, the most famous was: Viktor Kharyk and Hennadiy Zarechniuk. Thus, in the period from 1991–2005, fonts for ordinary Ukrainian users were an unconscious part of an uncertain profession.
2005-2014: Awareness of Independence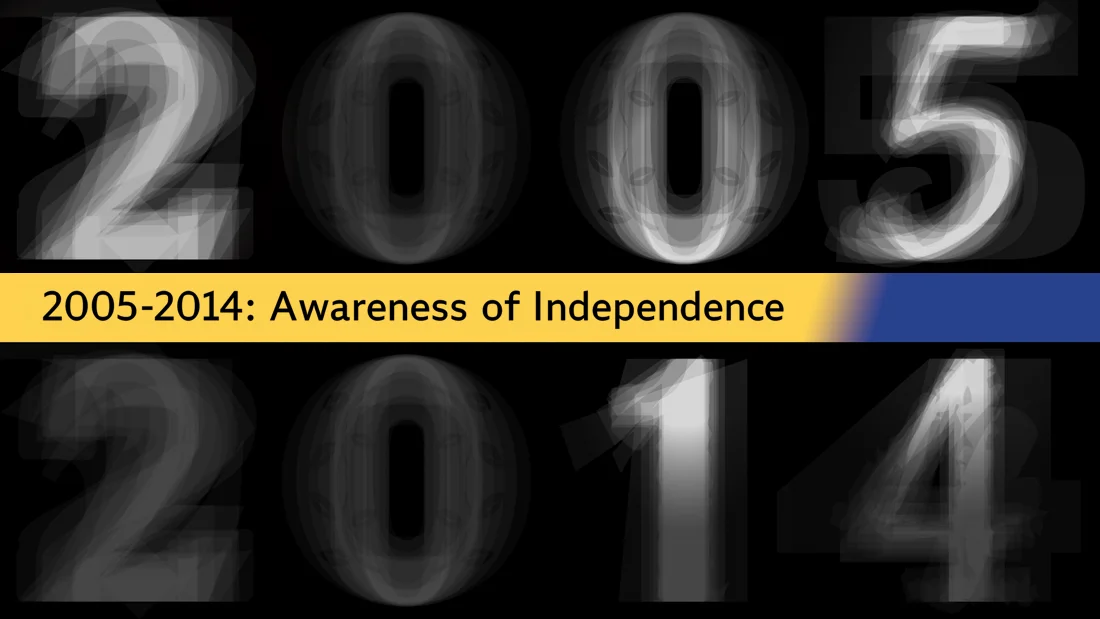 The next period begins with the Orange Revolution of 2004–2005.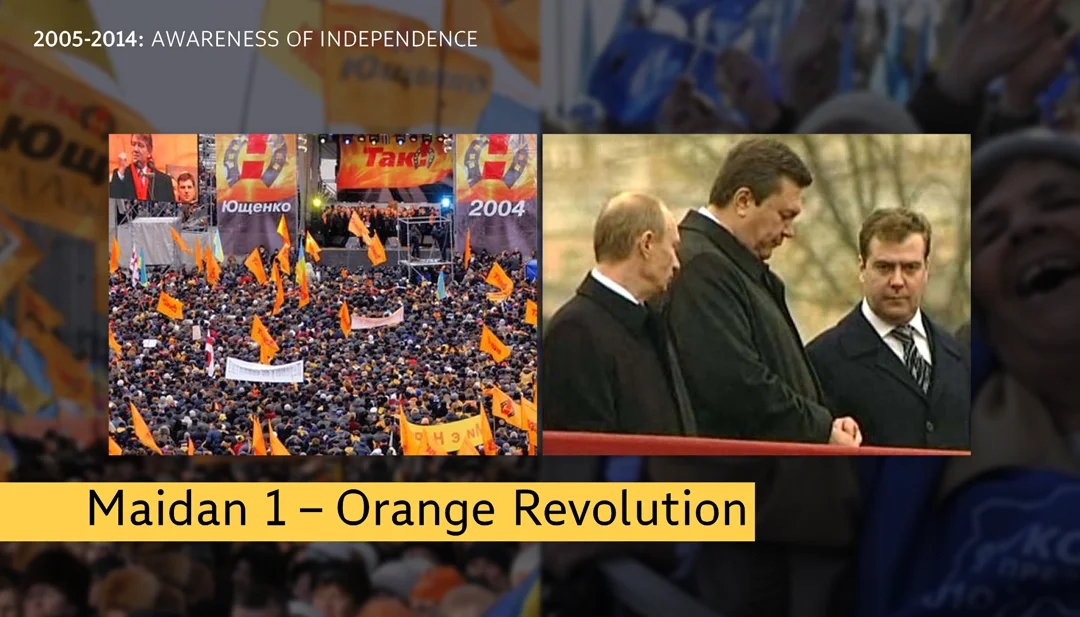 Putin's puppet Yanukovych wanted to seize power by falsifying elections. The people's victory over this Kremlin candidate, gave rise to the development of Ukrainian civil society. The passive post-Soviet population began to realize its independence and transform into a political nation.
The Orange Revolution and trendy humanist sans serifs
And for me, as a designer, the Orange Revolution was the beginning of a conscious attitude to design. Political agitation was very massive. Opposing political platforms worked with professionals, so they had a clear branding. Different colors, different compositions, and finally, different, consciously chosen fonts.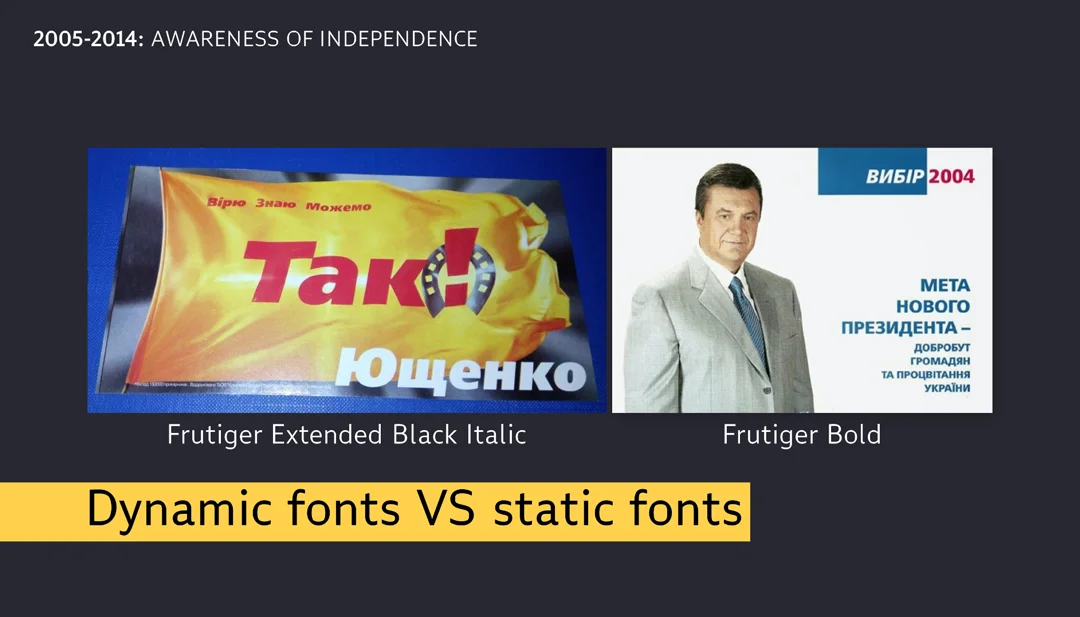 The orange camp called on citizens to be engaged, to act for the sake of the future. And the pro-Russian white and blue camp was looking for supporters of the Soviet model of governance. In terms of fonts, the first Maidan was a triumph for Frutiger typeface. Protests were symbolized by expanded bold style, even slanted for extra dynamic. While their opponents used the upright style of Frutiger, for stability.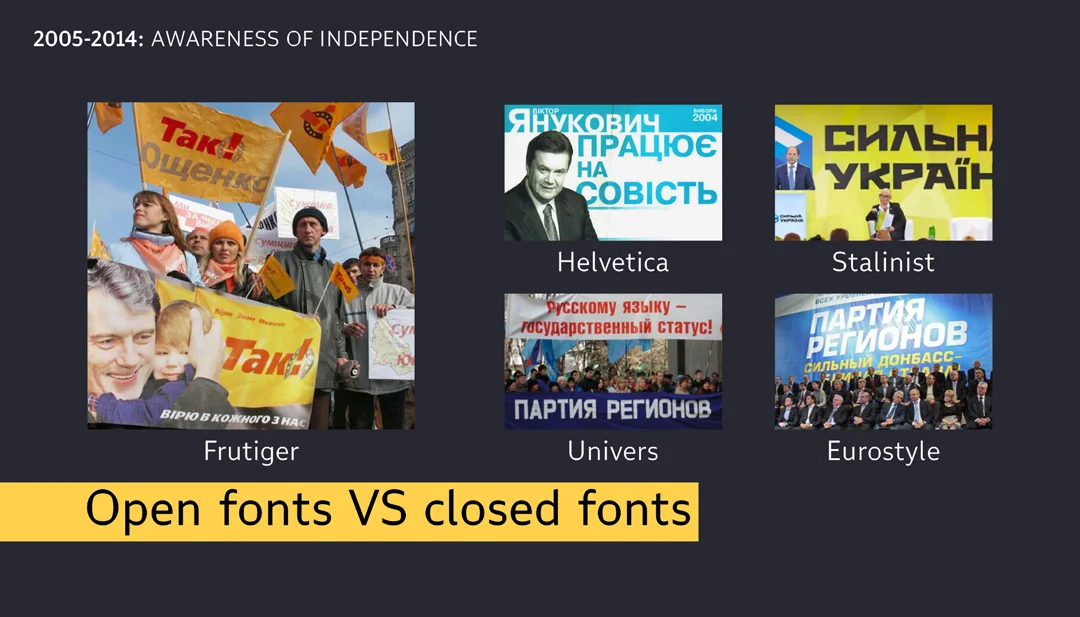 In the following years, pro-russian conservative politicians switched to the closed static russian version of Helvetica. Fans of strong government also liked masculine squarish forms, like Eurostyle. There was even a party which, in order to maximize its strength, used the russian font Stalinist.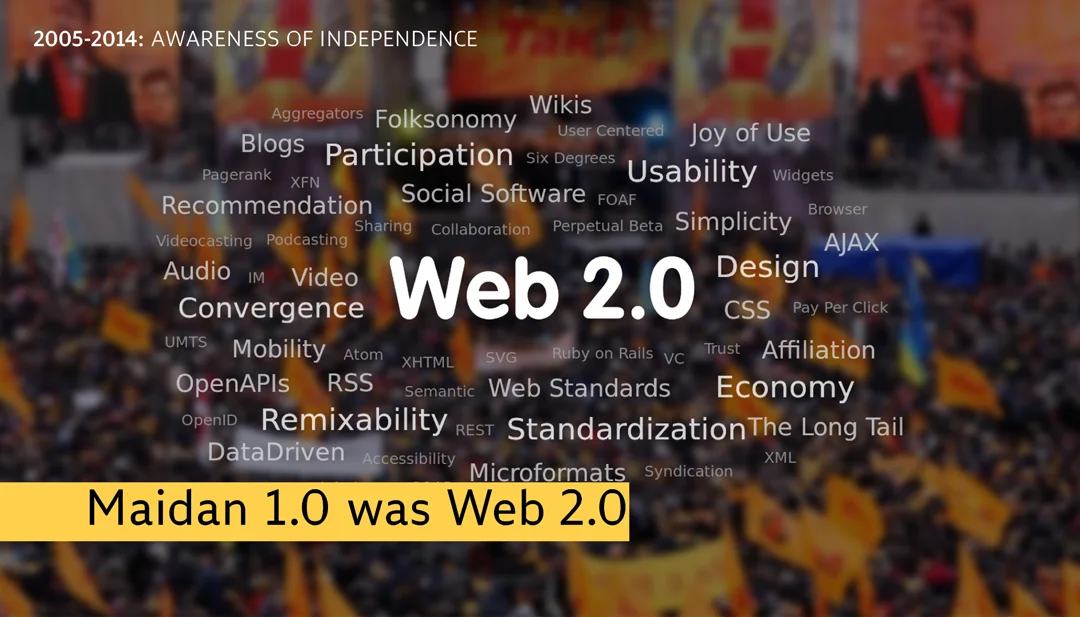 The humanistic, dynamic, open, post-industrial ideas (and fonts) of the Orange Maidan were something from the Web 2.0 era, which was based on similar values. The people on the Maidan, creating the future of their country, just like the "smart crowd" writing Wikipedia.
The second wave of Ukrainian type designers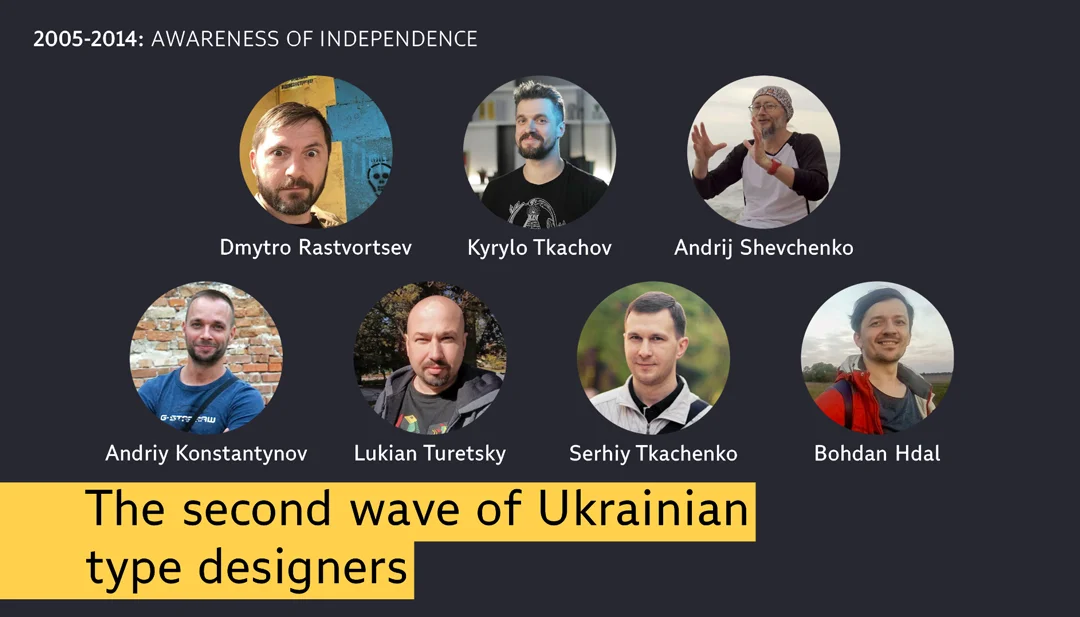 In the period between the Orange Revolution and the Revolution of Dignity, Ukrainian type designers began to appear who were almost not connected with russia.
Among these type designers who became prominent during this period are: Andrij Shevchenko, Dmytro Rastvortsev, Kyrylo Tkachov, Andriy Konstantynov, Serhiy Tkachenko, Lukian Turetsky, and Bohdan Hdal. These authors did not rely on the russian market, but wanted to sell their fonts through their own websites and international fontstores.
These seven authors occupied different niches of the type market and are remembered by both Ukrainian and foreign fans of type design.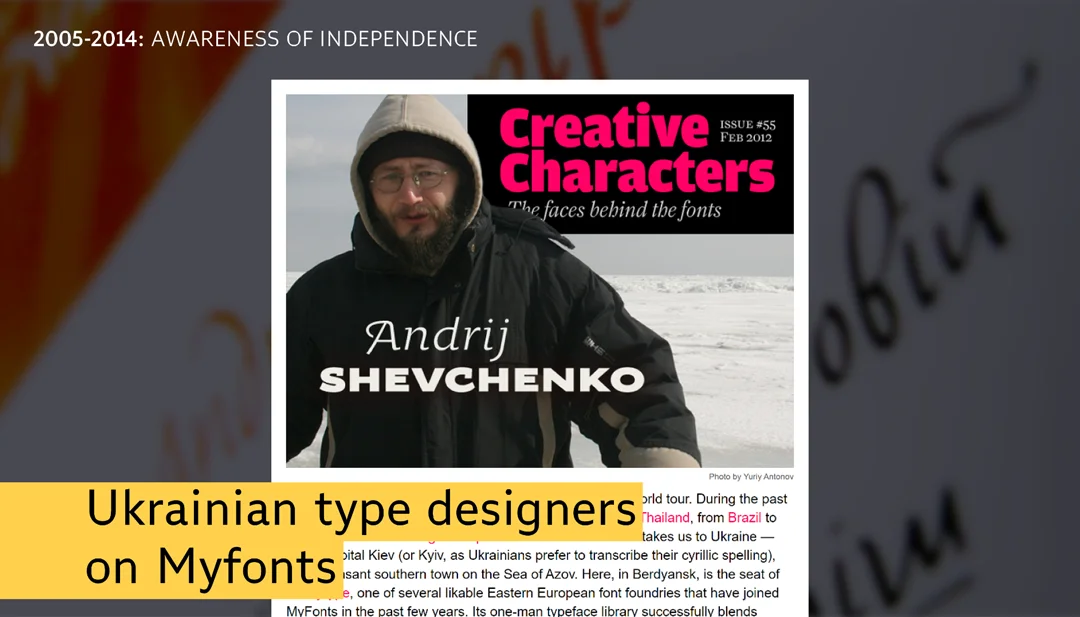 Andrij Shevchenko, for example, was interviewed for MyFonts in 2012.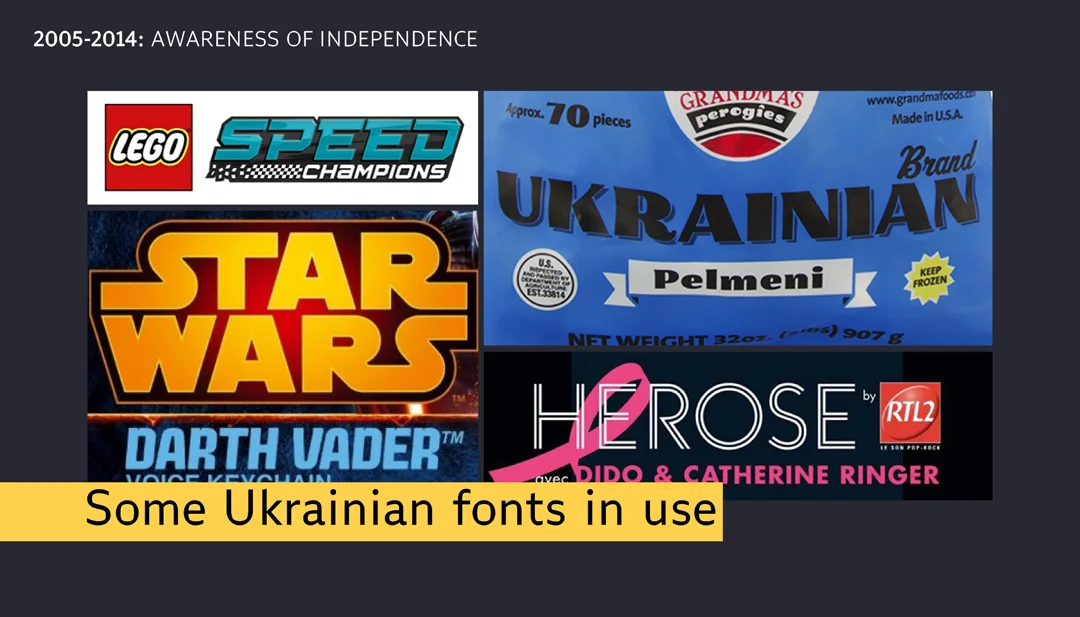 And Serhiy Tkachenko's fonts became quite popular in the World.
Cooperation of Ukrainian and russian type designers, contests, international conferences
Ukrainian typographers, calligraphers and designers began to actively cooperate with foreign colleagues. We organized international conferences, sent our works to contests. The most popular Ukrainian font events were: Sviato Kyrylytsi (Kharkiv) and Ruthenia contest (Kyiv).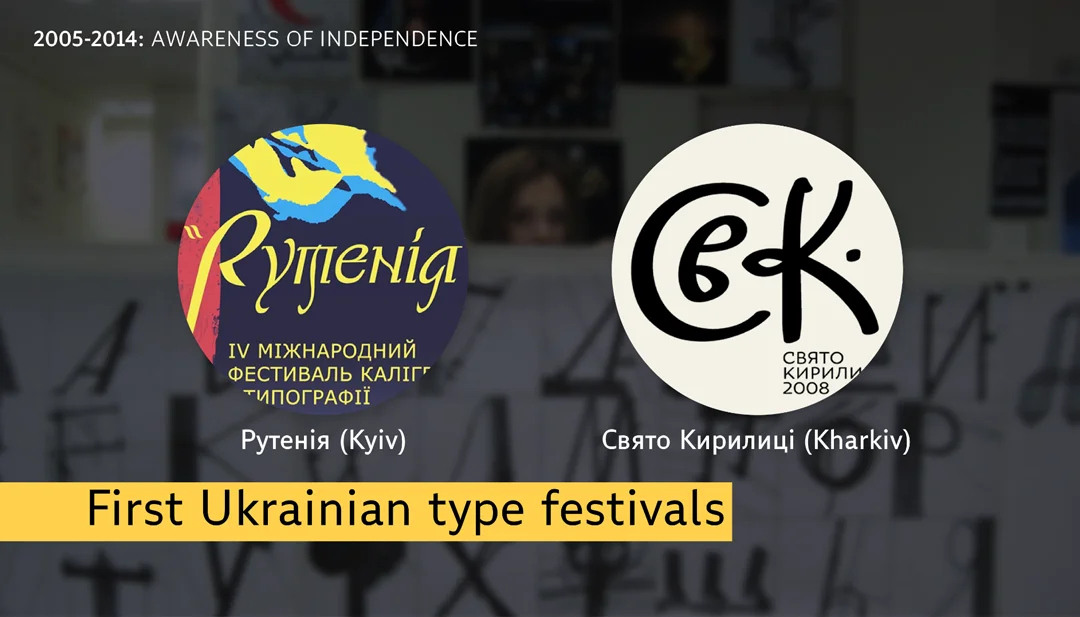 Ukrainians participated in Serebro Nabora conference (Moscow) and ATypI (Helsinki, Lisbon, St. Petersburg).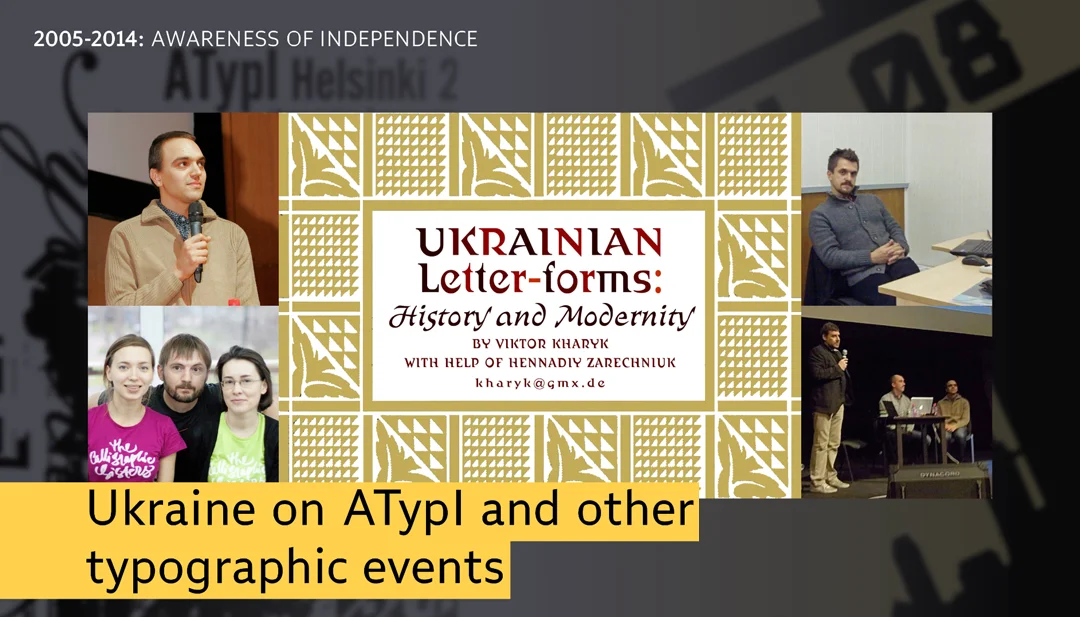 Most Ukrainians did not see cooperation with russia as threatening. Some Ukrainian authors often sold their fonts in russian stores, used russian fonts, and could live almost in a common mental field with russians. But there was a problem. Russia has always claimed Ukraine, at the level of politics and propaganda, and Ukraine almost ignored this claim, and did not claim russia itself.
What was it? Optimism, naivety, ignorance of our history? And now Ukraine lives right in the history book. We are trying to ensure that it is written in the language of the defenders, not the language of the invaders.
The crisis of legal use of fonts
I've already said that ordinary Ukrainians were alienated from fonts. This did not change even after the second wave of Ukrainian type designers, with their fonts of almost all kinds. At that time, the Ukrainian font market was still non-existent. Our people still didn't realize that you could pay money for fonts. In addition, font licenses were very expensive compared to the earnings of our graphic designers.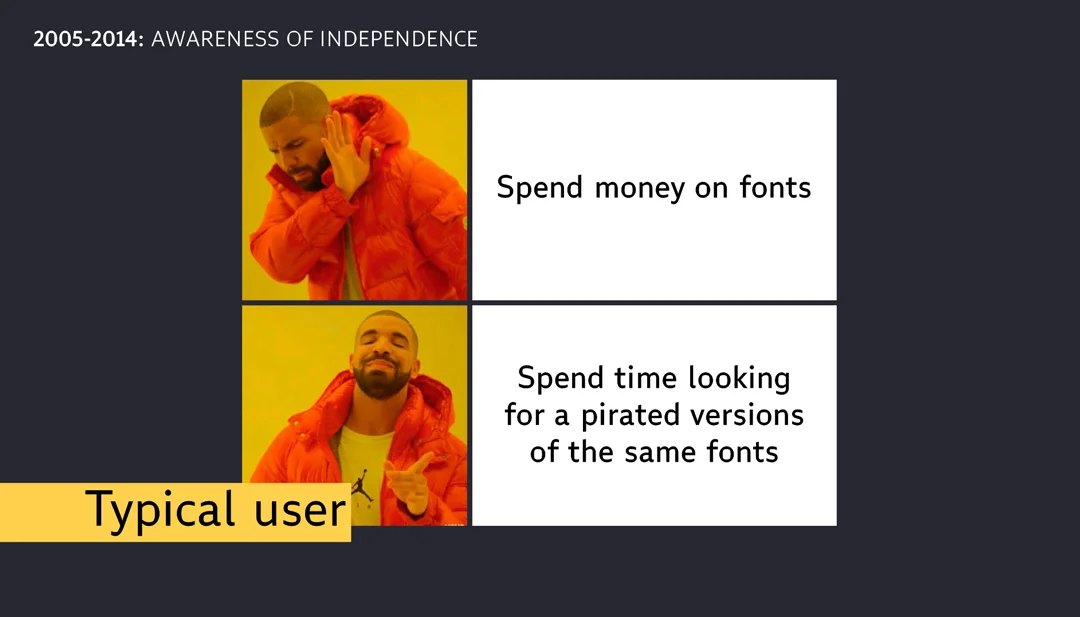 People no longer bought CDs with fonts, but instead googled "шрифты скачать бесплатно" (download fonts free) and found dozens of pirated sites, mostly russian. They satisfied the font needs of Ukrainian designers, at least the needs that they were aware of. The need for fonts created by Ukrainian type designers had not yet been realized. More important than this was the shortage of any Cyrillic fonts.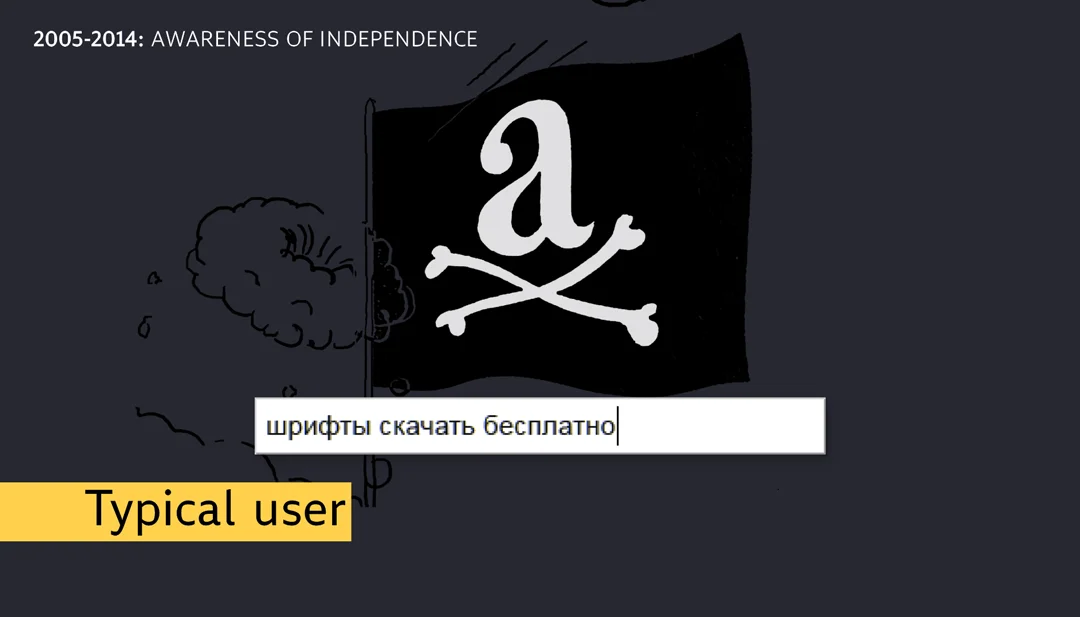 The unwillingness of Ukrainian users to pay for fonts was strangely combined with their willingness to pay for other paid services (music, games, photo stocks). This is probably because music, games, and photos are familiar and visible. Of course, in such conditions, our type designers worked only for the idea. They had to earn money in other ways, such as graphic design or programming.
At that time, I was also involved in type design, making Cyrillic for my favorite fonts, but more often I was working as a graphic designer.
Creation of Rentafont – Ukrainian font marketplace
And one day in 2008, when I was thinking about my next logo, I imagined myself digging through pirated fonts again and thought that I must stop using stolen fonts.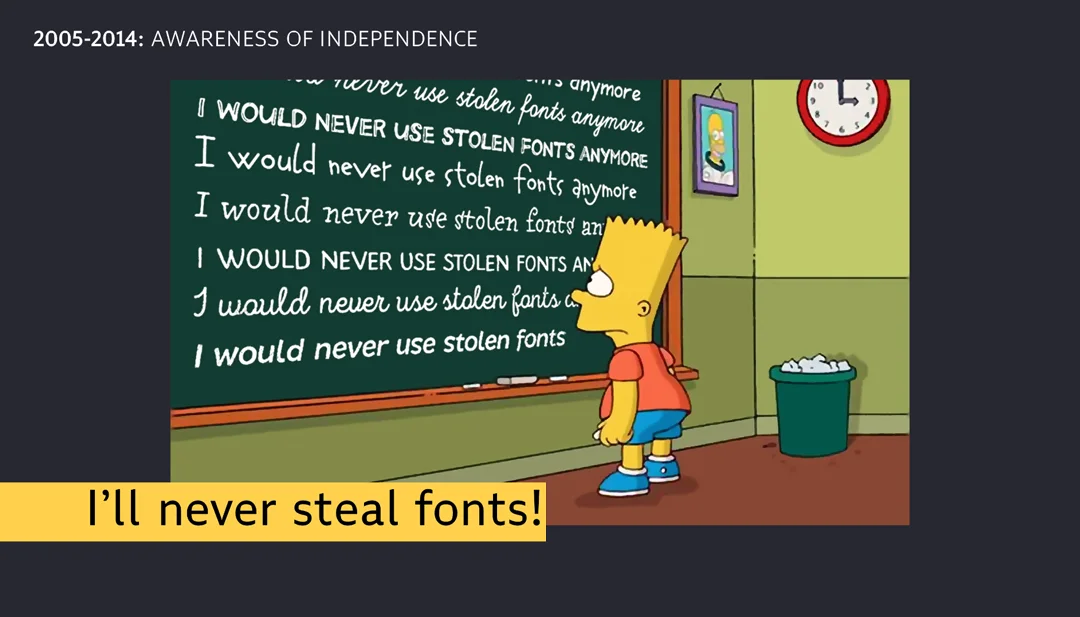 I'd rather pay for a week of legitimate work with necessary fonts, through some platform like iTunes, but for fonts. I would choose fonts that suit the logo and the website, and let the customer buy the font license for the design that is finished. And I wouldn't even see the font file, so I couldn't accidentally violate the license.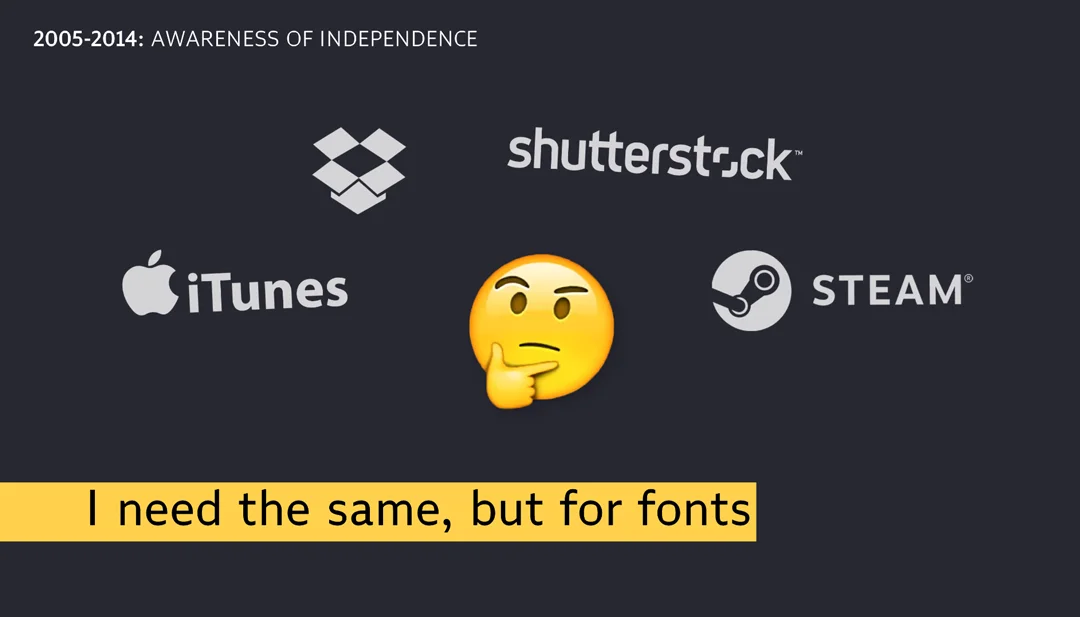 So I came up with the idea of renting fonts. I Googled it, couldn't find anything similar, and told my design friends about the idea. They also wanted to have such a service. It was obvious that I wasn't the only person who came up with such an idea. It was true. People from other countries were also creating font rental services.
I imagined a mobile operator, connecting people with fonts...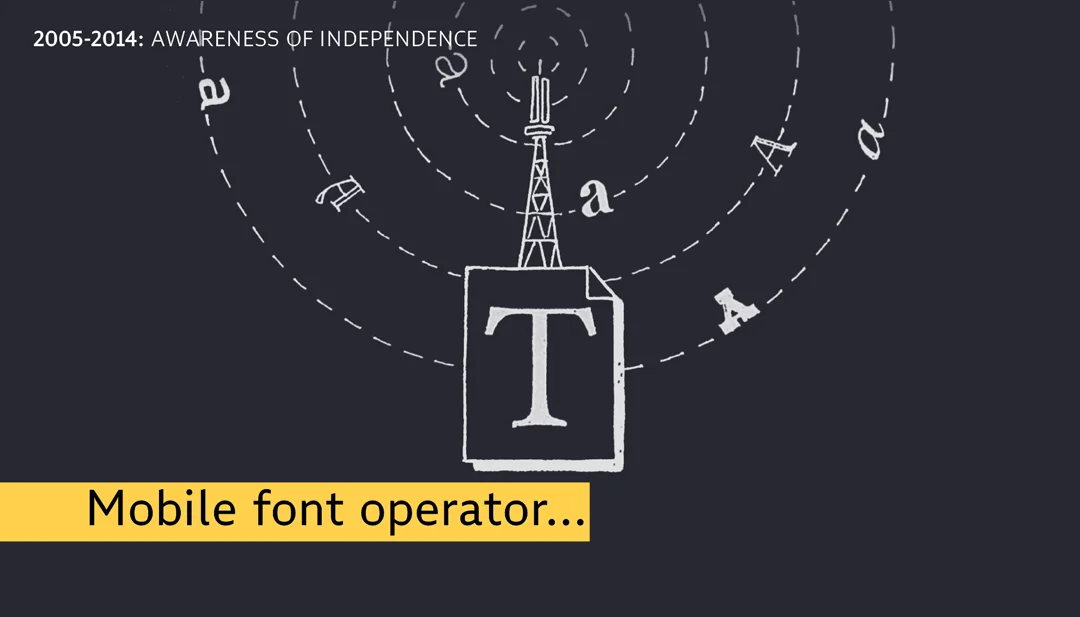 I have long wanted to solve an important problem. Not just to make people happy with good design, but to improve the whole profession! I wanted to simplify the life of my fellow designers, including type designers.
And 5 years later, at the end of 2013, with the support of my friends and thanks to foundries and type designers with whom I had distribution agreements, I launched rentafont.com.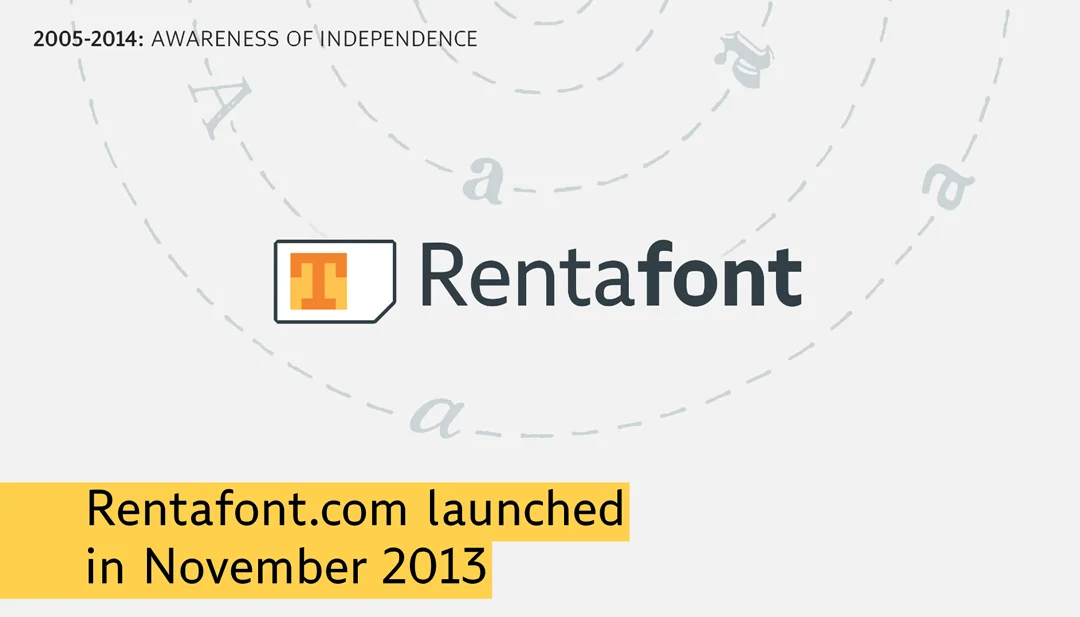 For Ukraine, font rental cuts through a whole lot of problems! Opponents of expensive and complex licenses will get a simple, affordable font service. And font makers get paying users among those who have never paid for fonts before. This service was supposed to overcome the alienation of post-Soviet users from fonts.
Therefore, from the very beginning, we focused on the Cyrillic fonts and offered the most diverse font search in understandable language with various filters that everyone could use.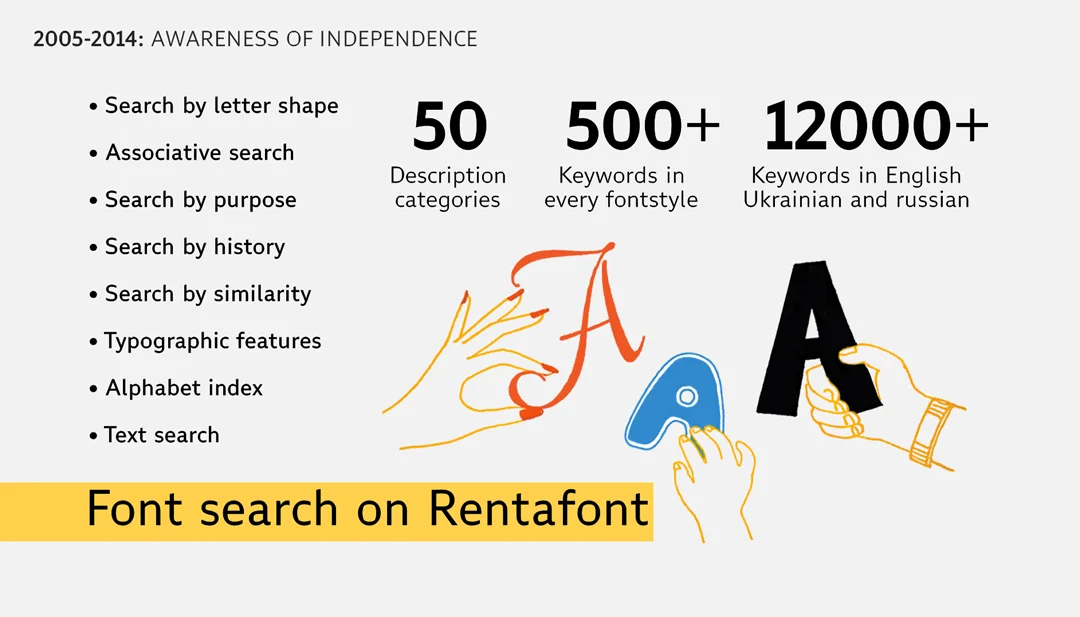 Until the beginning of russia's war against Ukraine, I did not see any problems in cooperation with them. That's why the first version of Rentafont had many fonts from russia.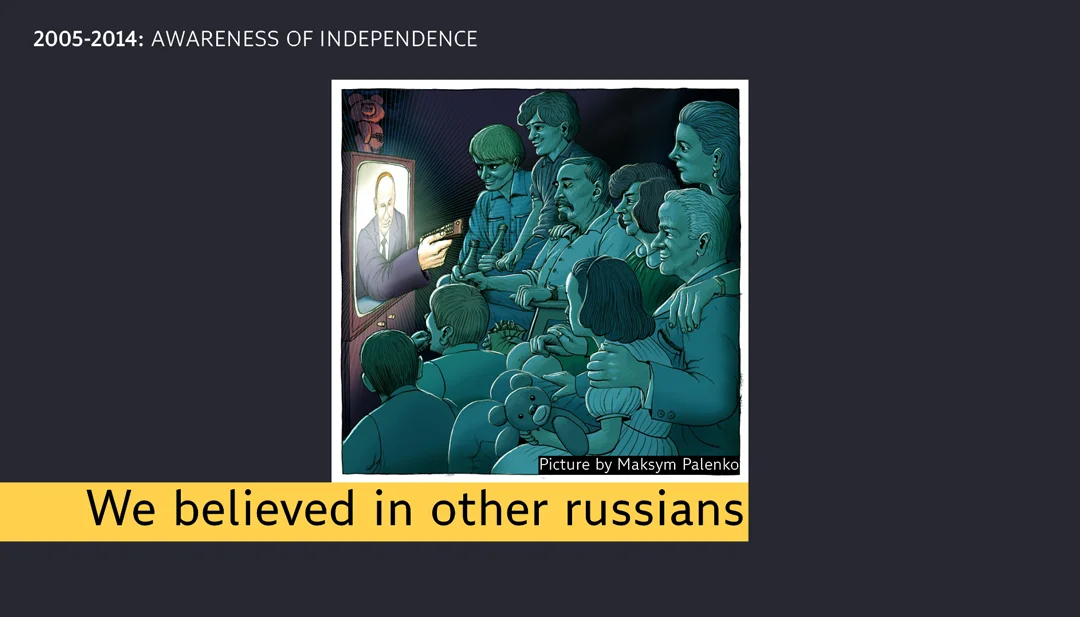 Most Ukrainians naively believed that putin's dictatorship could not affect individual progressive russians. But the dictator learned to ignore the opinion of the best citizens and rely on the fear and resentment of the worst, and spend the taxes of both on the war.
2014-2022: Hybrid War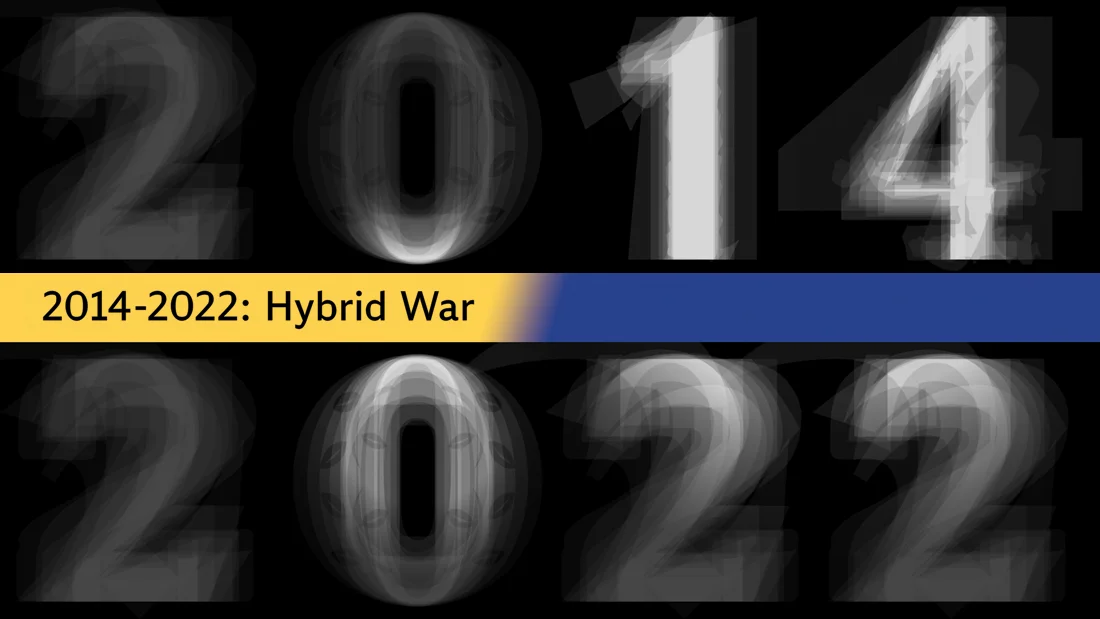 The Maidan of 2013–2014 marked the beginning of the hybrid war era. Ukrainians overthrew Yanukovych for the second time, and in return for this, putin annexed Crimea and started a war in the East of Ukraine.
The second Maidan and trendy Gotham-style fonts
In terms of fonts, I associated the second Maidan with geometric sans serifs. I remember volunteer websites where you could create simple posters, and there was a bold geometric sans serif font. Other geometric sans serifs, such as DIN and some fonts by Ukrainian authors were also used.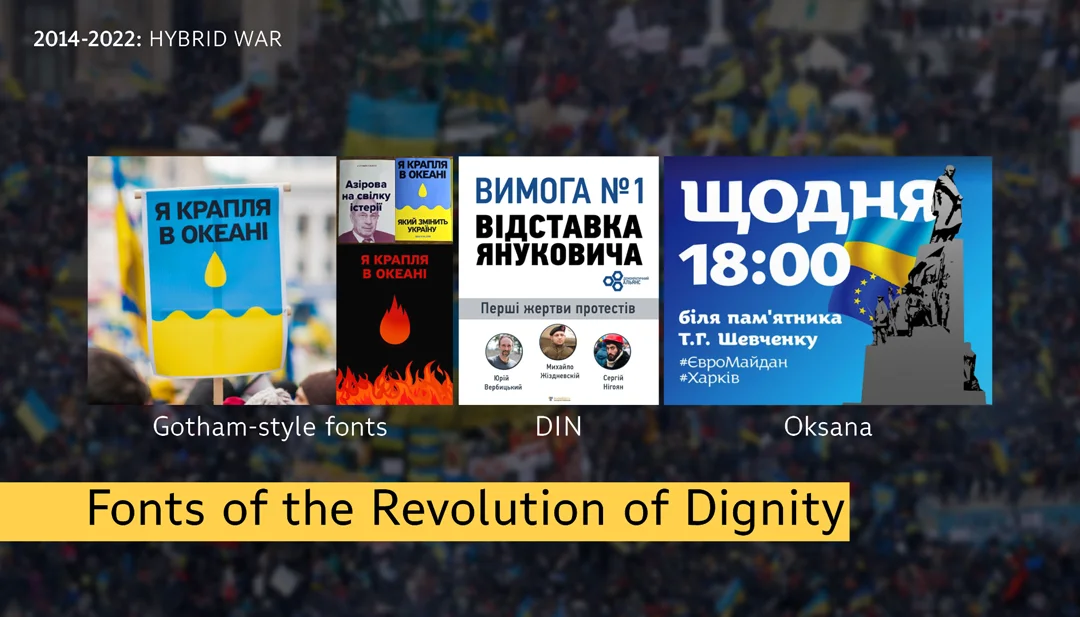 I think we were influenced by the global fashion for Gotham-style fonts that started with the Obama election campaign in 2008.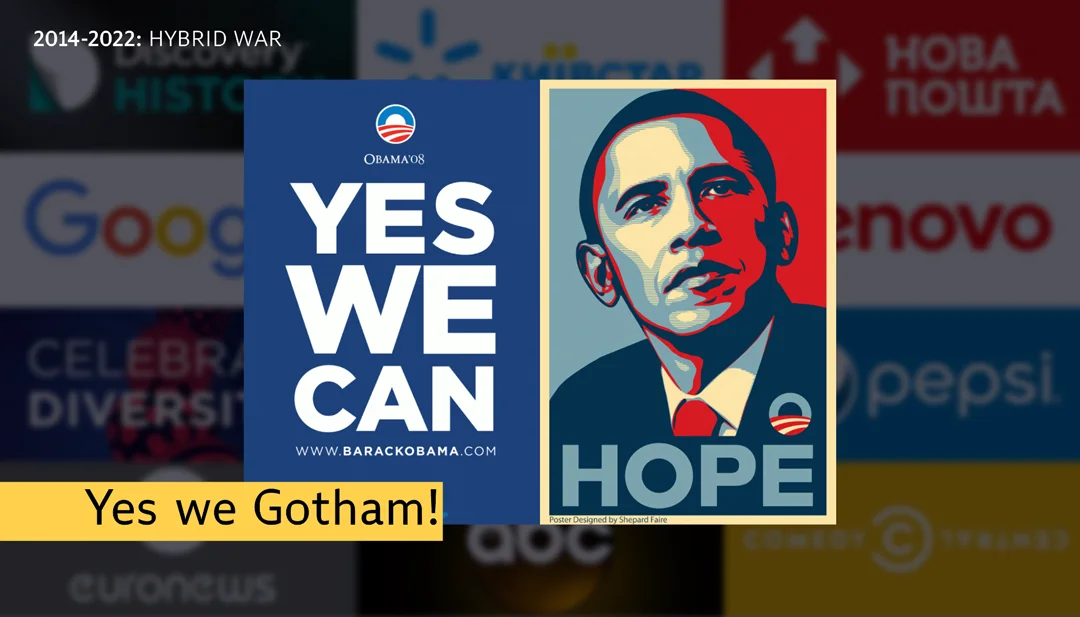 Ordinary people often made protest posters in extreme conditions, without any party symbols. It was a unique vernacular lettering.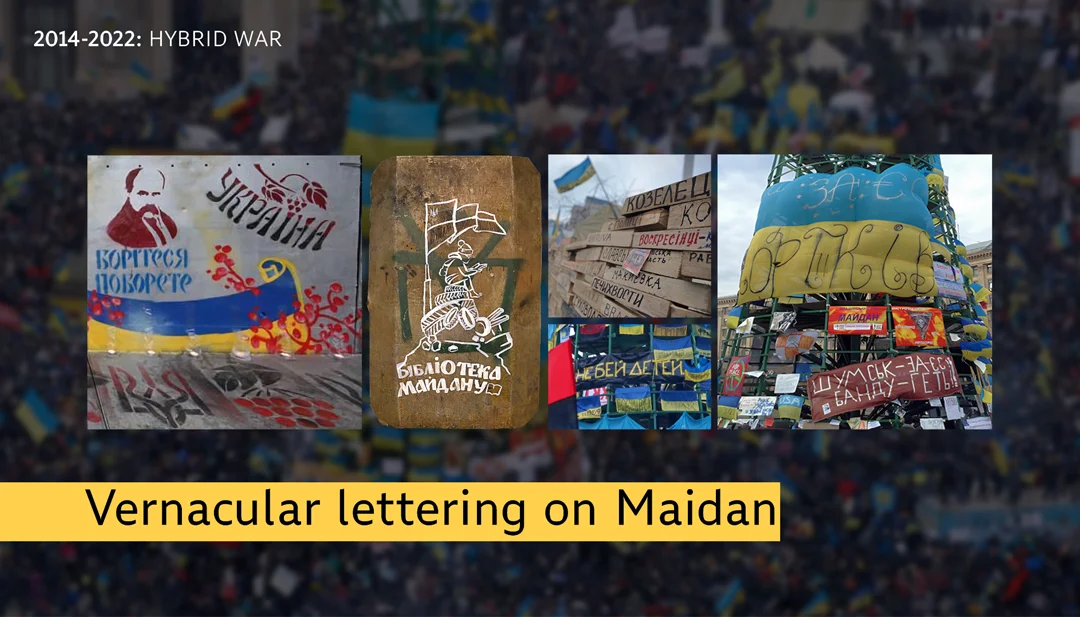 The Maidan also had opponents – the imitation pro-russian movement Antimaidan, created with the help of lies and administrative resources. Their posters usually were not done by ordinary people, but by organizers. The typical Antimaidan fonts were closed static bold sans serifs that we had already seen 9 years ago.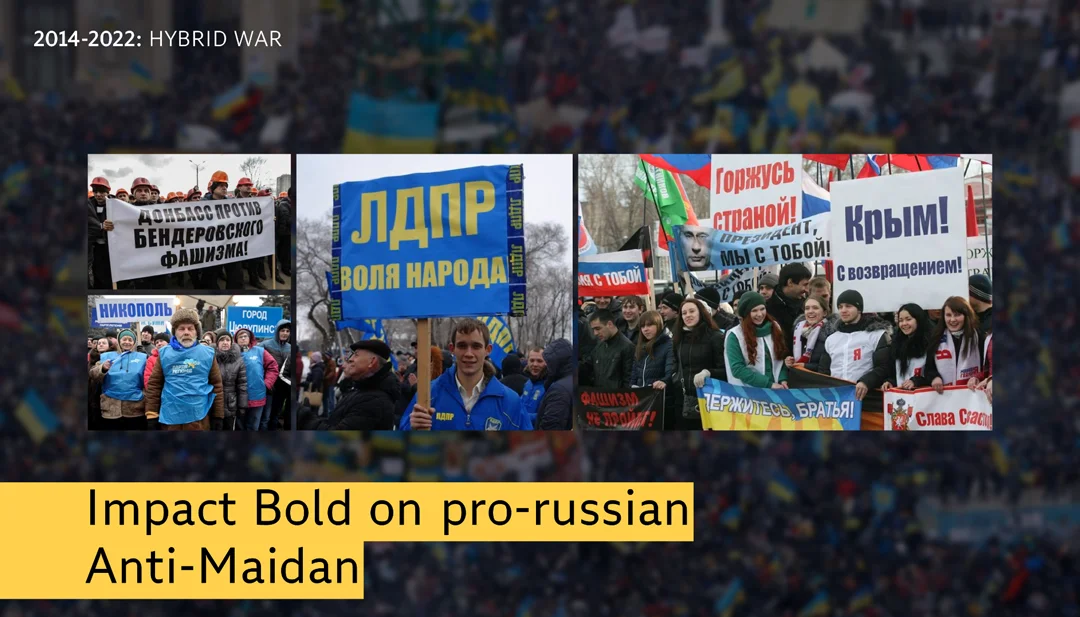 The font Impact Bold, which has a horrible Cyrillic, looked particularly natural. On pro-russian posters, this font was very appropriate because it conveyed the basic ideas of the Kremlin: brutality, conservatism, obtrusiveness.
The Revolution of Dignity and the Font Renaissance
Peoples' struggle for rights and freedom during the Revolution of Dignity stimulated the development of many European values in our country, including respect for intellectual work.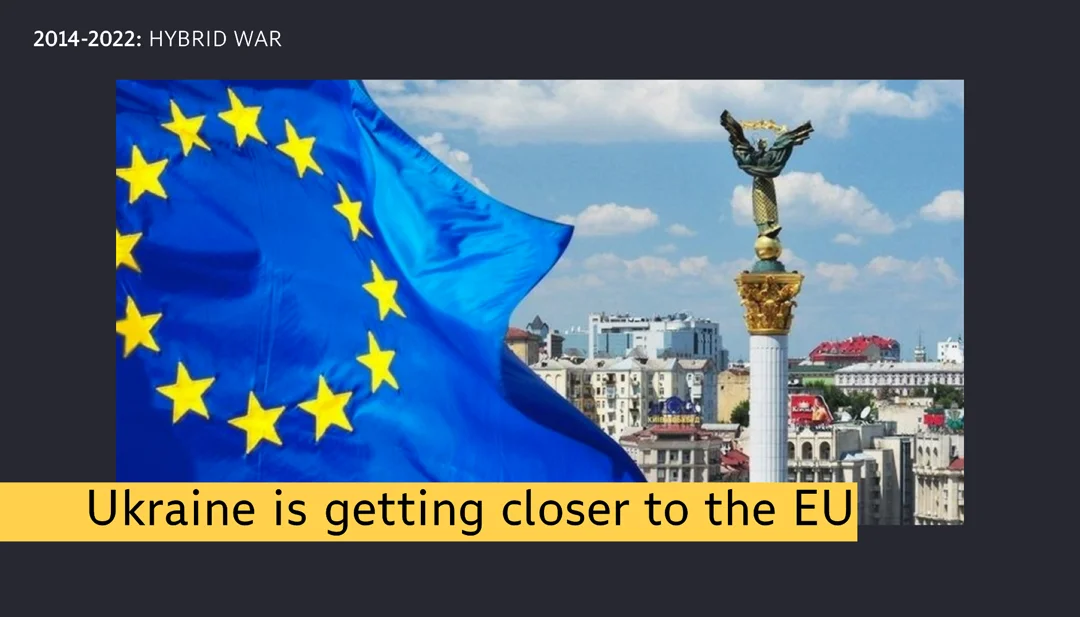 This made it possible for technology businesses, streaming platforms, and investors to enter the Ukrainian market. Big modern competitive business requires advertising and branding agencies. And where there is real branding, there is also the legal use of fonts and the ordering of custom fonts.
Before 2014, Ukrainian authors created no more than 10 custom fonts, and in the next 9 years – over 100.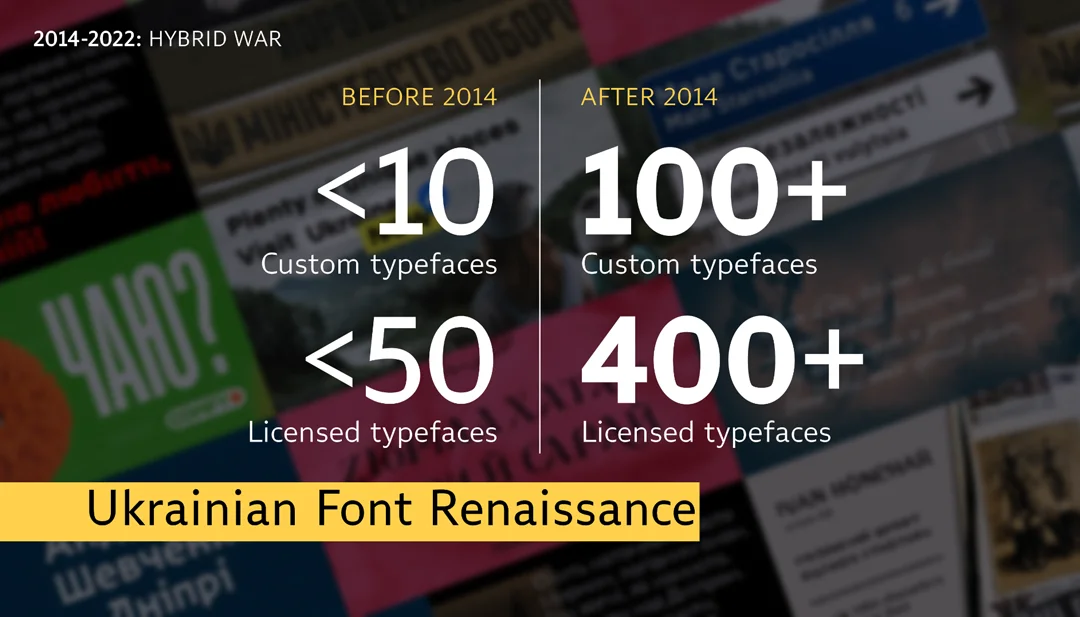 Our type designers also started to create more licensed fonts. From the time of the Revolution of Dignity until now, they have created several hundred licensed fonts of all kinds. Moreover, they had the opportunity to sell them right in Ukraine with Rentafont.
This more conscious attitude to fonts, the new type designers, and the emergence of the font market can be called Ukrainian Font Renaissance.
Ukrainian calligraphy and its influence on fonts
During this period, calligraphy played a significant role in shaping the typographic image of Ukraine. In the 2010s several calligraphy schools were opened, the most famous of them was ArtiYa Calligraphy School.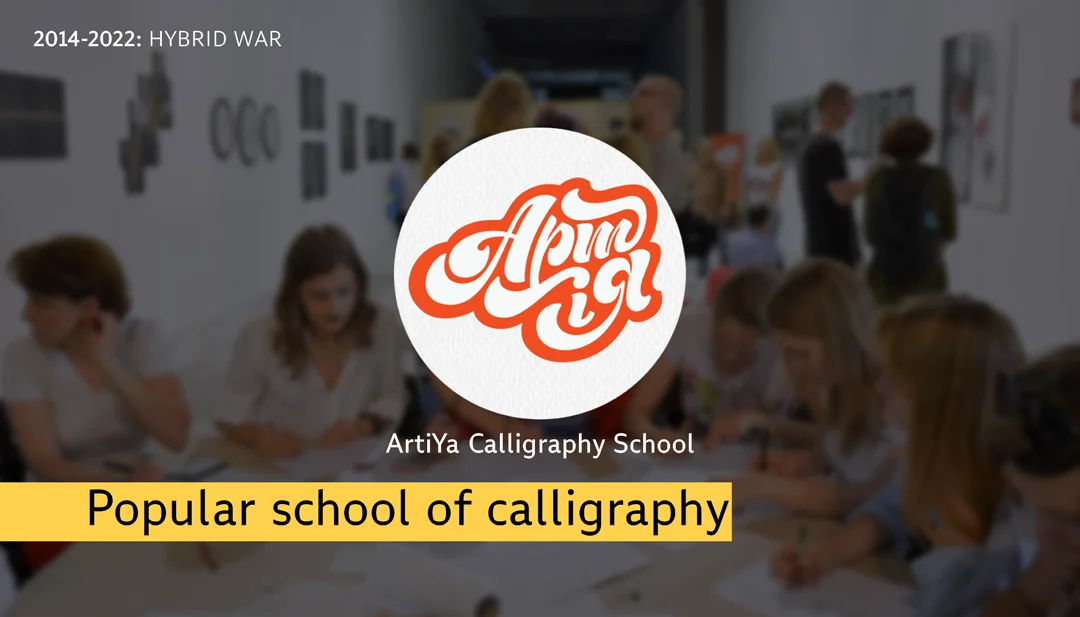 For many people, calligraphy schools were the starting point for type design. Оur calligraphers are able to instill in people a love of beautiful letters.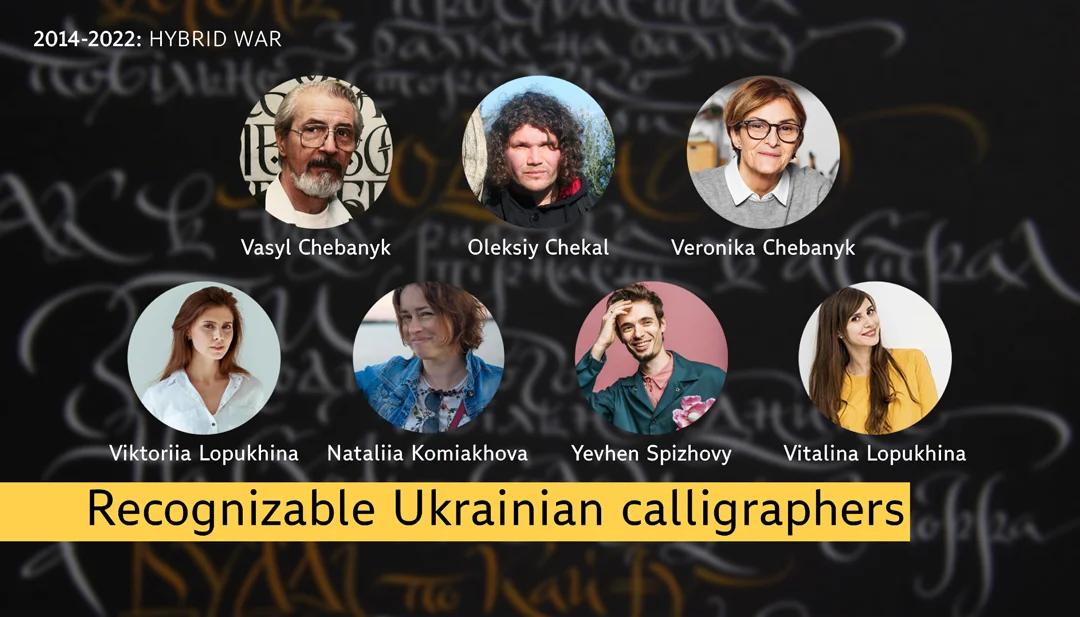 The most recognizable Ukrainian calligraphers today are: Oleksiy Chekal, Viktoriia Lopukhina, Vitalina Lopukhina, Nataliia Komiakhova, Yevhen Spizhovy, Veronika Chebanyk and Vasyl Chebanyk.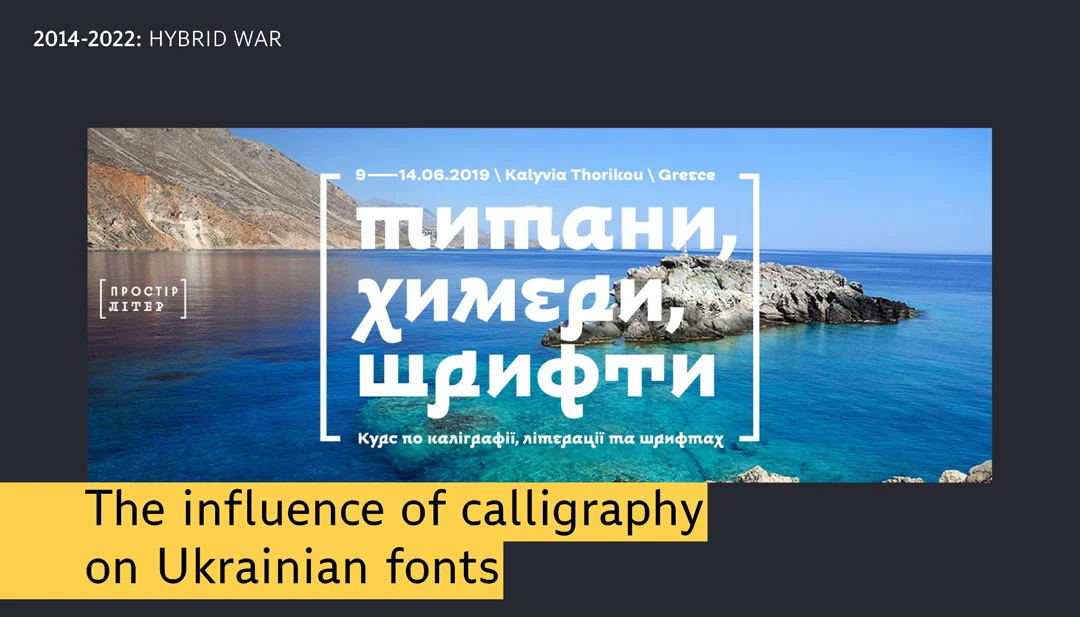 It is hard to imagine Ukrainian fonts without calligraphic features: dynamism, asymmetry, plasticity.
Ukrainian foundries, communities, and websites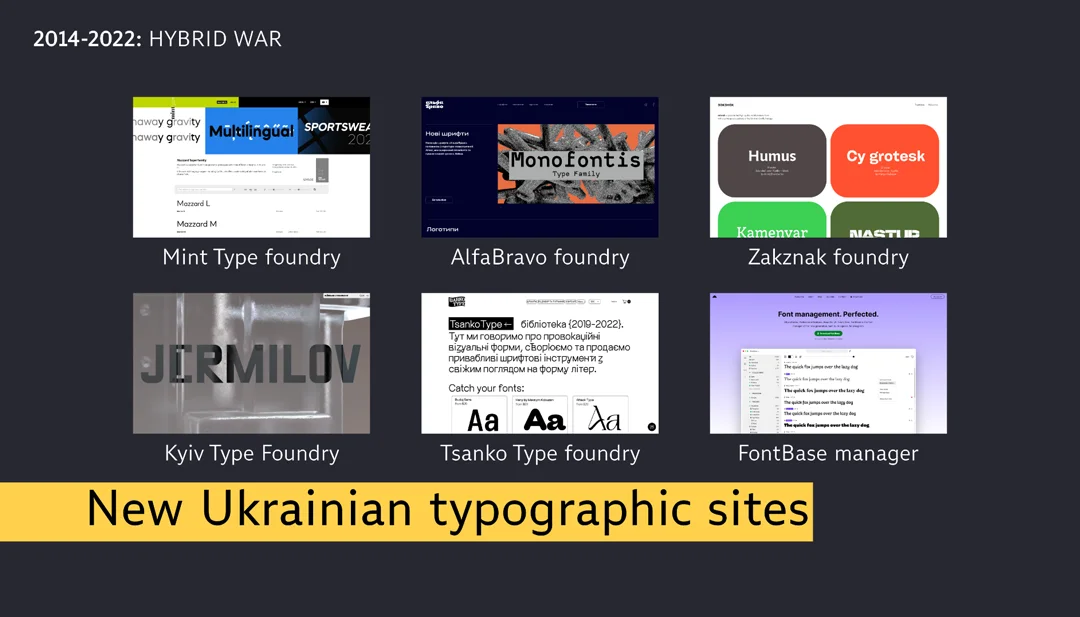 At this time we saw several new type foundries Mint Type, AlfaBravo, Zakznak, Tsanko Type, Kyiv Type Foundry, and a font manager FontBase.
We also intensified professional communication on social networks.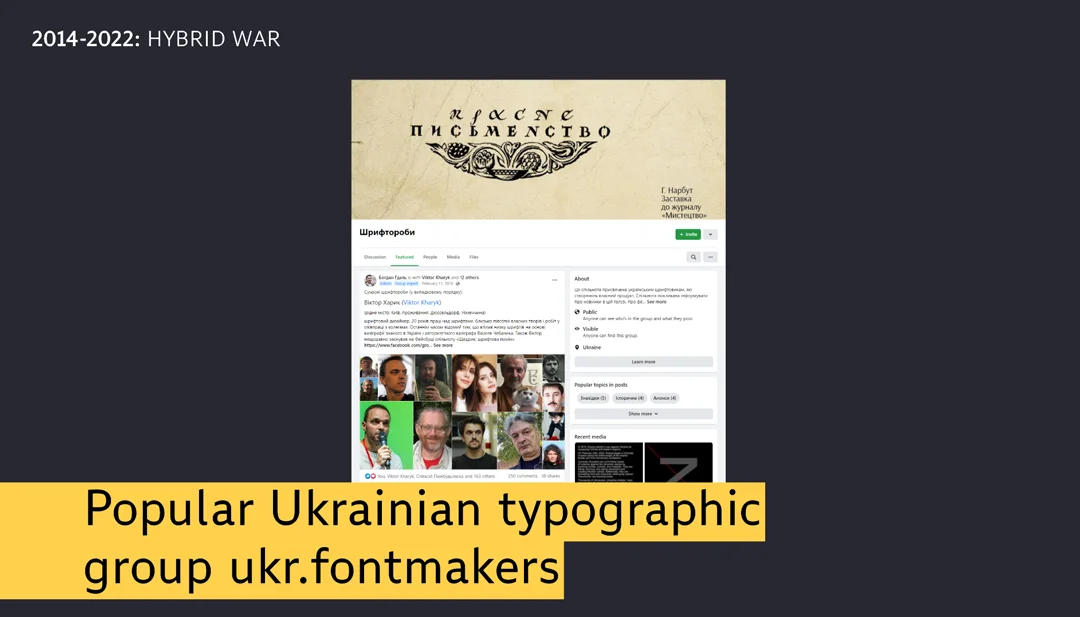 The Ukrainian web service Rentafont continued its development. We made an English version of the site, published many fonts by authors from different countries, including 40 type designers from Ukraine, added a font license store, a font subscription, and started writing a blog about fonts in Ukrainian and English.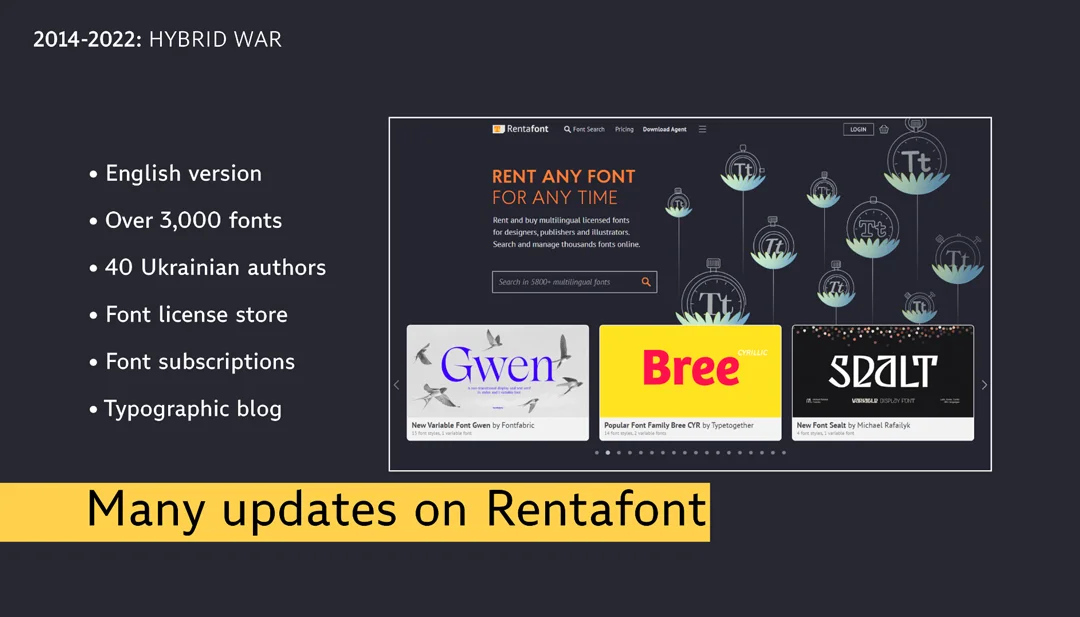 Women in Ukrainian type design
Once upon a time in 2019 at the type festival in Lutsk, a type designer from Berlin, Verena Gerlach, asked me why there are no Ukrainian female type designers in the world, except for Viktoriya Grabowska, who live in Poland.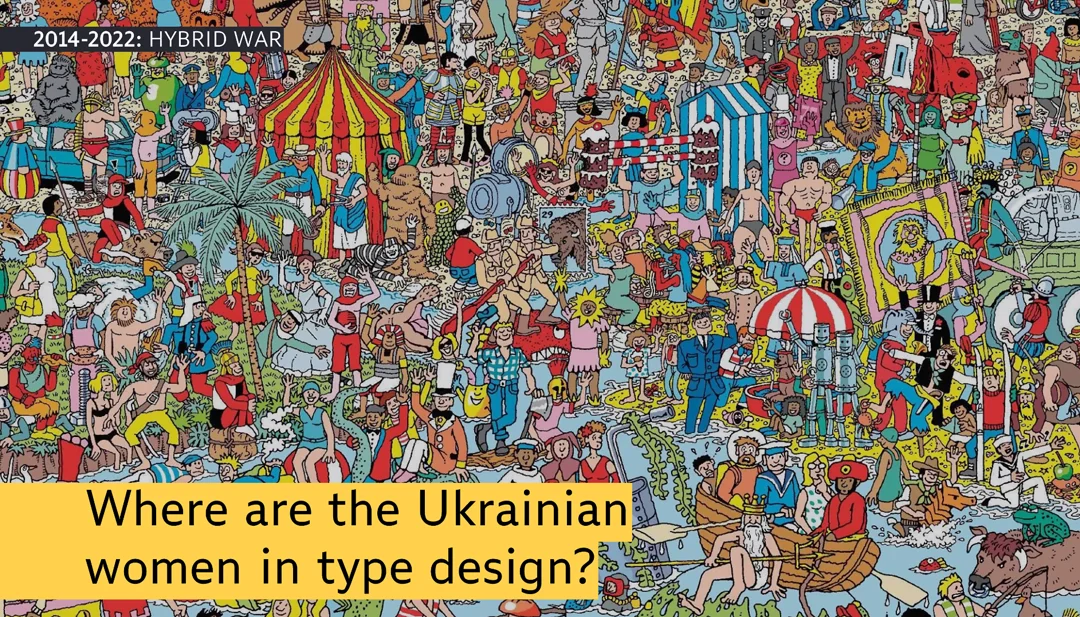 Ukrainian women were making typefaces, but Verena didn't know them. They were really invisible in the world, as well as in Ukraine. This was a very important feature of our type design of that time.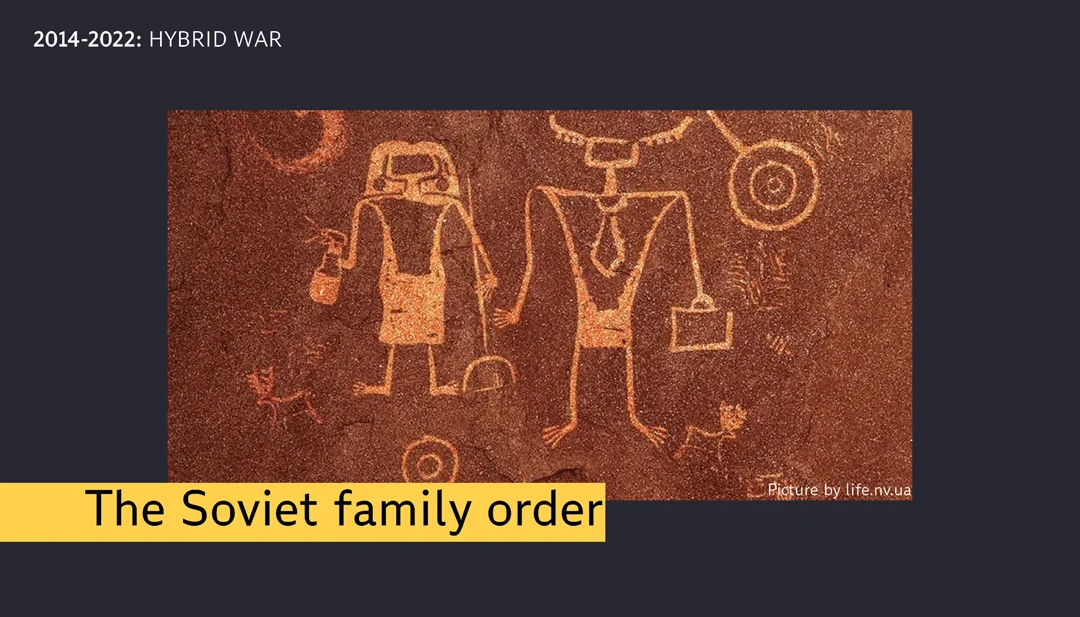 Firstly, post-Soviet countries are very patriarchal, so new technologies and professions are first discovered by men. Because they are less involved in household and family affairs, they have more time to experiment and do something that might not be profitable, like fonts.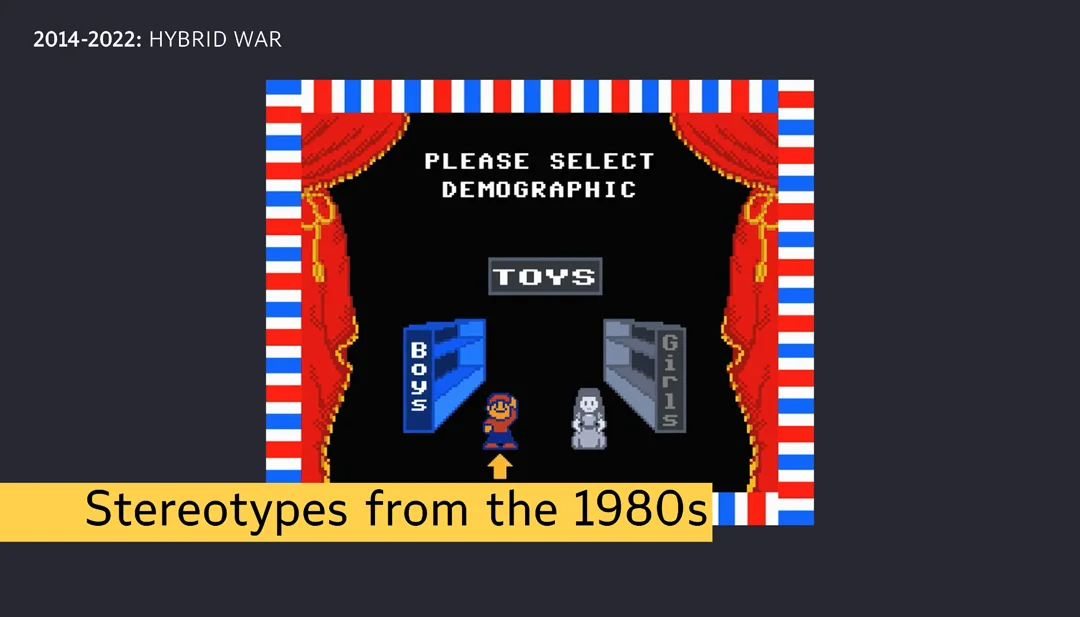 Secondly, the whole world once believed that computers were a toy for boys.
I promised Verena I would send her the names of Ukrainian women who made at least 1 digital font. That time I counted a couple dozen names.
I also did a little research. I took the fonts that were on Rentafont in 2020, counted how many of them were created by women or with their participation, and compared the revenues from these fonts. It turned out that only 25% of fonts were made by women, but these 25% generated 70% of the revenue.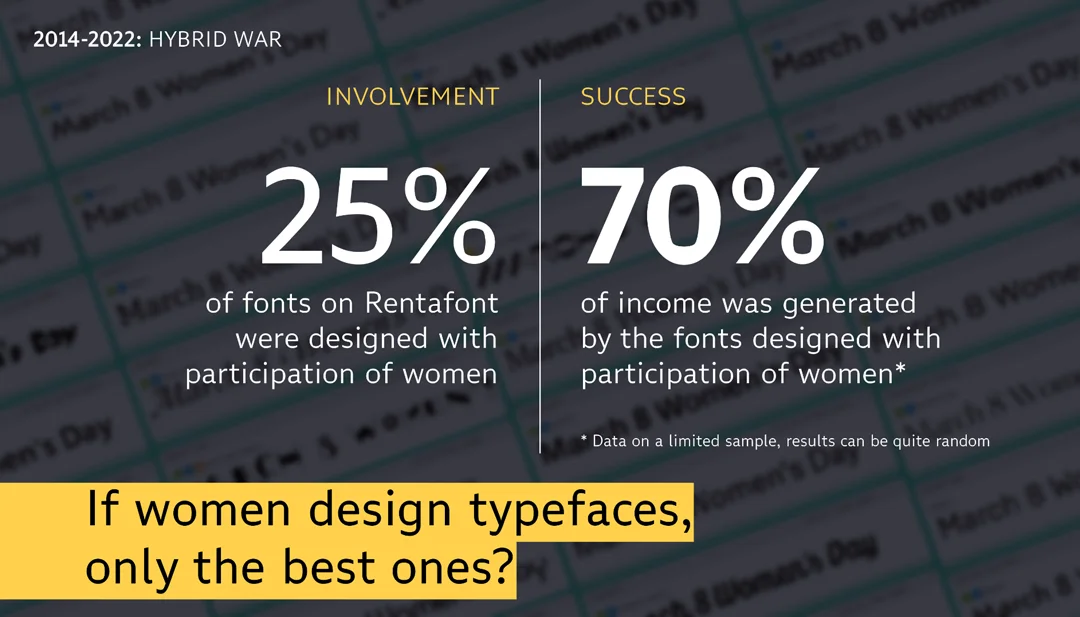 These results are very unrepresentative, because most of the authors on Rentafont were from the former USSR, and the users were also mostly from these countries. We cannot draw conclusions from these figures, but I want to continue this research on a global scale.
In 2020, our female typographers became much more visible both in Ukraine and around the world.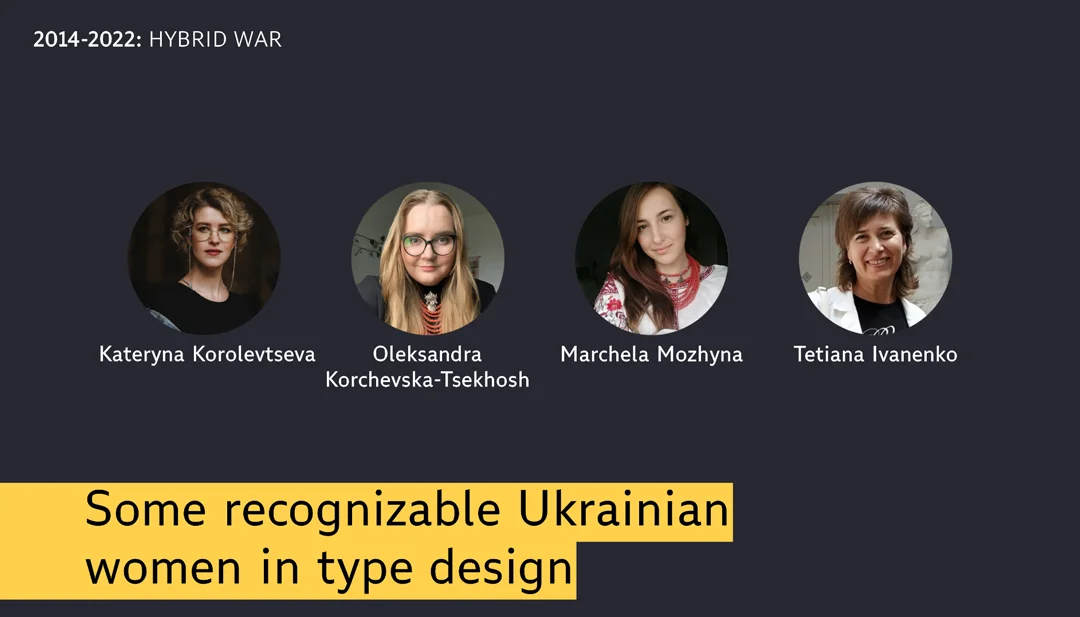 The last time I updated the list of names, there were over 50 female type designers from Ukraine. This is very good, because people with different life experiences enrich any profession and give a more comprehensive view.
Type design education in Ukraine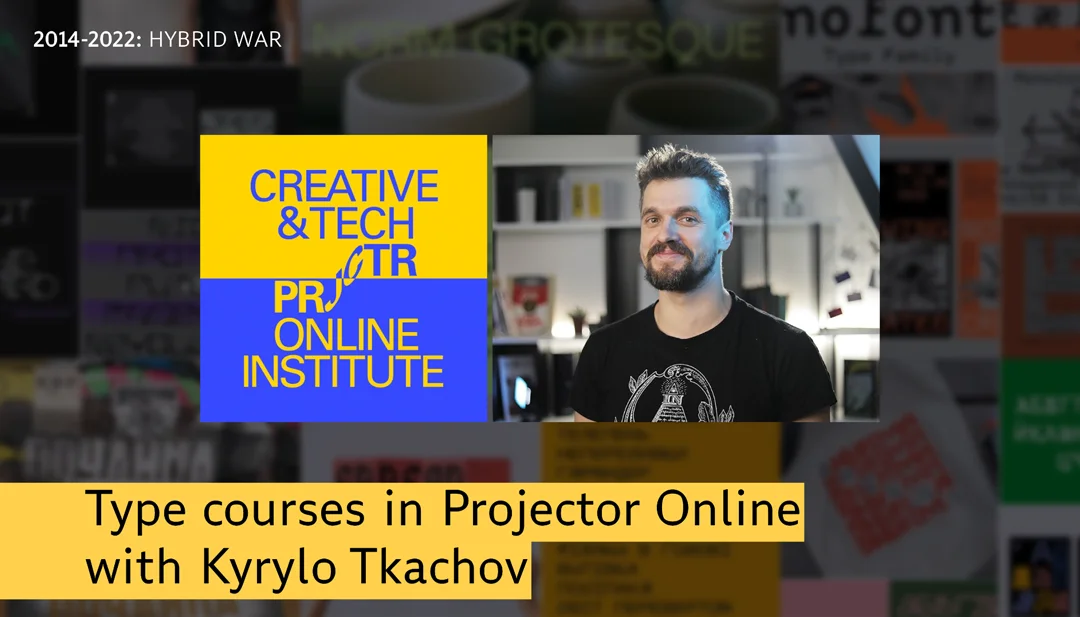 Every profession requires appropriate education to develop. The first step towards such education was the type design courses with Kyrylo Tkachov at Projector, which opened in early 2020. Graduates of these courses often continue designing fonts at AlfaBravo foundry. Their fonts are also published on Rentafont.
In recent years, design faculties of state academies in Kharkiv and Lviv have begun to allocate more time to type design, which has led to a large number of graduate projects dedicated to creation of digital fonts.
By the way, today the majority of students of type design courses are women. I think that in a few years, type design in our country will show signs of a mature profession with a normal demographic distribution.
Typographic events, contests and festivals
Type festivals, exhibitions and contests have also played a huge role in the development of type design. After 2014, these were international events that took place in Ukraine without russian participants.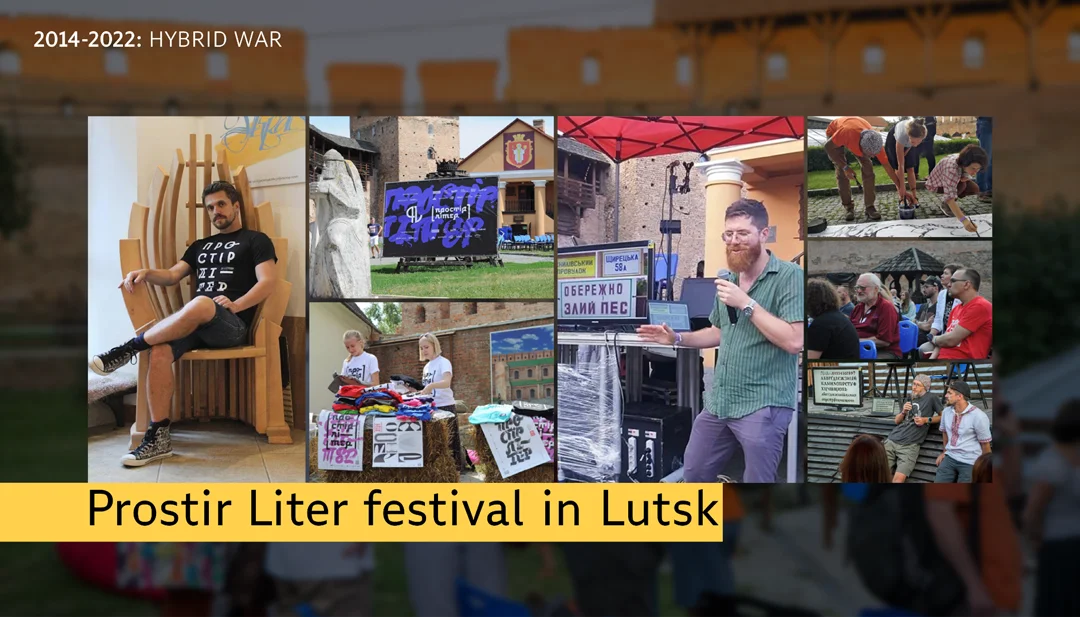 Prostir Liter is an international festival of fonts and calligraphy organized by Kyrylo Tkachov. Before the russian invasion and the pandemic, this event was regularly held in Lutsk, right in the ancient castle! I met many wonderful colleagues there.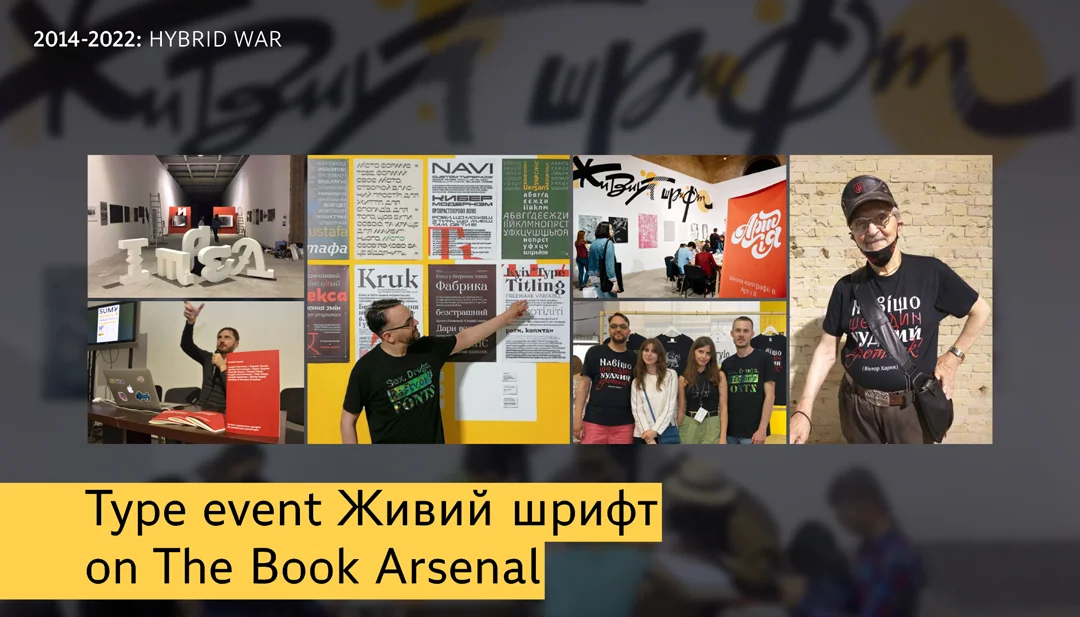 The Book Arsenal is a huge annual book festival in Kyiv, which has always had a place for exhibitions, lectures, and workshops about typography and calligraphy.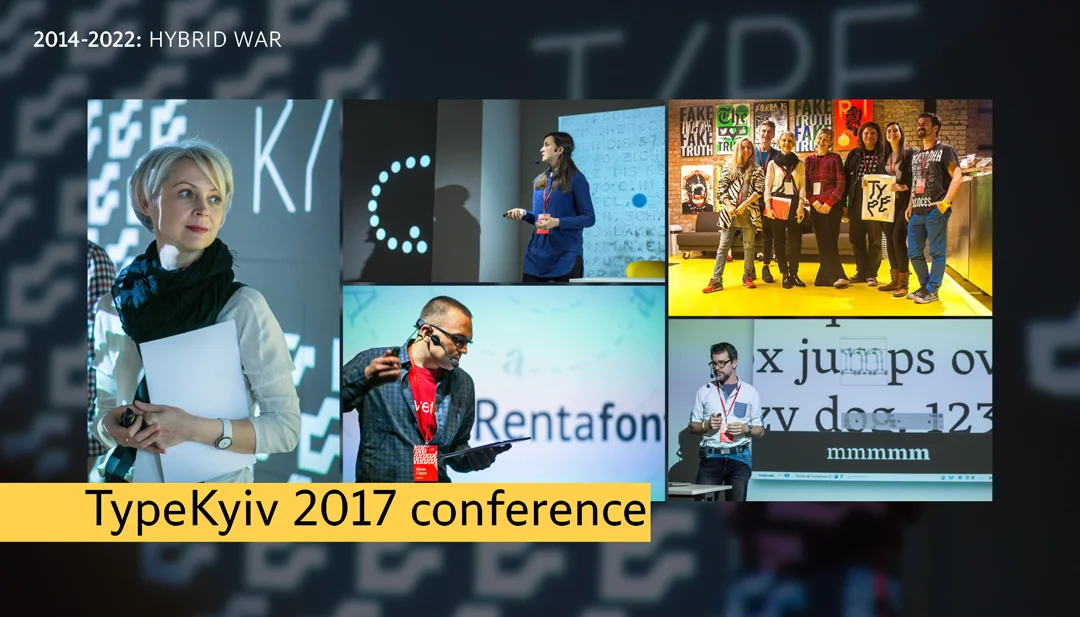 TypeKyiv 2017 was a very ambitious international event organized by the School of Visual Communications in Kyiv. There I told the story of Rentafont's creation and urged type designers to increase their media presence. Because people are ready to pay for fonts only when they see that fonts are made by real people.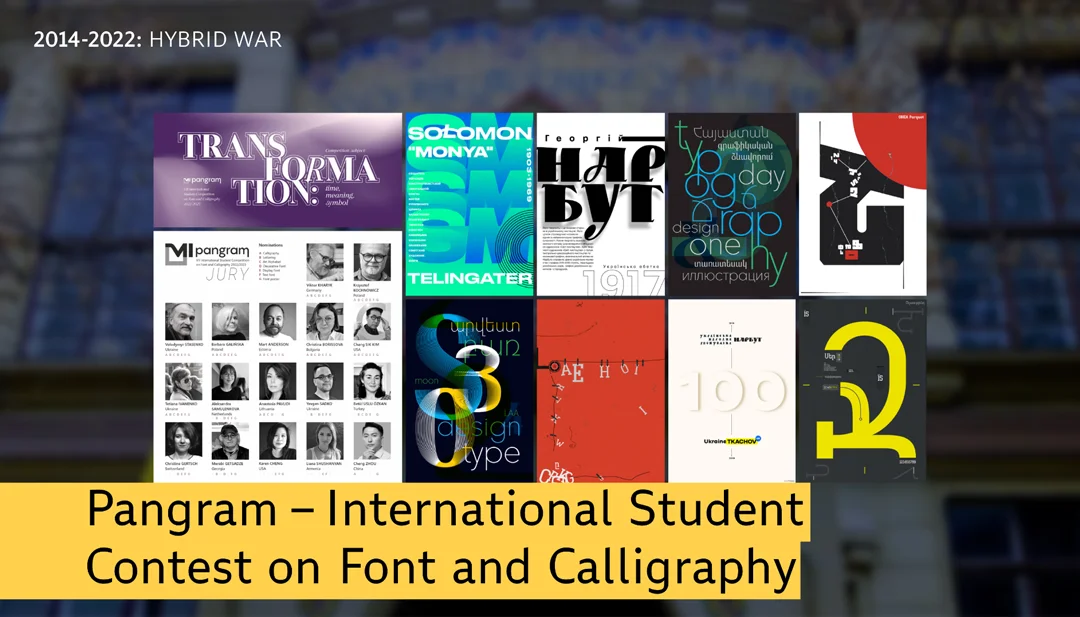 Pangarm is an international contest of fonts, lettering and calligraphy organized by the Kharkiv State Academy of Design and Arts. This contest is close to me because I studied at this academy and am a member of the jury. Pangram participants are potential authors for Rentafont.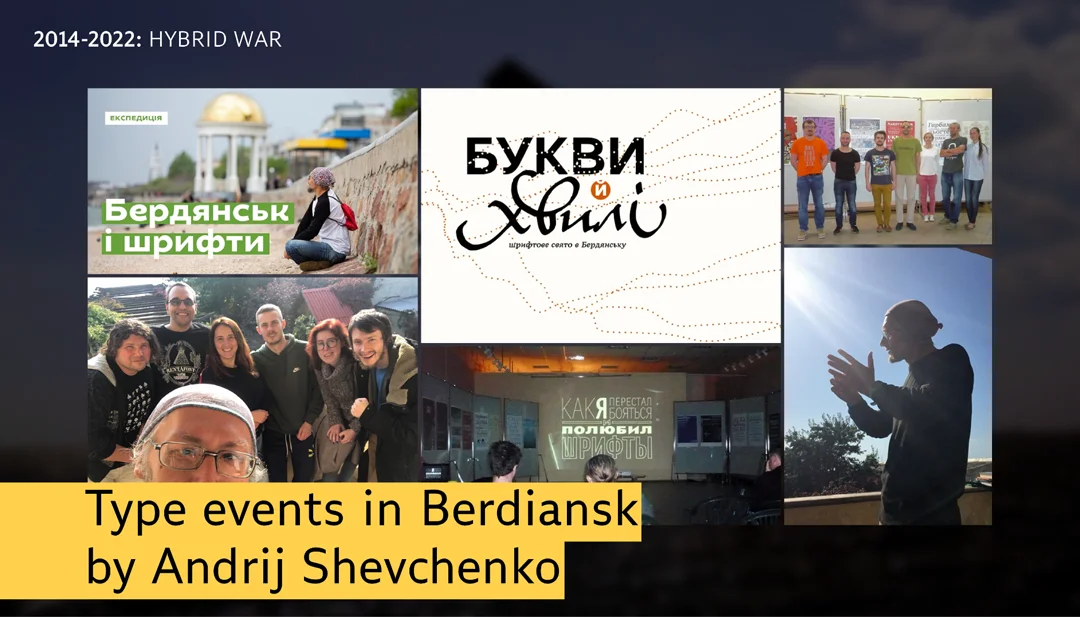 Букви й Хвилі is one of the nice font meetings organized by Andrij Shevchenko. Usually Andrij gathers his colleagues by the sea to work together and just breathe the sea air. At this meeting in 2019, I met young type designers who are now professionals.
Unfortunately, these events are currently suspended or have moved online due to the russian invasion of Ukraine.
The third wave of Ukrainian type designers
All these festivals, contests, font education, new font websites have attracted new people to Ukrainian type design. I call them the third wave of Ukrainian type designers.
The most notable are: Marchela Mozhyna, Serhiy Makarenko, Zakhar Kryvoshiya, Maria Vainshtein, Oleg Lishchuk, Oleksiy Popovtsev, Maksym Kobuzan, Mykhailo Rafailyk, Kateryna Korolevtseva, Valentyn Tkachenko, and Tetiana Ivanenko. This is not a complete list, as there are over 100 people in Ukraine who have created some digital fonts.
Original fonts of Ukrainian state, cultural, territorial and other brands
Ordinary Ukrainian users, readers, and viewers have gradually found themselves in an environment saturated with Ukrainian fonts. Between 2014 and 2020, a wave of territorial branding based on unique Ukrainian fonts swept across the country.
The following cities got their own fonts: Kyiv, Kharkiv, Lutsk, Luhansk, Dnipro, Sumy, Zaporizhzhia, Slavutych, Mariupol, Vinnytsia, Lviv region, Kyiv region.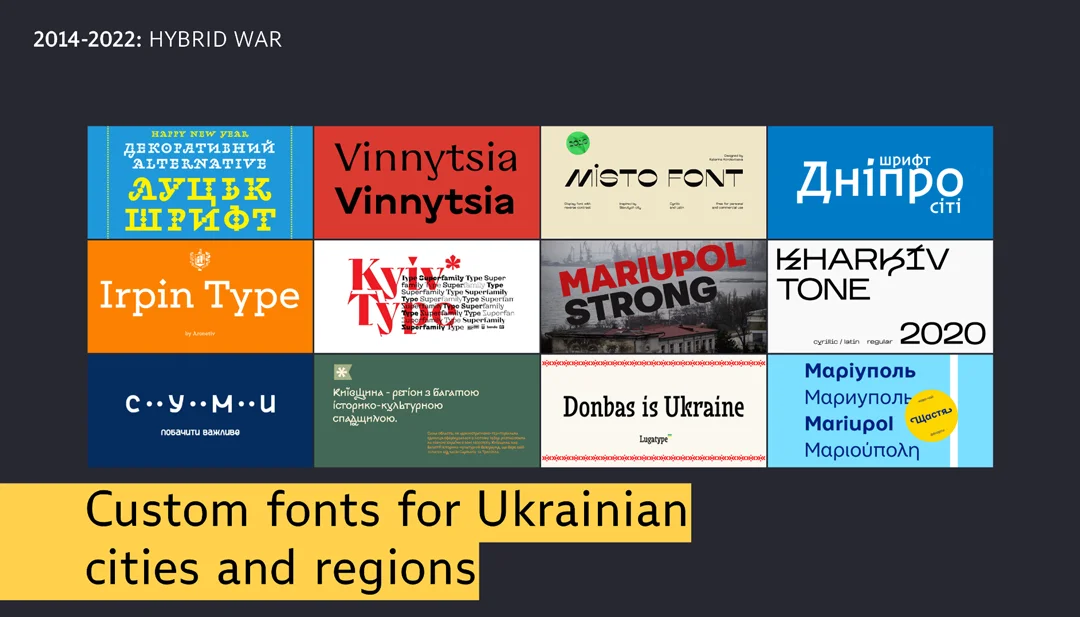 Large museums, such as the National Art Museum of Ukraine and the National Museum "Kyiv Painting Gallery", received unique fonts.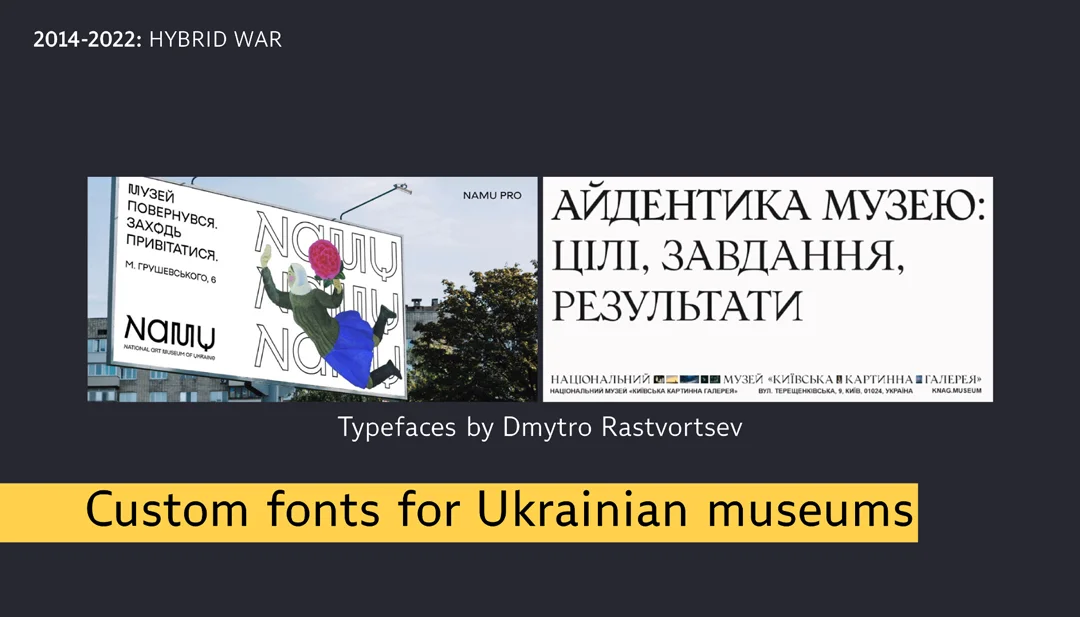 Our type designers began to make more custom fonts on the orders from TV channels, commercial networks, and other businesses.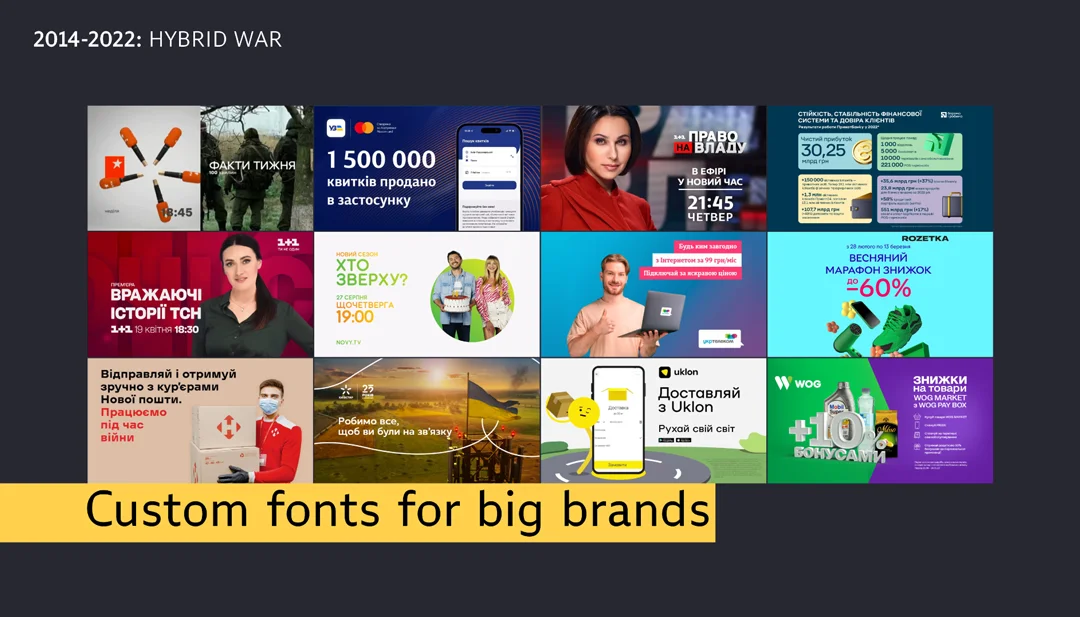 The Orthodox Church of Ukraine, which is canonical and independent of Moscow, also have its own typeface.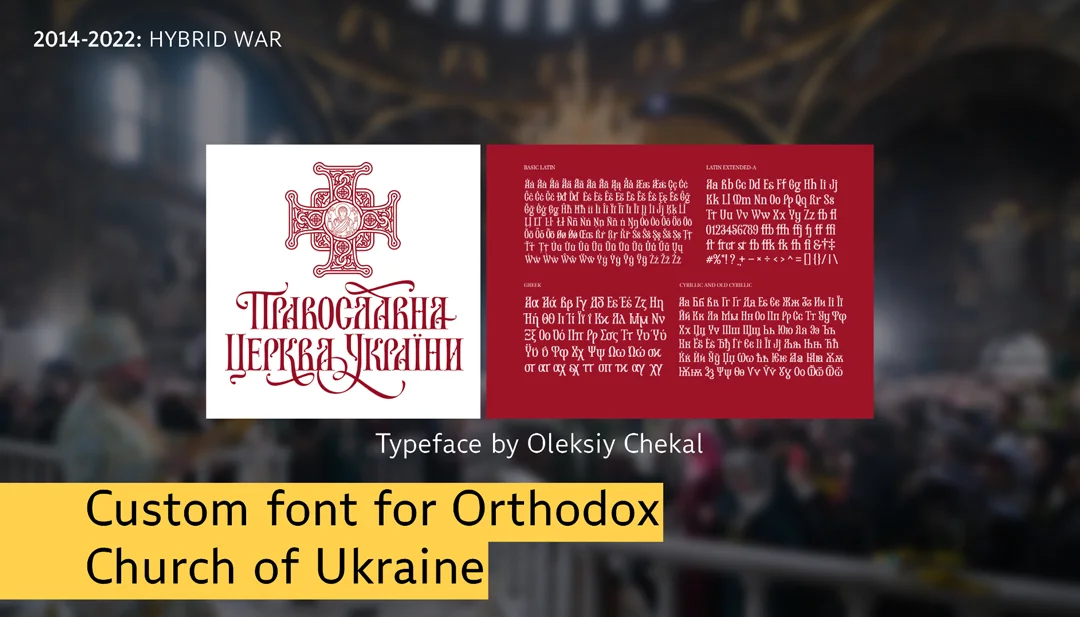 Even the government started using Ukrainian fonts, both licensed and exclusive. Custom typefaces were created for Ukraine's tourism and investment brands, and for the Armed Forces of Ukraine.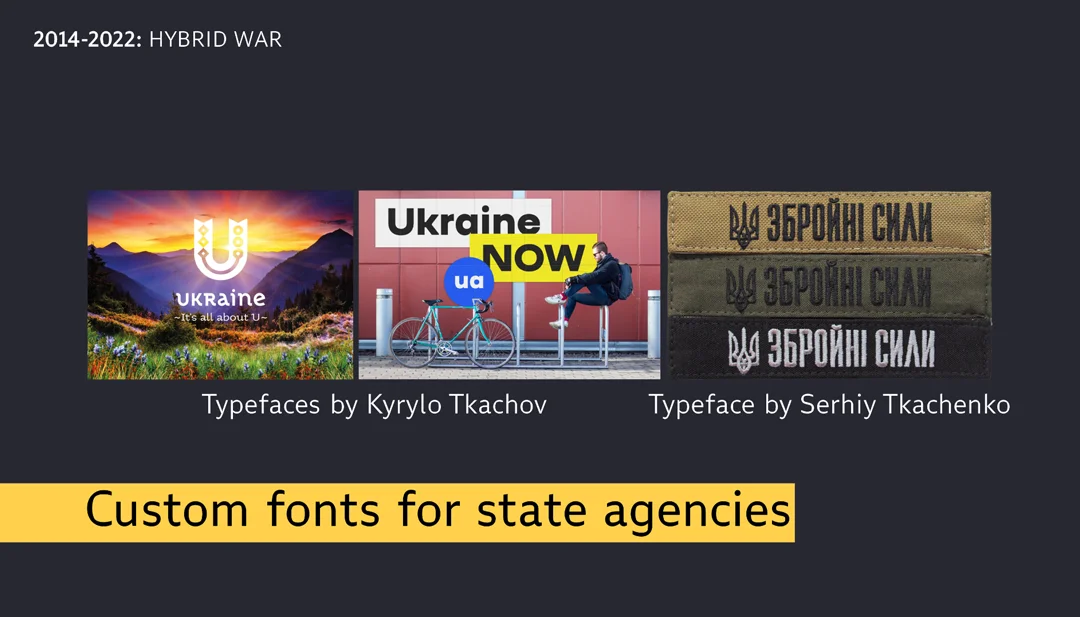 The most popular of the state fonts was the e-Ukraine, created specifically for the "Дія" mobile application for government services.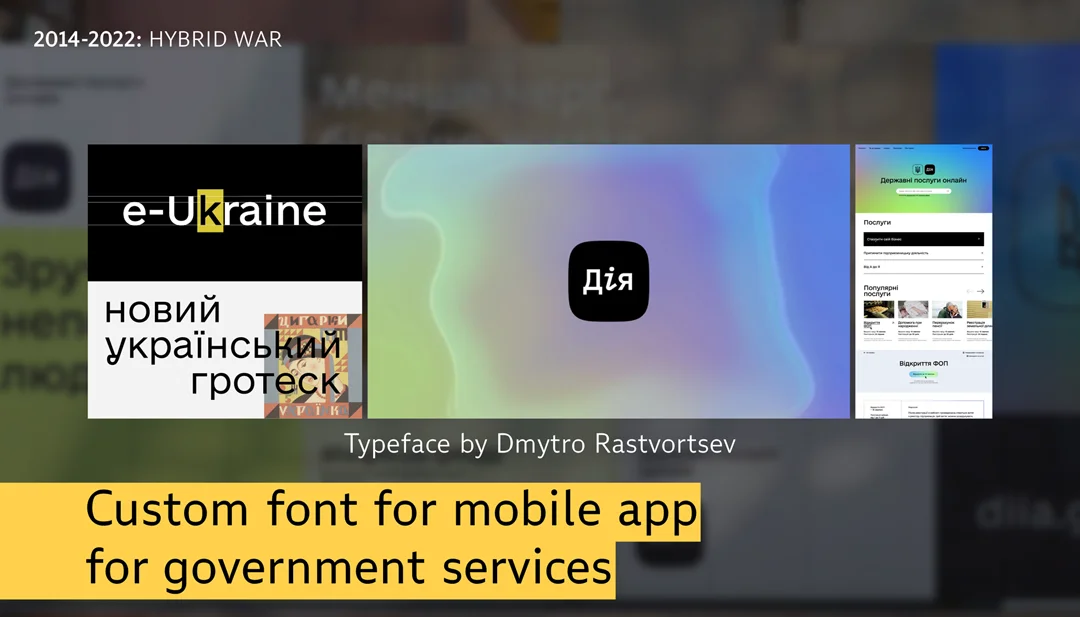 Fonts for big brands are quickly becoming popular because they usually have open licenses and refer to something familiar, like a hometown.
Readiness of Ukrainian users to use fonts legally
Everyday interaction with Ukrainian fonts, exhibitions, appearance of type designers in media have made our users closer to fonts. They began to realize that fonts have authors and their work deserves to be rewarded.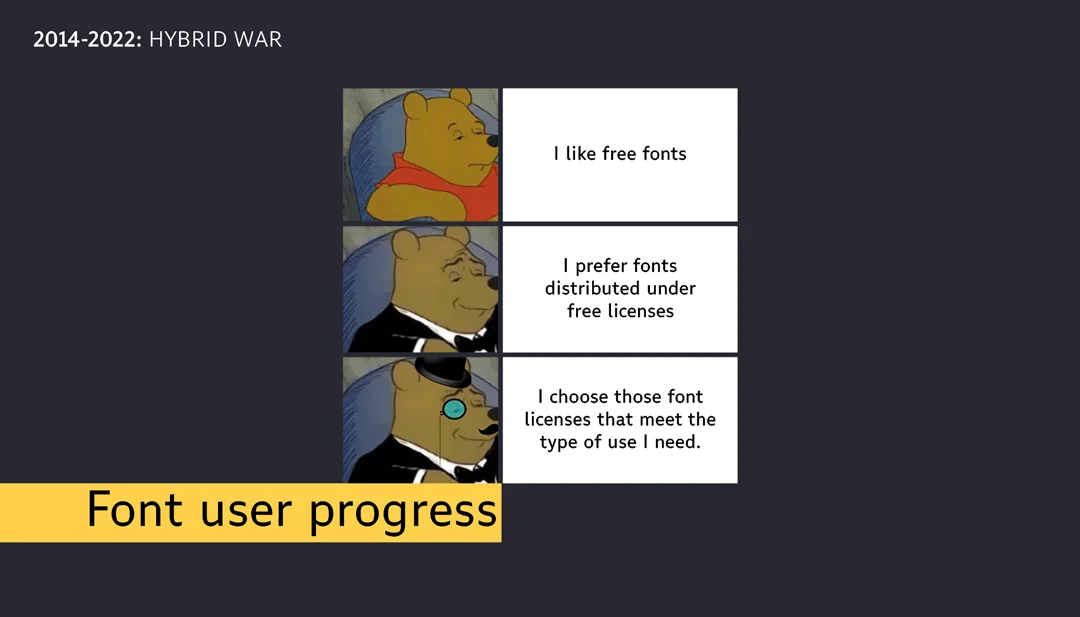 I'm regularly asked to talk to students about fonts or to write articles, and in recent years I've been hearing more and more questions about font licenses, font rentals and subscriptions.
To draw more attention to the legal protection of fonts, I obtained a copyright certificate for my font. It became the first confirmation of the authorship of a font as a graphic and, at the same time, as a computer program in the history of independent Ukraine.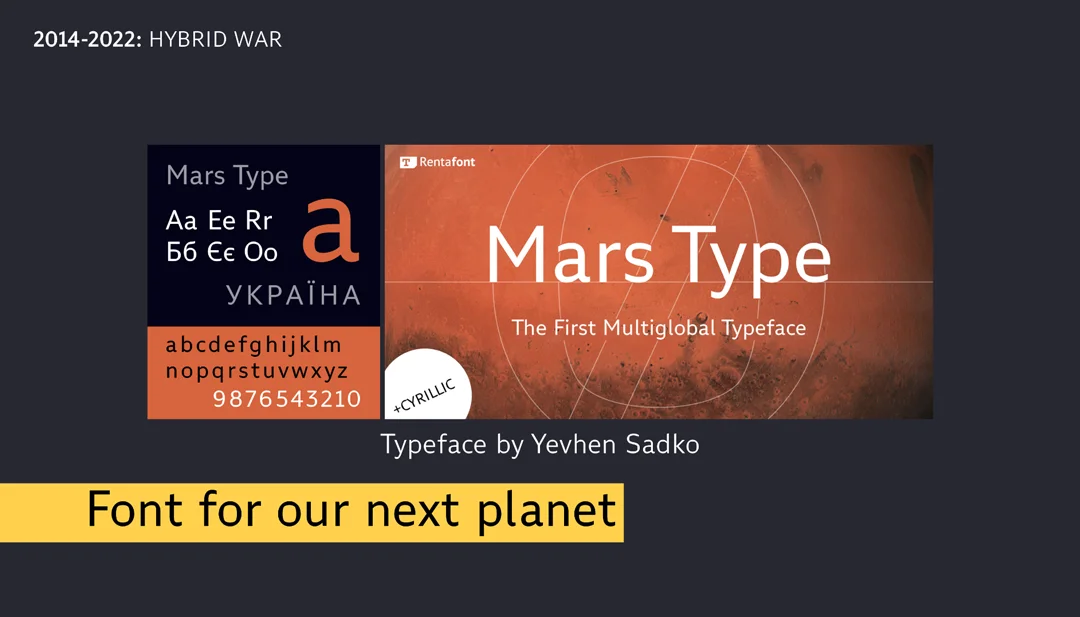 This officially protected font is called Mars Type, the first of its kind, made for the future colony on Mars.
Partial boycott of russian fonts
The willingness of designers to pay for fonts at least sometimes is an important step towards a more conscious design. But what if a Ukrainian designer has found a high-quality font made in russia that is suitable for the task?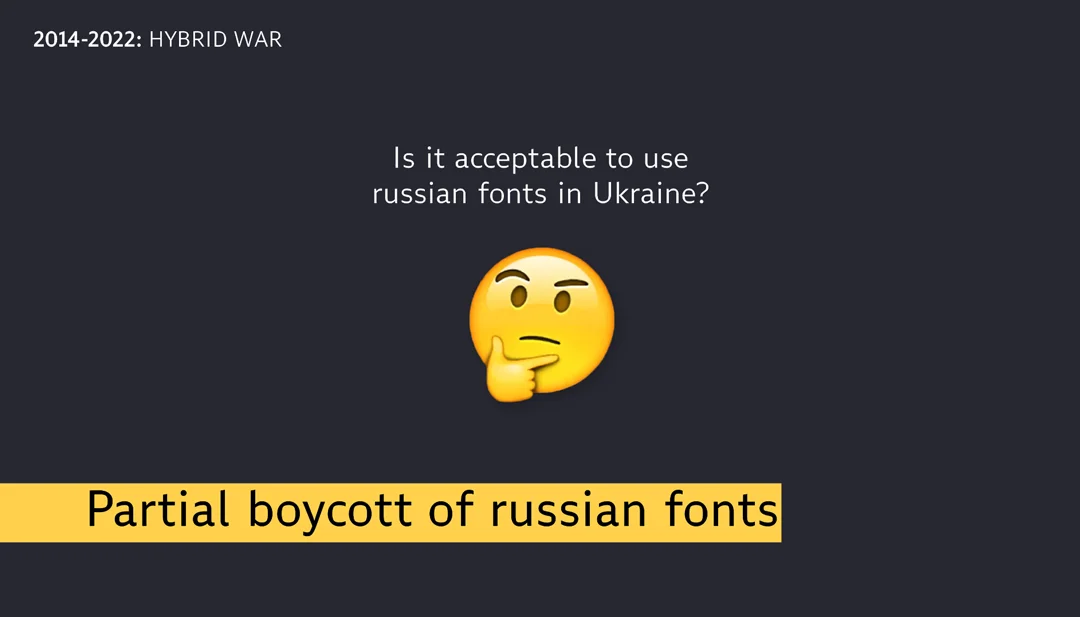 The next step is to ask yourself whether it is appropriate to use a russian font for this particular project. By russian, we mean a font whose revenue goes to russia. No questions about the ethnic origin of the authors.
Even after 2014, when russia had already attacked Ukraine, but not yet on a full scale, most of our designers easily bought russian fonts, despite the fact that the russian economy was partially working for the war.
At that time, I thought that russian fonts had no place only in designs that directly represent Ukraine. For example, if it's a battle flag, a historical museum, the national currency, or the uniforms of Ukrainian athletes, then only Ukrainian fonts should be used.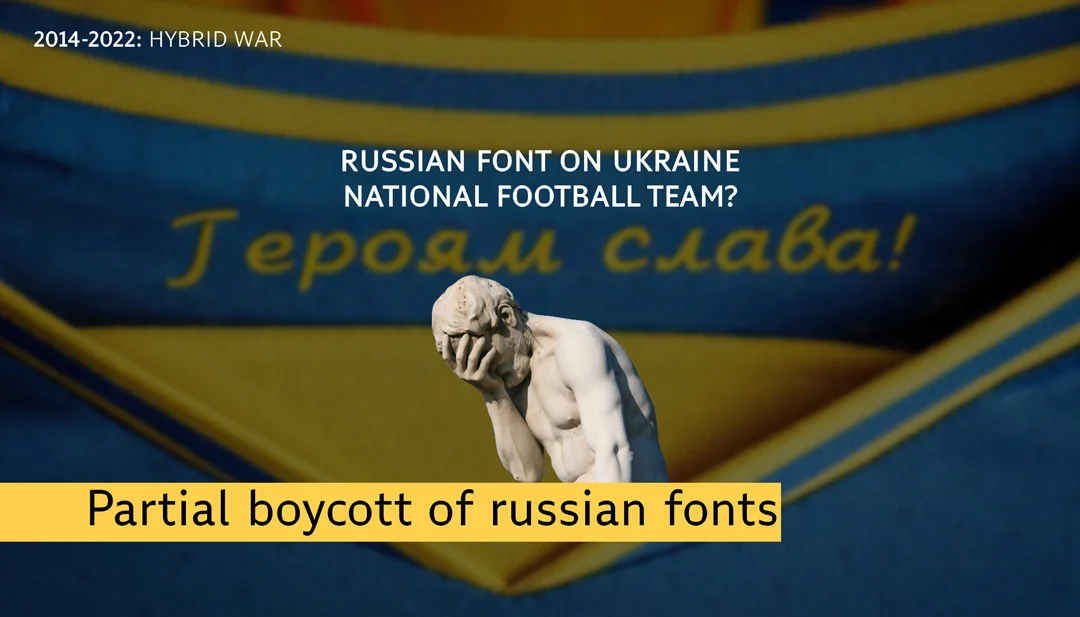 After 2014, my colleagues and I often posted on social media examples of russian fonts where they are simply unimaginable. For example, the design of the Ukrainian currency – hryvnia is based on fonts made in russia. One of these fonts is even a russian illegal, low-quality Cyrillic version of a font from Adobe.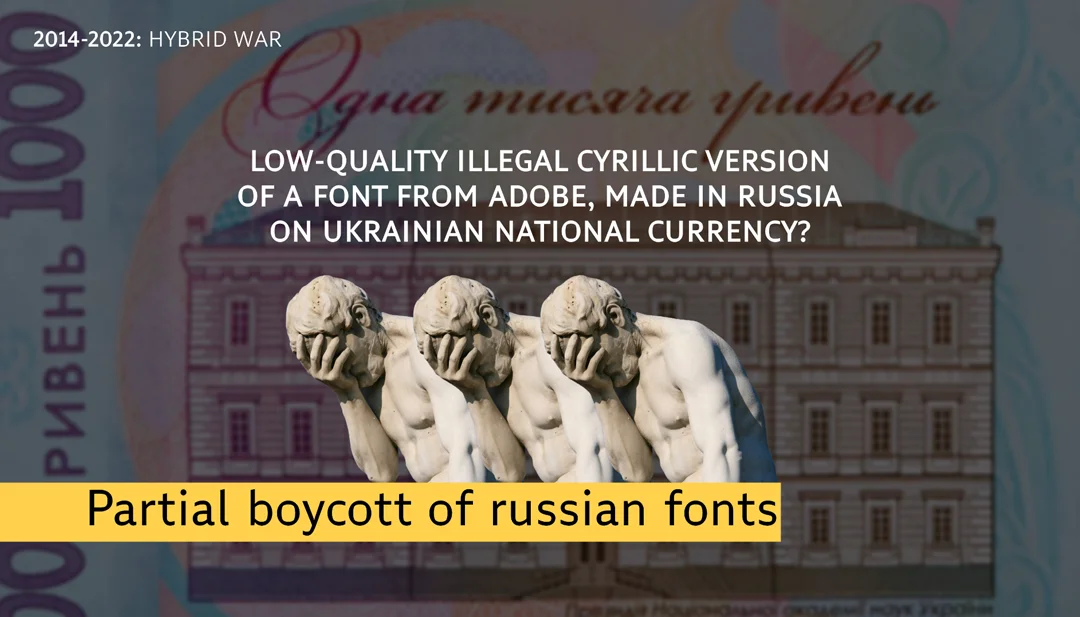 Ukrainians are used to boycotting their enemies. Back in the two Maidans, we had huge stop-lists of pro-russian brands so that we wouldn't buy their products.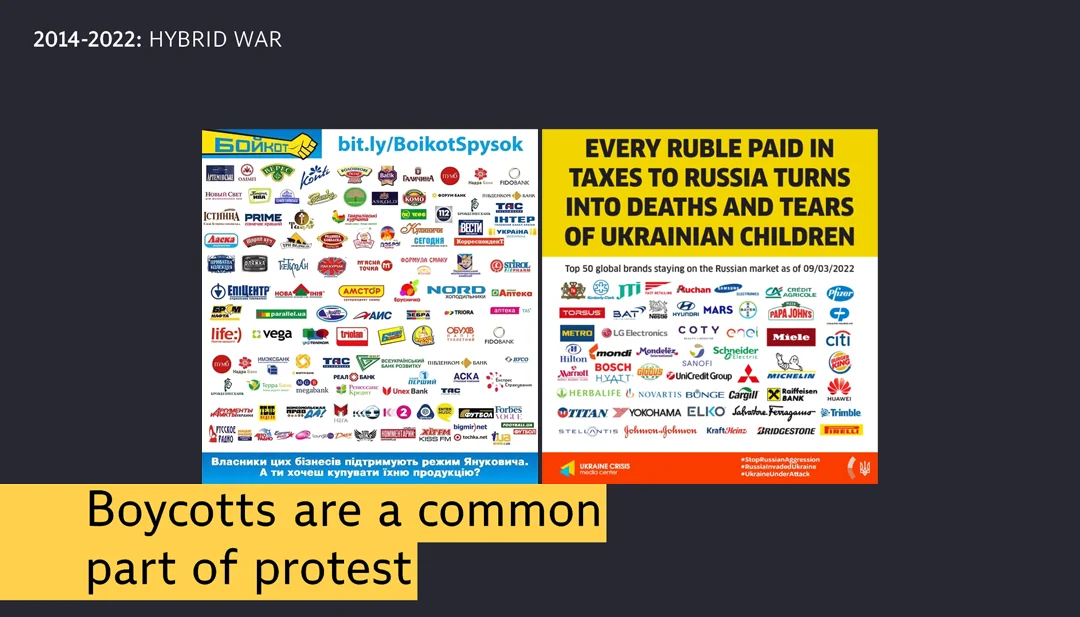 Separating from russia by transition the Ukrainian language to the Latin script
Russian aggression generates different types of resistance. Not all of them are equally logical and constructive. For example, some activists believe that abandoning the Cyrillic alphabet and transiting the Ukrainian language into Latin will tear us away from russia and bring us closer to the Western world.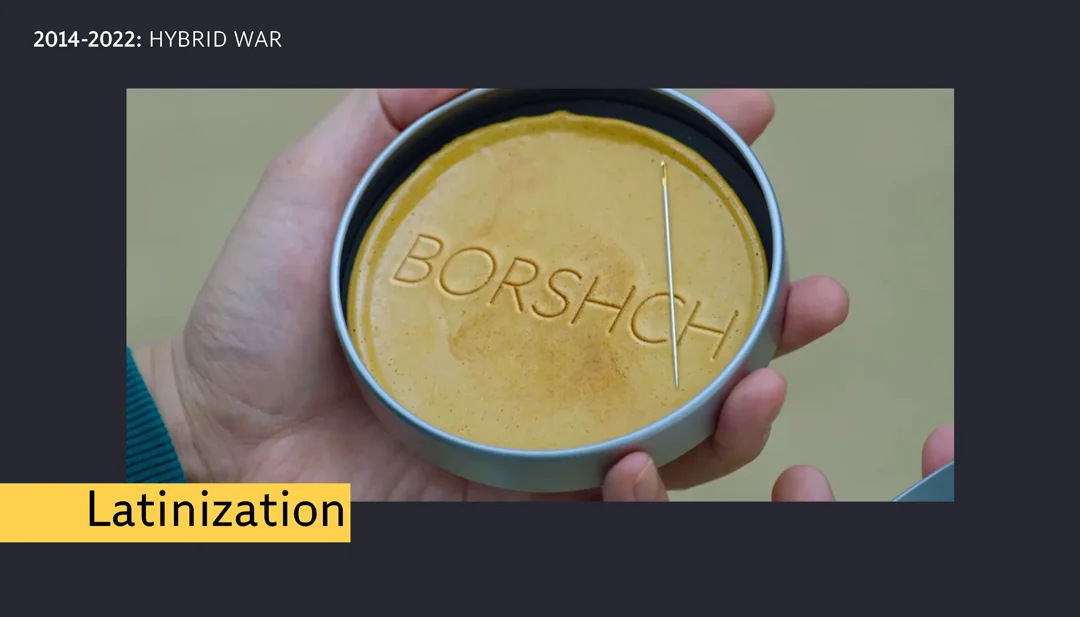 But 99% of Ukrainian type designers are against the transition to Latin, despite the fact that it is much faster and more profitable to make fonts without Cyrillic. But that's how our font designers are, they are used to working without a quick reward.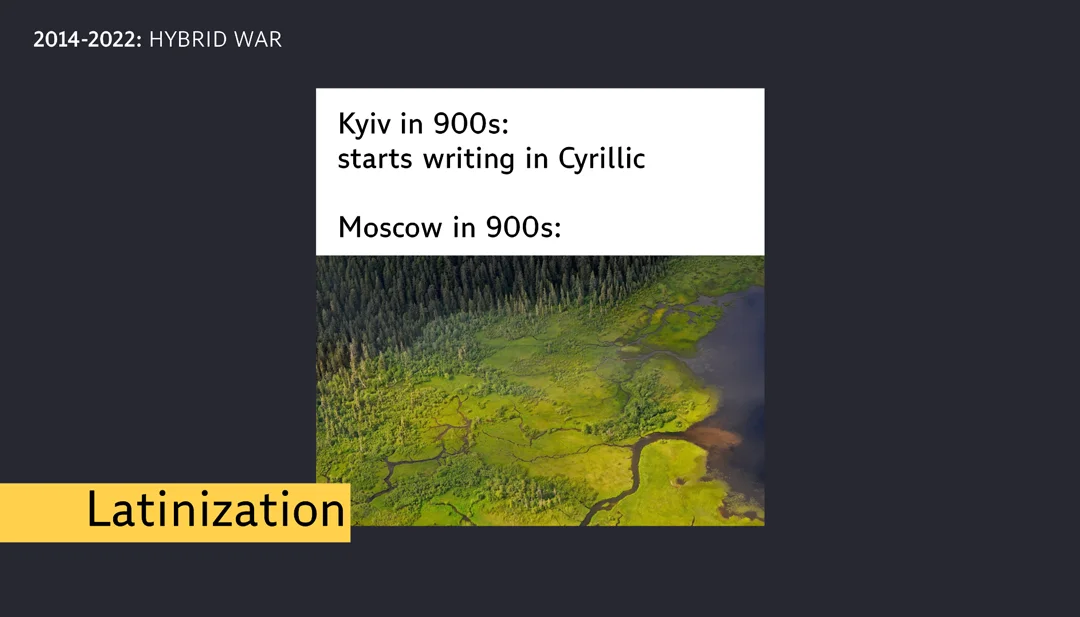 Type professionals explain to Latin fans that the Cyrillic is our writing system, which optimally conveys Ukrainian phonetics. In Kyiv, people wrote in Cyrillic a hundred years before Moscow was founded.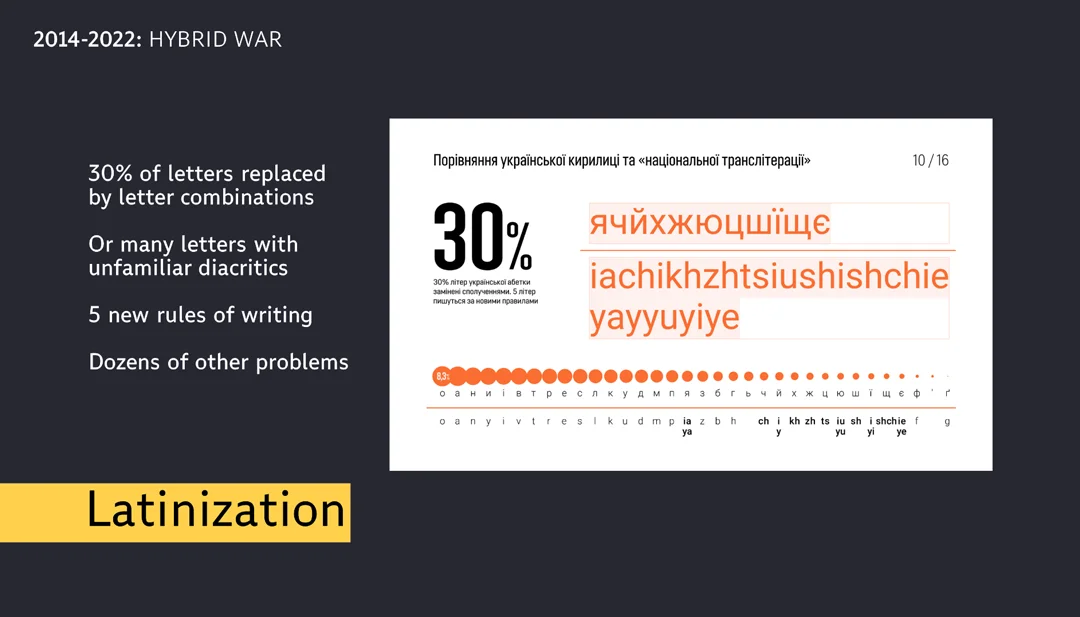 I even did a study where I analyzed the Ukrainian Language Corpus and showed what pragmatic problems would arise after the transition to Latin.
A full-length movie about one Ukrainian typeface
In Ukraine, there is a very popular typeface Rutenia, created by Hennadiy Zarechniuk and Viktor Kharyk in 2017.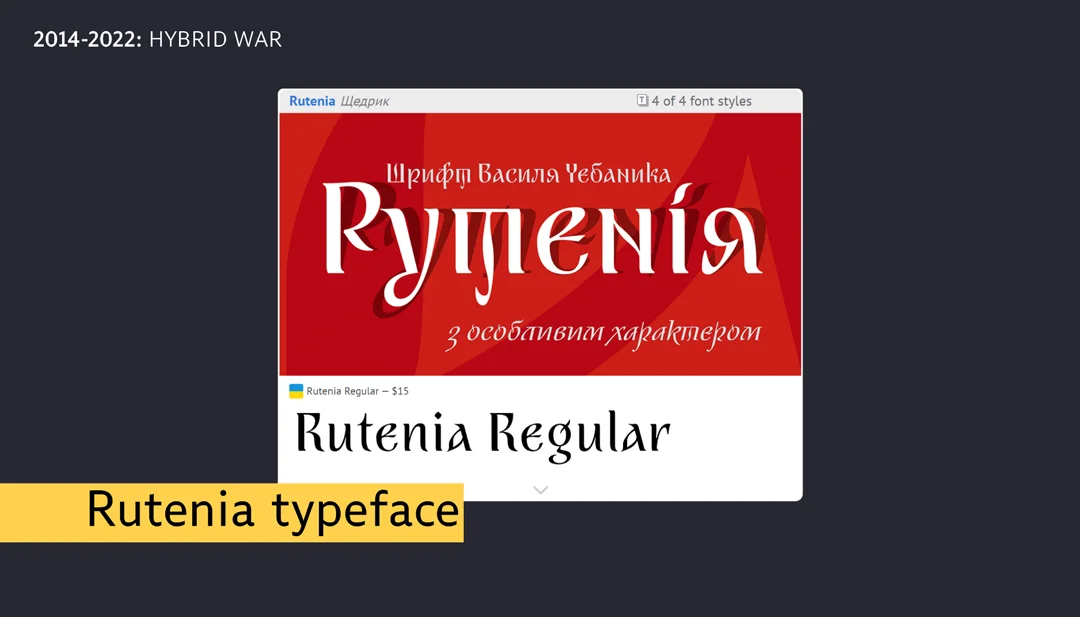 This digital typeface is based on the many years of work by the famous calligrapher Vasyl Chebanyk, on his series of calligraphy and lettering called Rutenia. Graphics of the Ukrainian Language.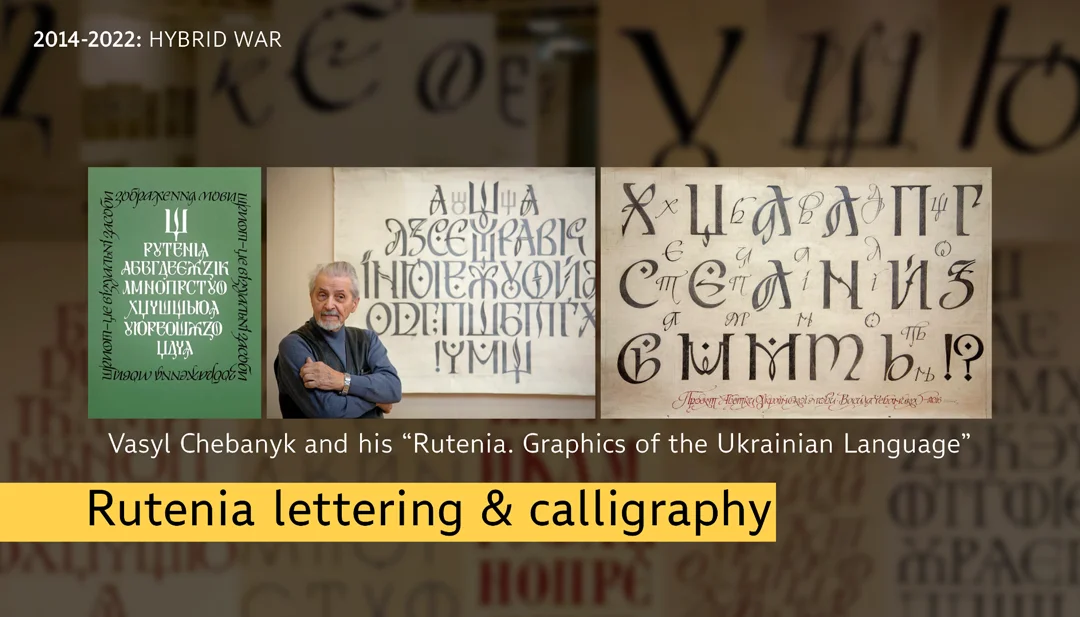 This work became so bright that in 2019 a full-length movie Rutenia. Code of the Nation was made about it.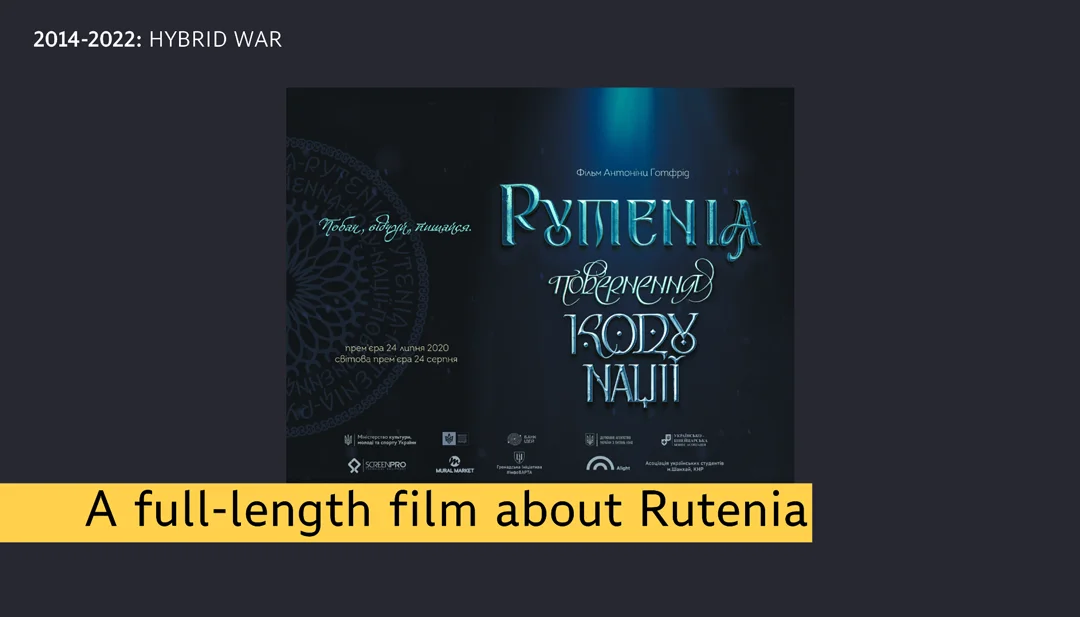 The film says that the modern Cyrillic alphabet is based on a project by Peter I called the Civil Script.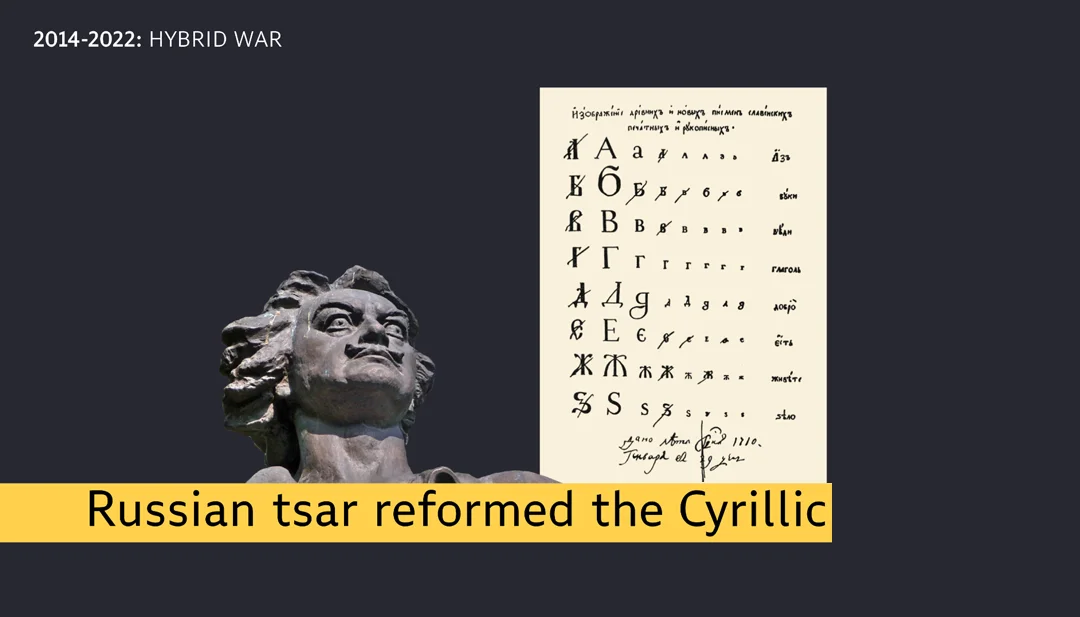 They also say that graphemes by Peter I impose an alien russian identity on Ukrainians. But Vasyl Chebanyk created Rutenian letters that should be considered our true historical alphabet. They seem to carry a deep meaning laid down by our ancestors.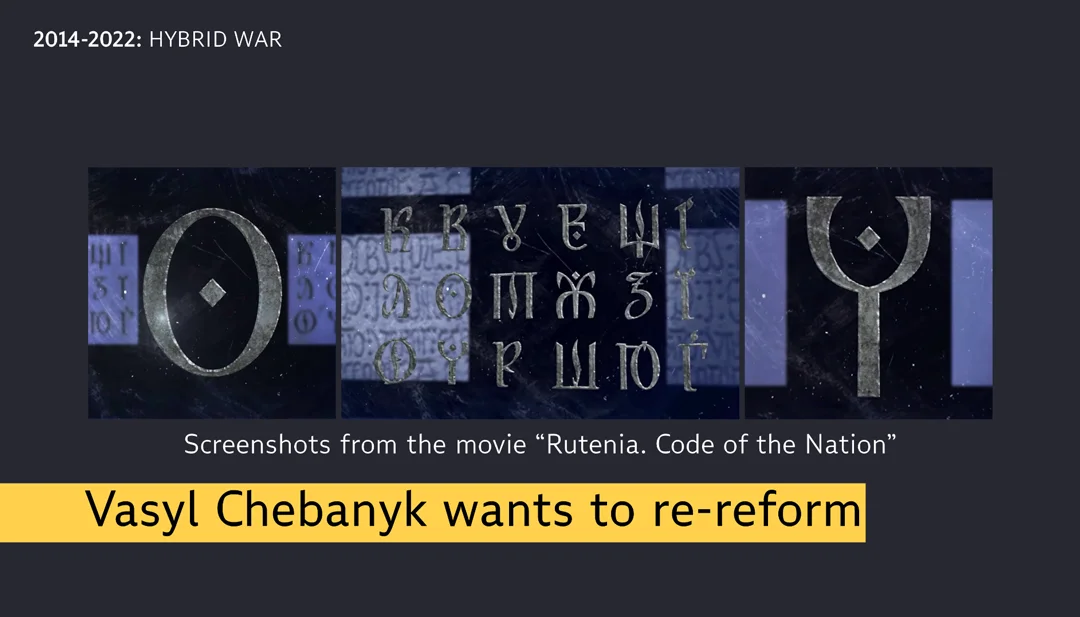 Chebanyk's letters look beautiful and convincing, they are as aesthetically perfect as the Lord of the Rings universe. But this is the author's subjective view, which is substantiated by nonscientific arguments that contradict history and linguistics.
On the one hand, this movie is useful. It popularizes the topic of fonts among a wide audience. Viewers learn that original fonts are made in Ukraine, discover their importance, and buy Rutenia. But on the other hand, having opened the topic of fonts to a wide audience, the authors of the film confused the concepts of writing system, alphabet, grapheme and font. They also broadcasted a distorted view of the history of writing.
Researching the Ukrainian font heritage of the 20th century
The ideas of the Latin fans, as well as Rutenia fans, are quite radical. Most Ukrainian type designers do not support such approaches to reforming the Ukrainian alphabet.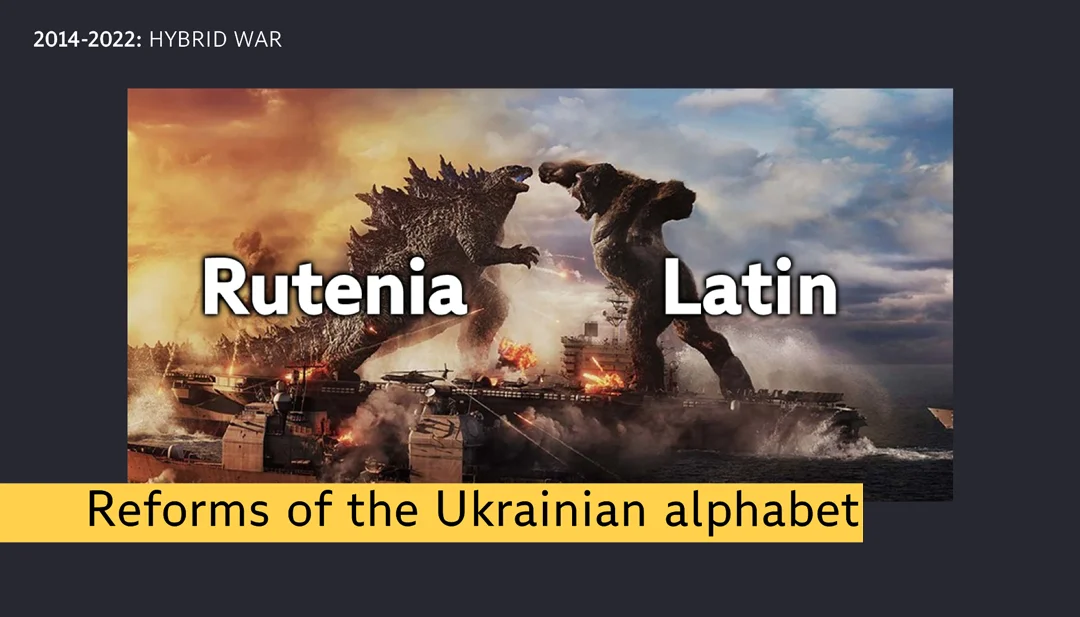 We do not sacralize individual authors, we do not repeat after Peter I. And we also don't repeat after Narbut, Krychevsky, or Chebanik. The reform of the alphabet is not about idols, but about a dialog between professionals who respect history and listen to users.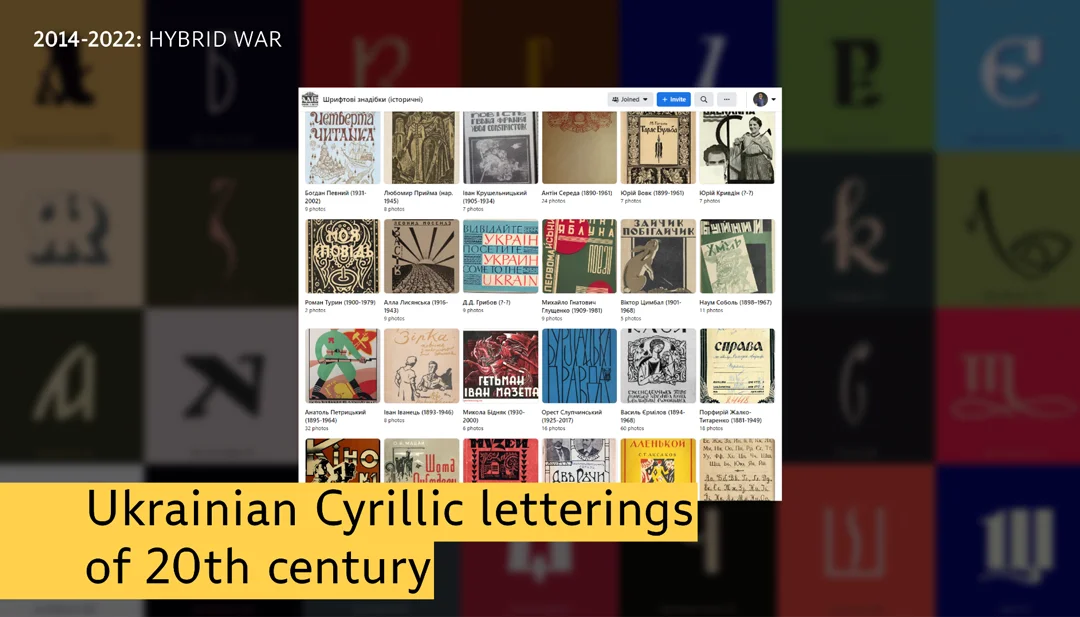 A very important discovery for our designers was the research of 20th century Ukrainian graphics in the group Шрифтові знадібки історичні created by Ukrainian type designer Marchela Mozhyna. She is collecting a live archive of letterings made by Ukrainians from all over the world. These masters almost have not been studied before because of the imperial approach to the history of Ukrainian art.
There are hundreds of names, including:
Les Lozovsky (album)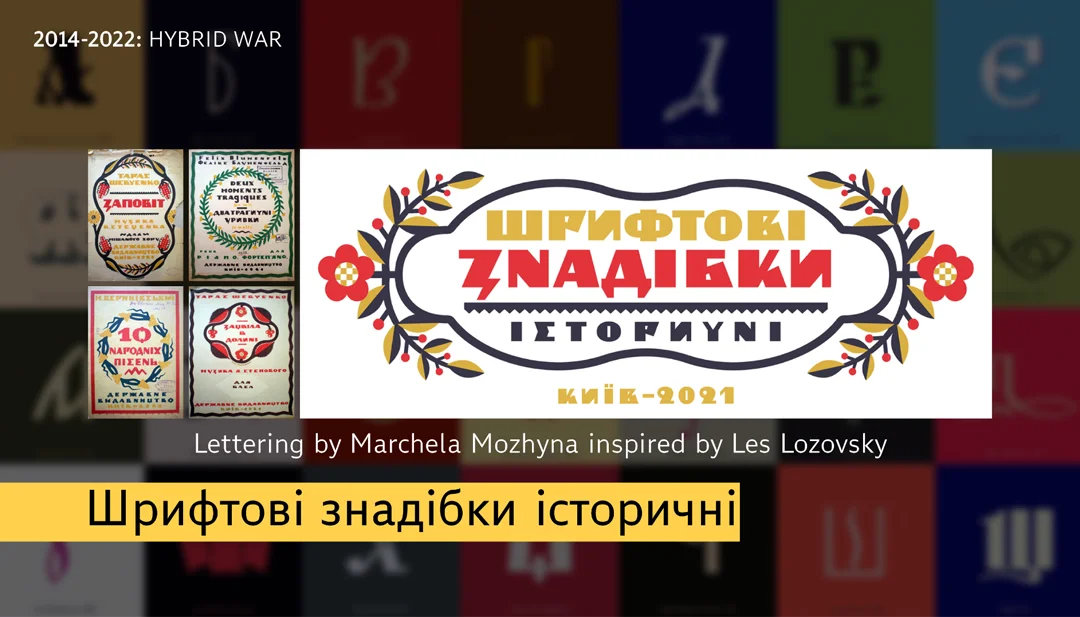 Mykhailo Dmytrenko (album)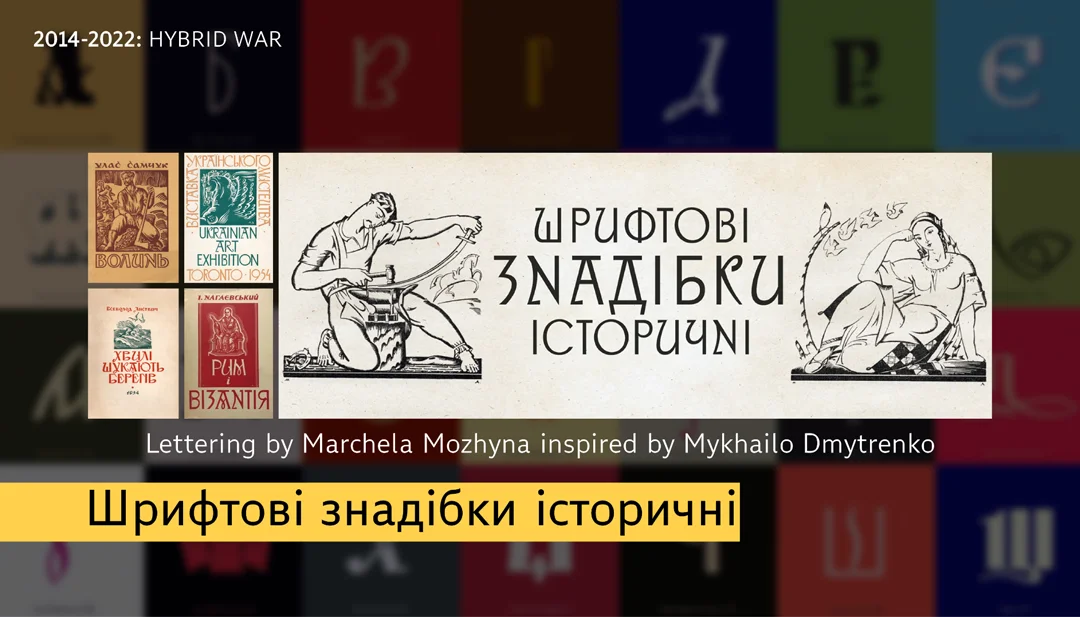 Jacques Hnizdovsky (album)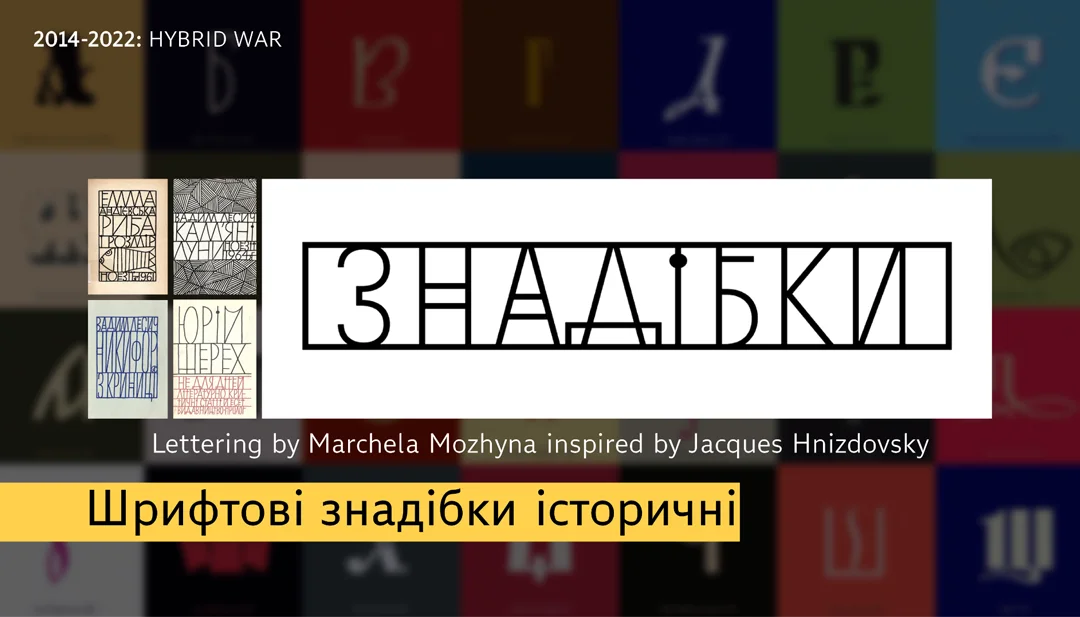 Petro Kholodny (album)
Okhrim Sudomora (album)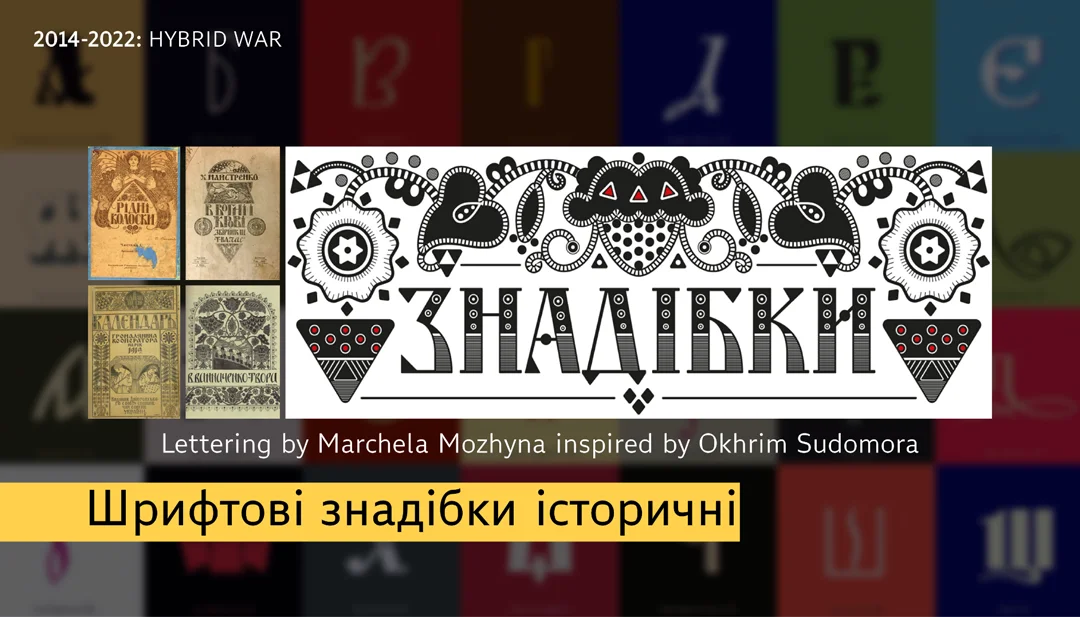 Sviatoslav Hordynsky (album)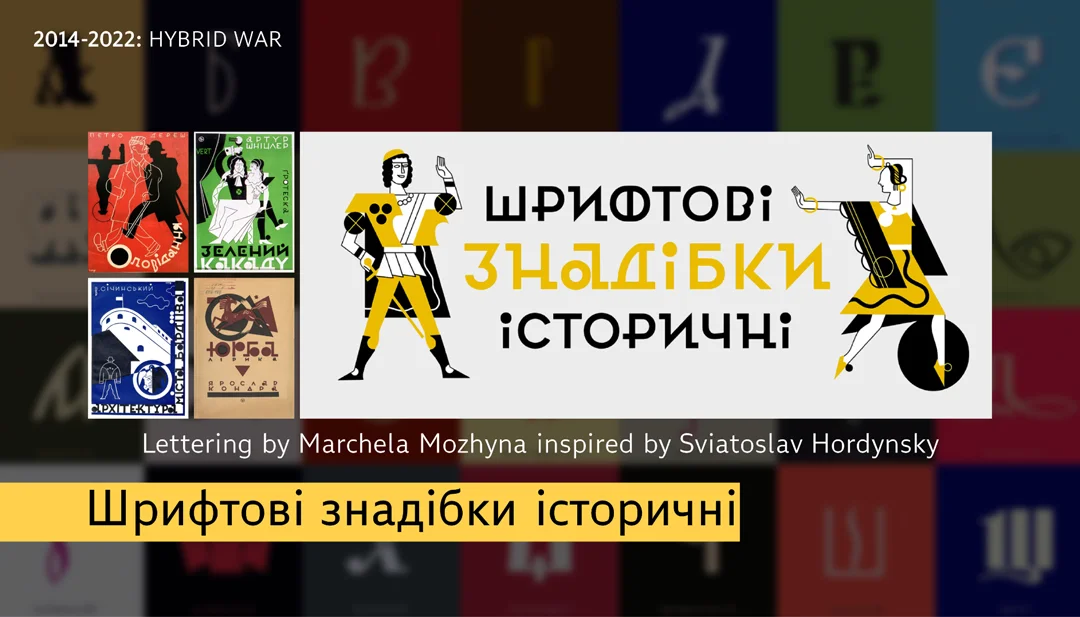 Robert Lisovsky (album)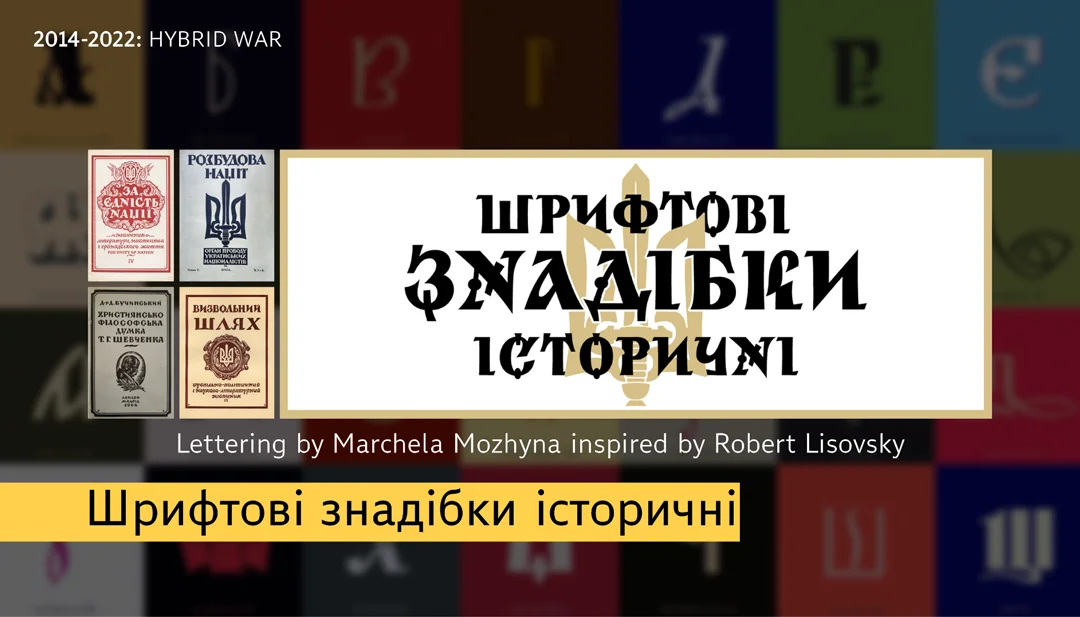 The variety and originality of these letters, which were based on Ukrainian traditions, inspire both type designers and ordinary users. At the time of this speech, Znadibky had over 7000 followers.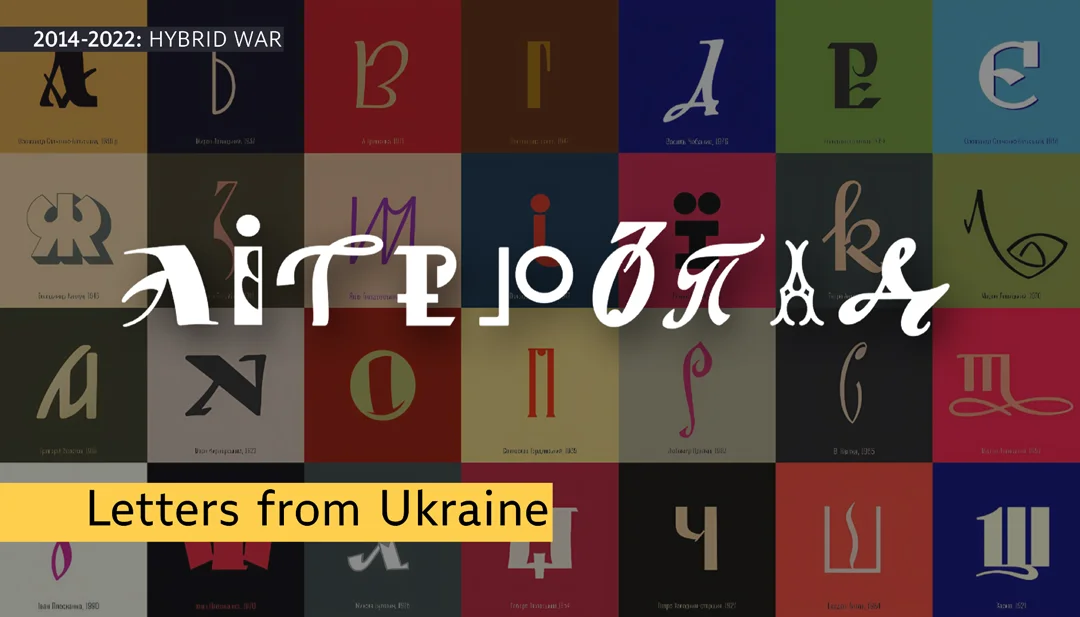 In recent years, not without the influence of this group, a fashion for bright authentic Ukrainian typography has emerged in Ukraine.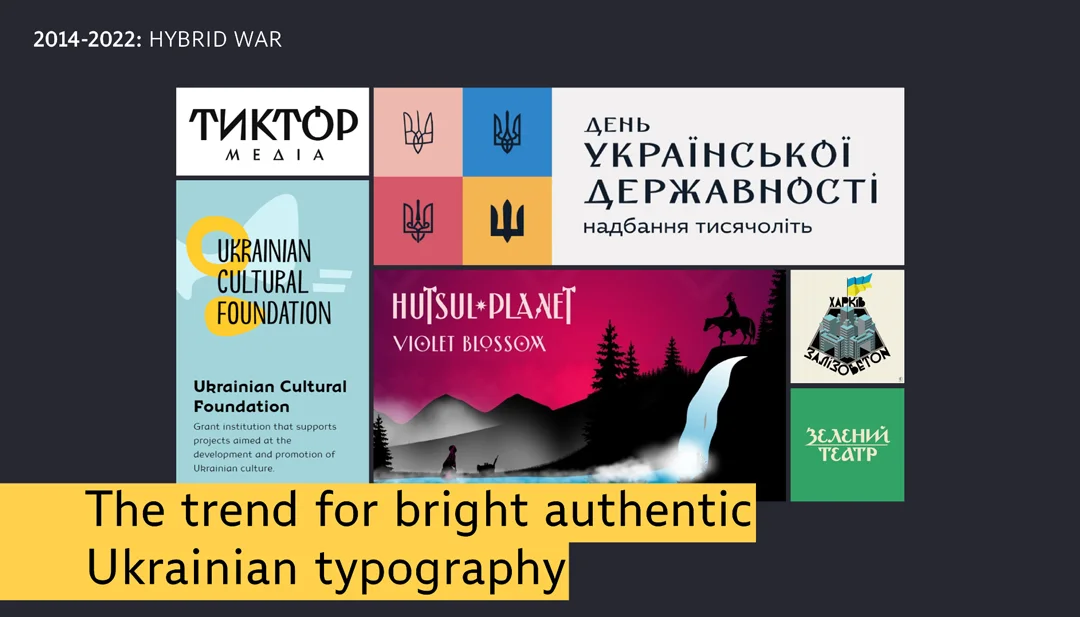 This is how, at the end of the hybrid war, Ukrainian type designers and users came to realize the importance of Ukrainian fonts as both our visual identity and an intellectual property.
2022-2023: Full-Scale War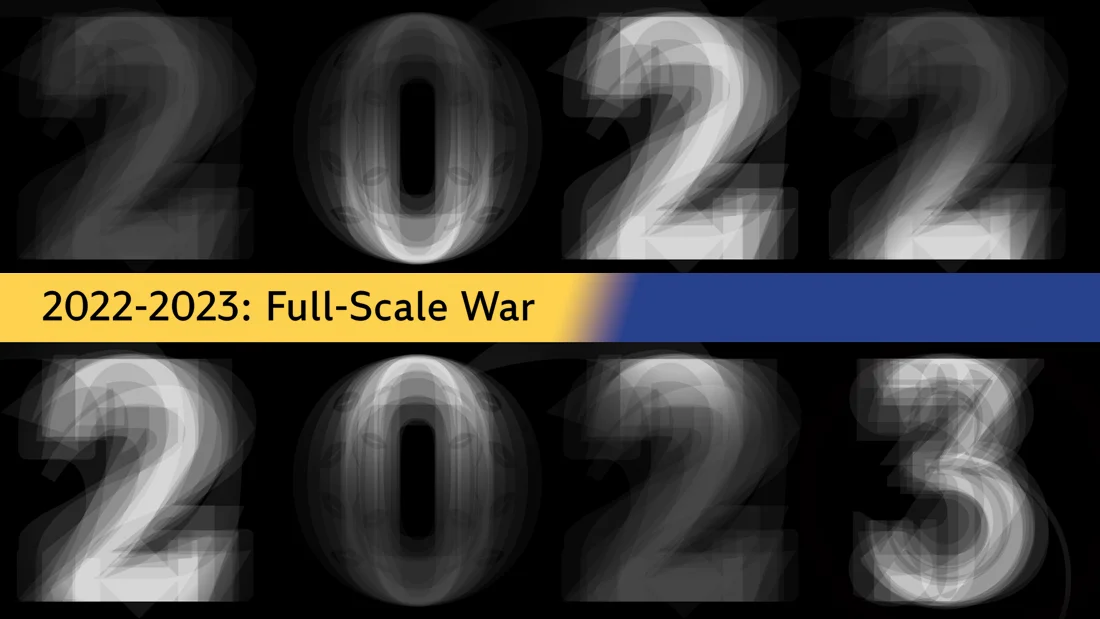 In the first days of the full-scale invasion, russia openly stated that it wanted not only to occupy the territories, but also to destroy Ukrainian history, culture, and language. This physical and cultural genocide is called denazification in putin's mythology. Russian propagandists have also frequently used the expression "the final solution to the Ukrainian question".
Total boycott of russian products, including fonts
The captured ruins of Mariupol were immediately renamed. Ukrainian signs were replaced with russian ones. This is a common practice: destroy the city along with people, redesign it, record propaganda, and move on.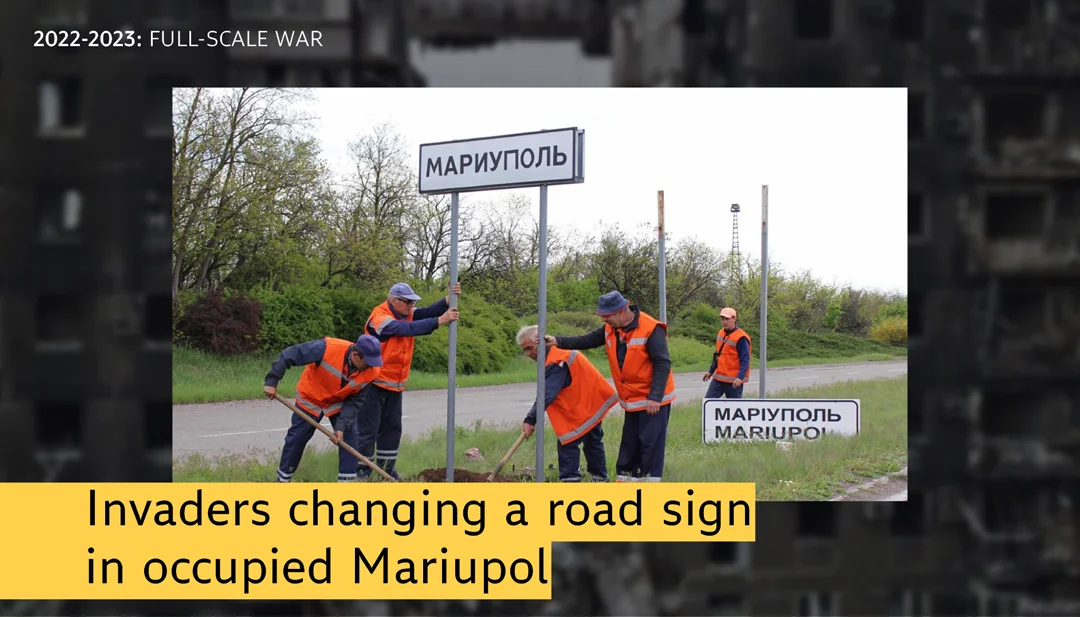 All Ukrainians in creative professions started creating posters, videos, music, fonts in support of Ukraine. We campaigned for all possible sanctions against russia. The boycott must cover everything from oil and gas to web services and fonts.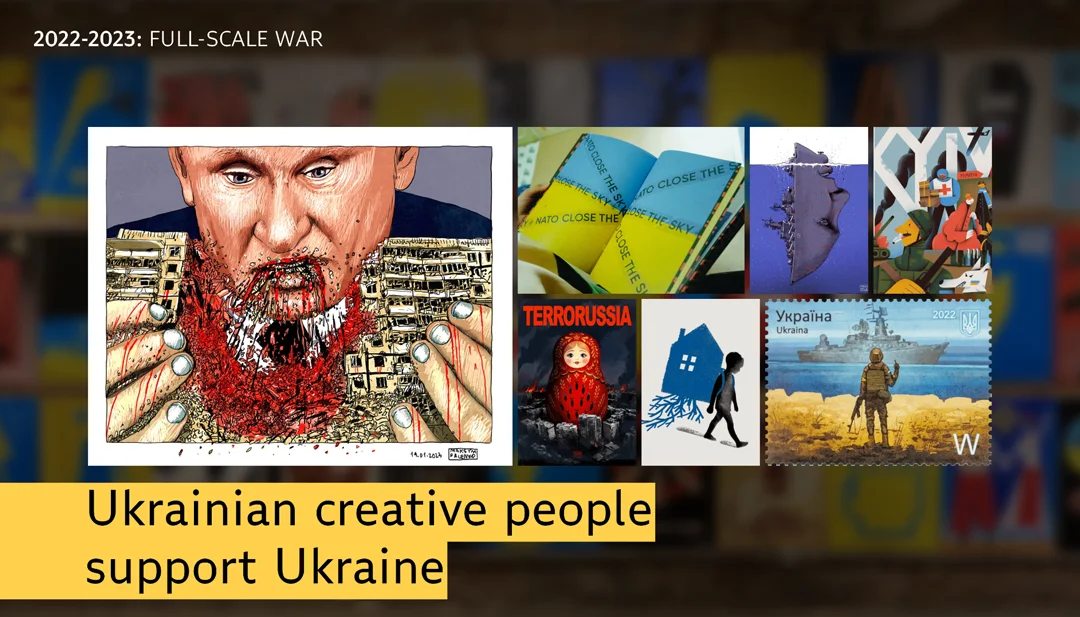 By the way, our russian "colleagues" also helped us with the boycott of their products. Most of them were silent about the crimes of their government, and some of them even openly supported the war.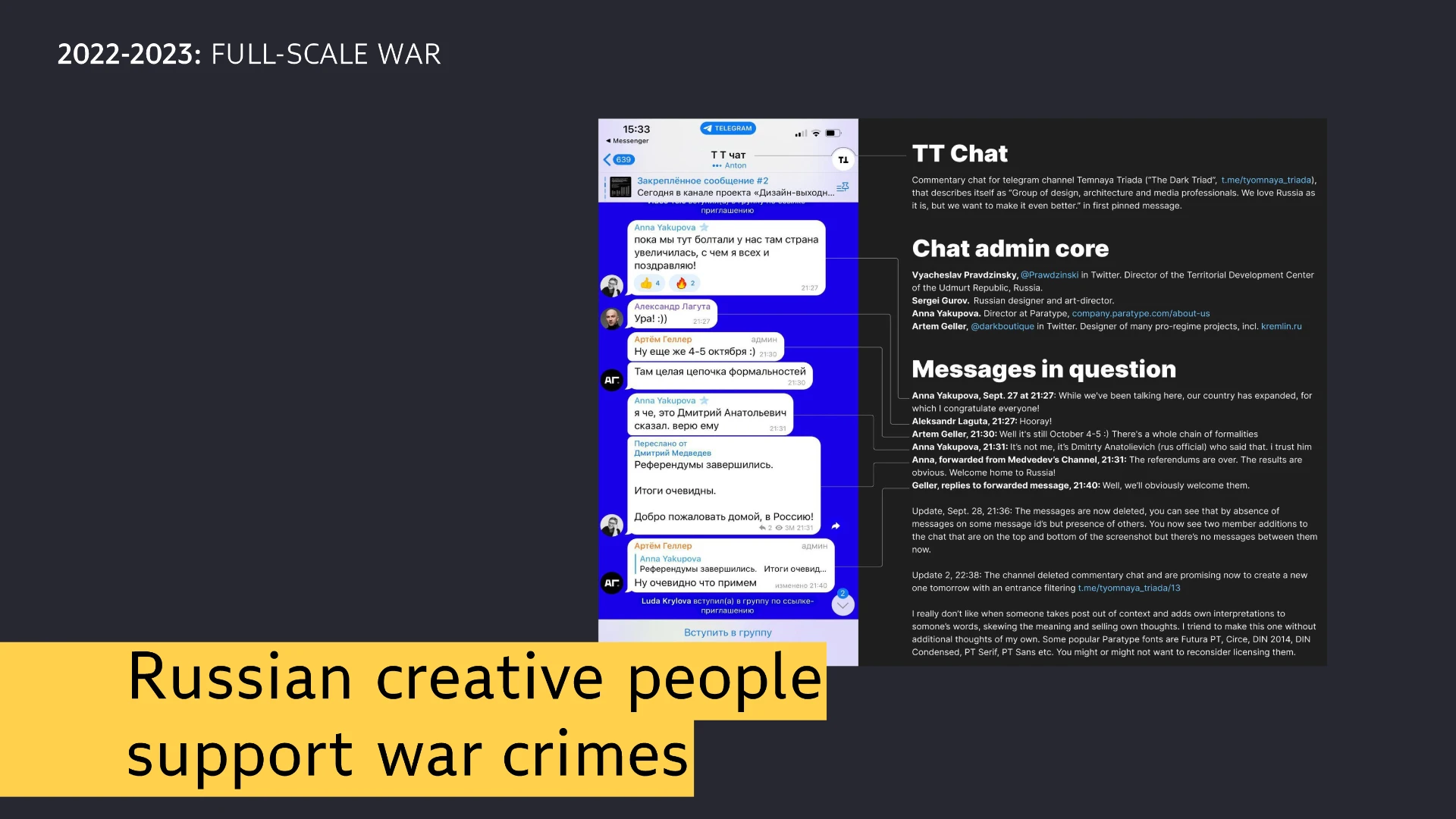 Also a well-known English media It's nice that released a review Global Type, which did not include Russian foundries. It's really nice that the boycott of russian fonts extends beyond Ukraine.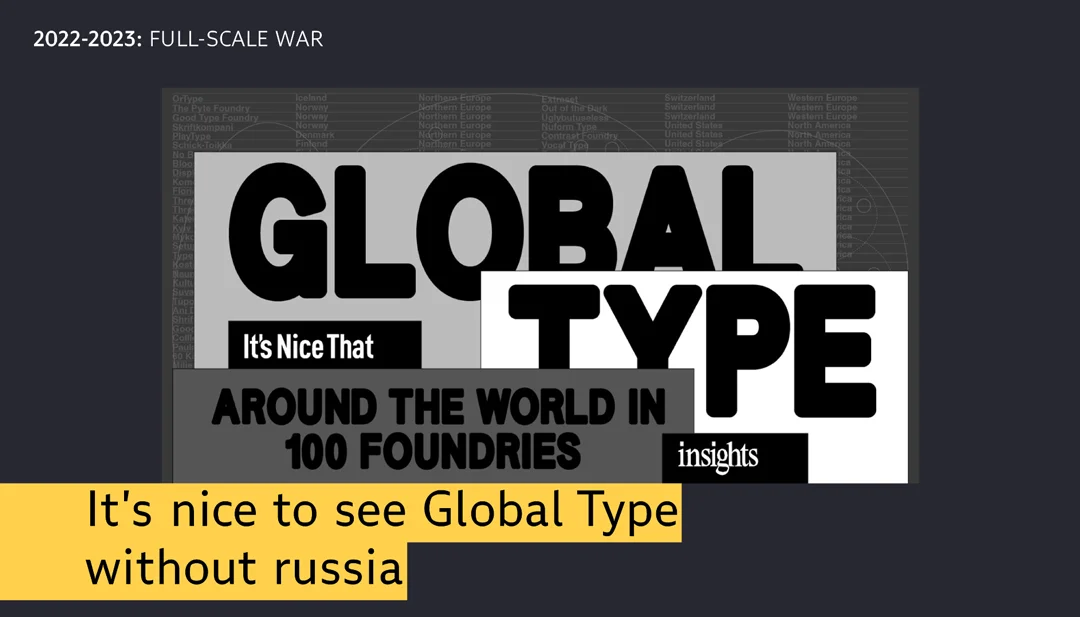 But this is just a rare example. Adobe, Monotype, Google Fonts is still distributing fonts from russia, in particular, Golos font by ParaType designed specially for the russian government.
Type volunteering and support of Ukraine
Everyone who lives in Ukraine now has turned into its defenders or volunteers or donators. Type designers did not stand aside either. Jermilov typeface by Kyiv Type Foundry has been seen all over the world thanks to the Brave Ukraine international campaign.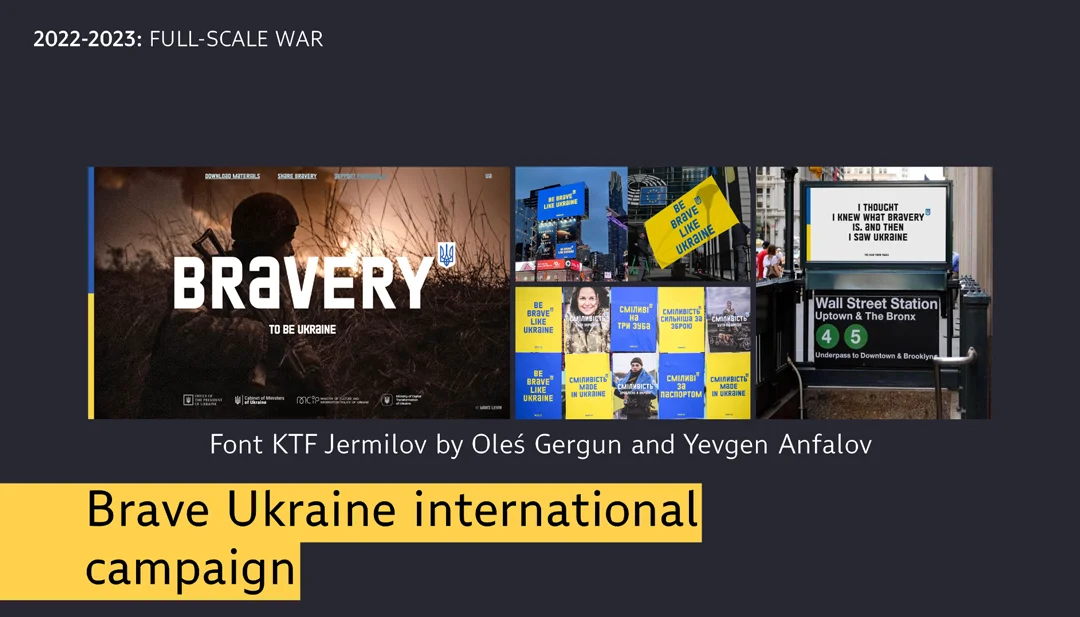 Some type designers have created new fonts specifically to donate part of their profits to support our Armed Forces: Denys Zhuk with Foso Sans, Oleksiy Popovtsev with Irpin Type.
Ukrainian font sites: kyivtypefoundry.com, tsankotype.com, rentafont.com.ua donated money from the sale of fonts to our defenders. Ukrainian type community Shchedryk deserves special attention! Since 2017, they have been producing fonts and donating 100% of the money for the needs of our military medics and volunteers!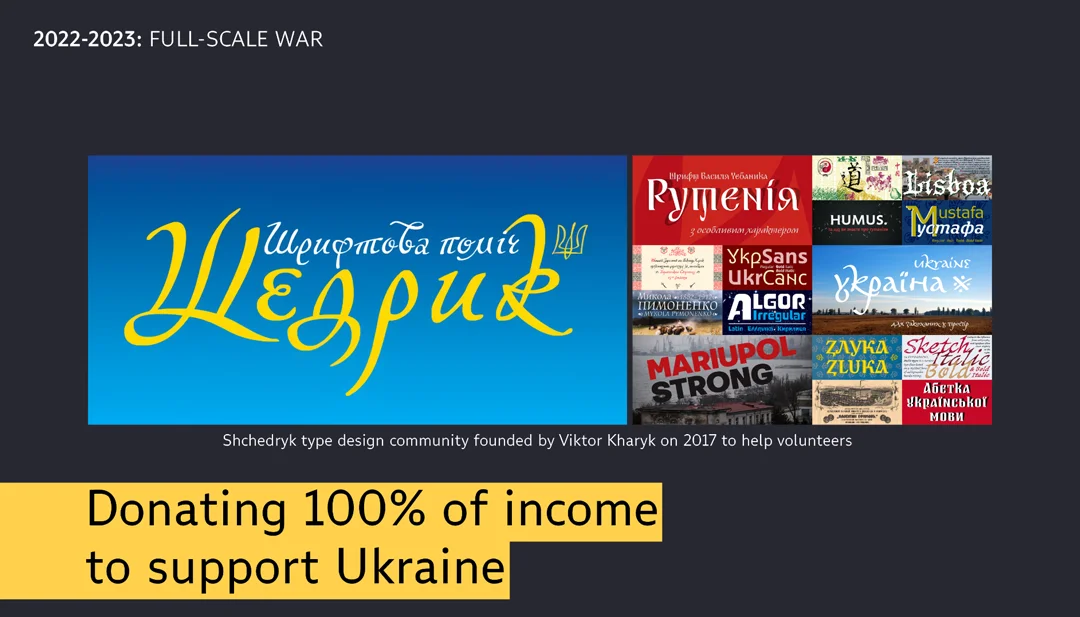 Development of Rentafont during the war
During the invasion, Rentafont had a lot of specific cases. All of our few employees work in Ukraine, so the planned development of the site slowed down a bit. We began to pay special attention to Ukrainian fonts and abandoned the russian version of the site.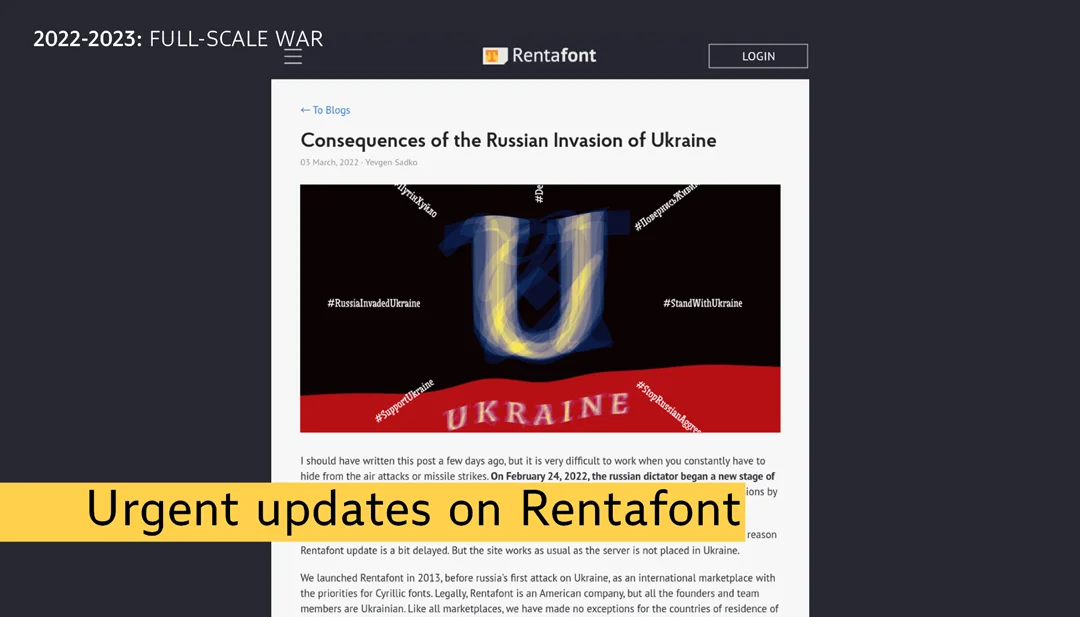 It was vital for me, as the head of Rentafont, in the first days of the invasion to withdraw from the sale all fonts that could bring money to the russian economy.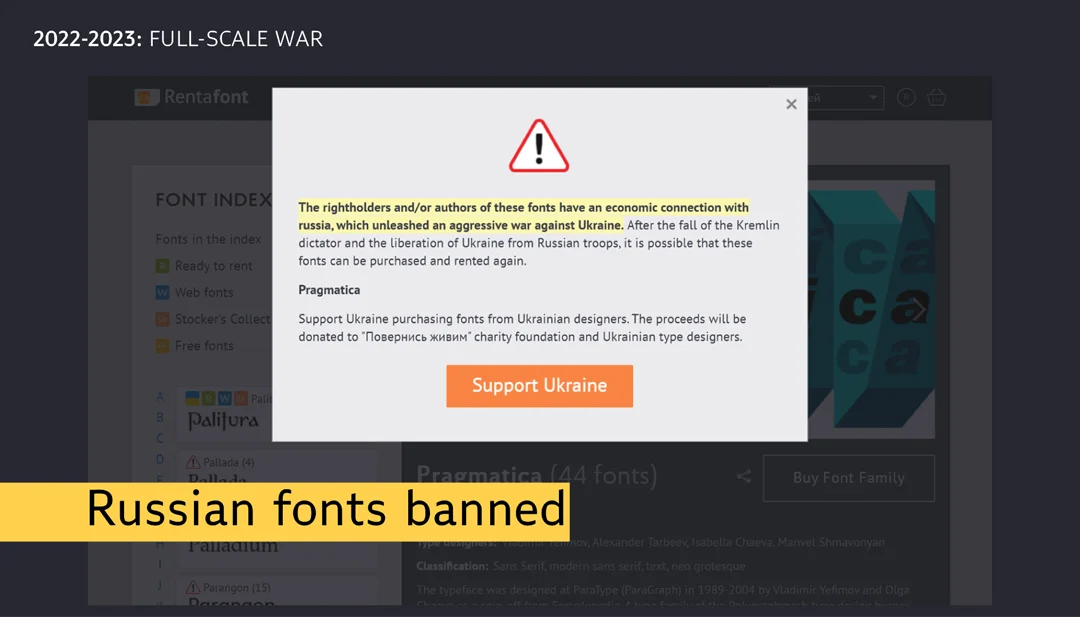 Without the russian interface and russian fonts, we lost the russian market, but we hardly noticed it because of very significant growth in demand for Ukrainian fonts in Ukraine and the world! Our users, sitting with their laptops in bomb shelters or temporary houses, were buying Ukrainian fonts more often than ever!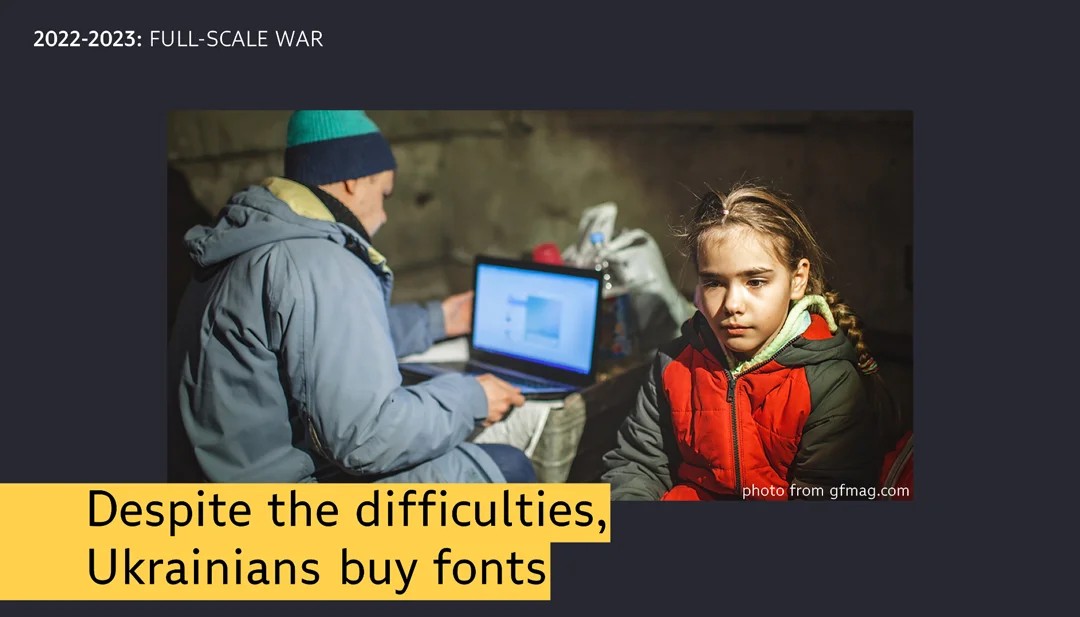 I have devoted a lot of attention to lectures, articles, and comments on the importance of Ukrainian fonts, supporting Ukraine through paid fonts, and boycotting russian fonts.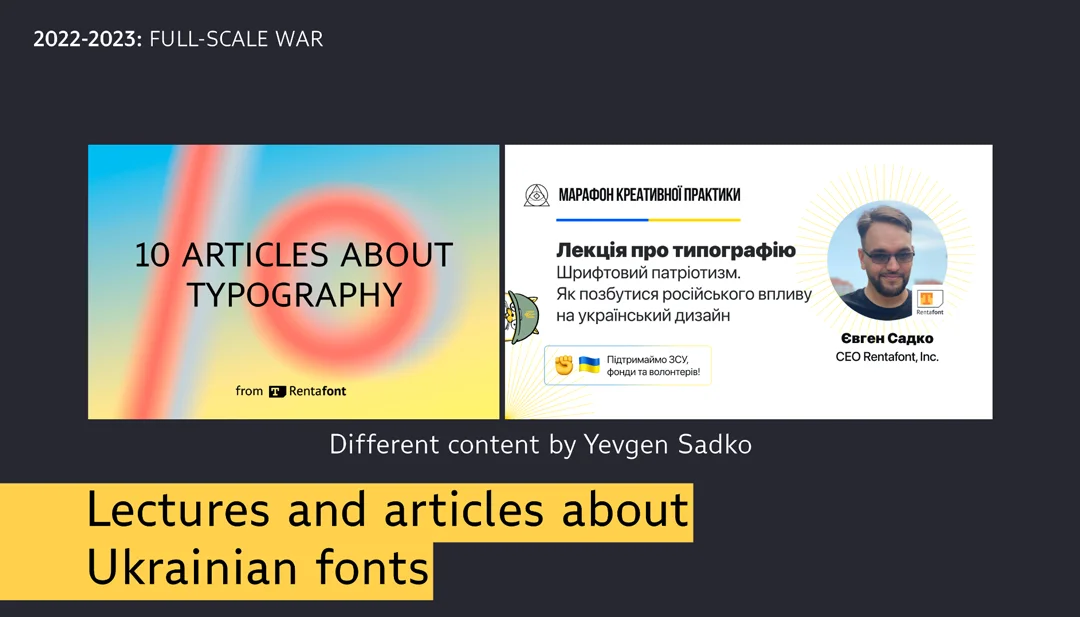 The only important update of Rentafont in 2022 was the support of variable fonts right on the site interface. It was very timely, because this year our authors started making variable styles in almost every font family.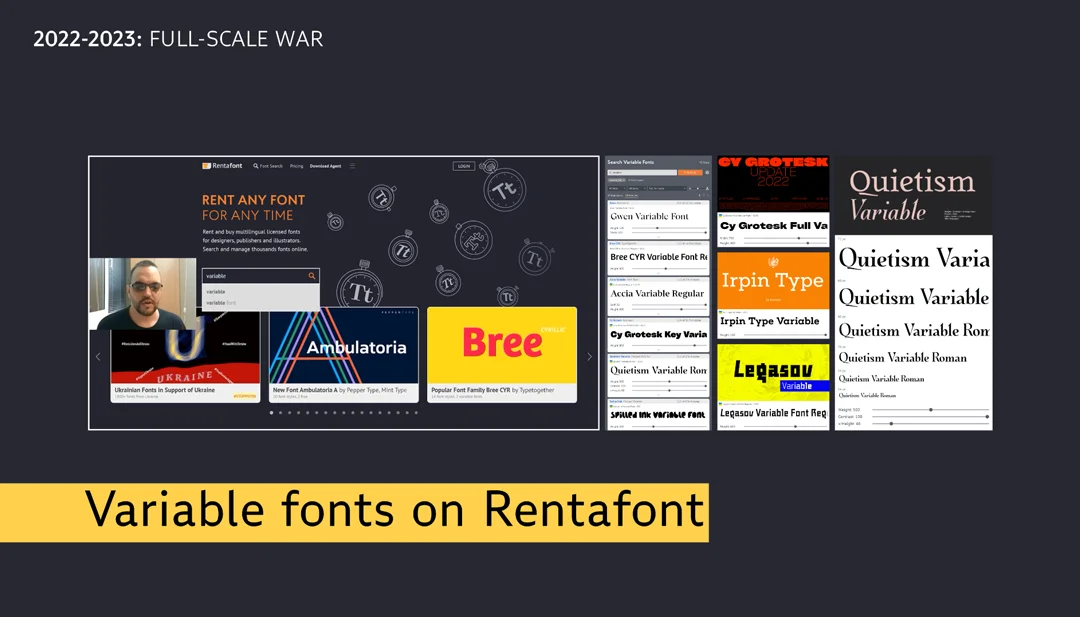 We also continued to add new fonts. The Rentafont collection grew by more than 60 typefaces from all over the world, except russia. 30 of these new typefaces were made by Ukrainian authors during the full-scale war. For them, we have a special search keyword Ukrainian Wartime Fonts.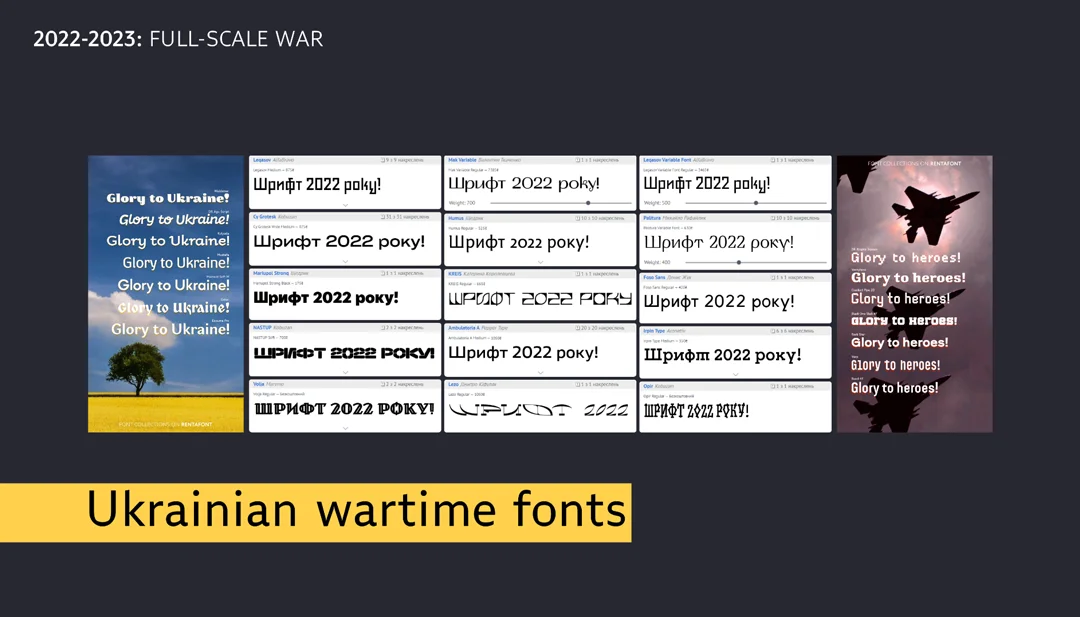 Characteristic Ukrainian wartime fonts
Among the Ukrainian typefaces created under shelling or in emigration, there are some very distinctive examples.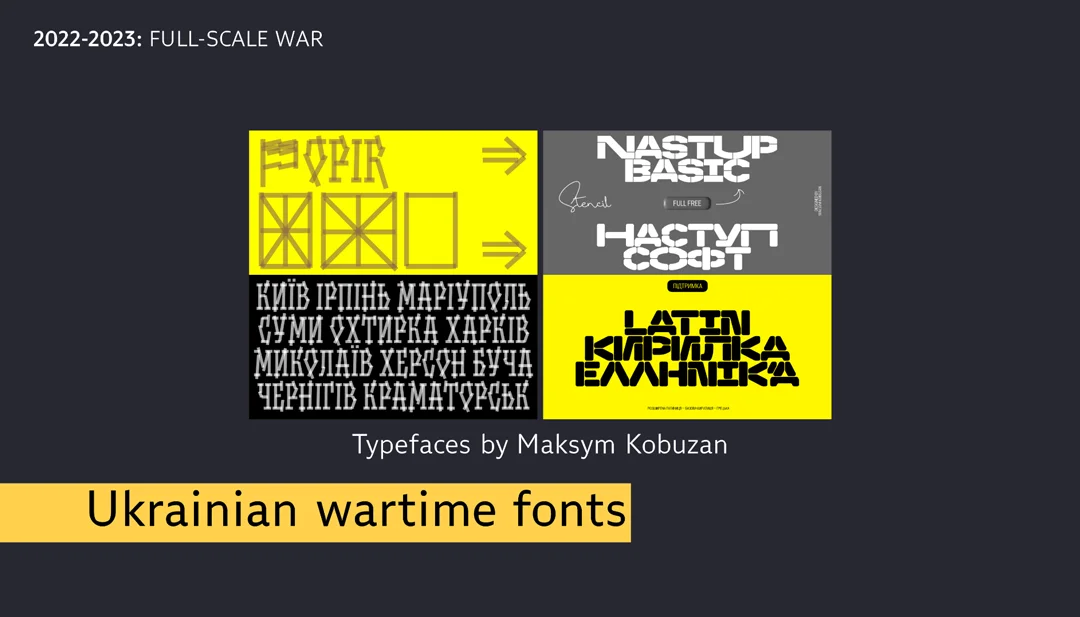 Opir and Nastup by Maksym Kobuzan visually reflect what Ukrainians now see every day. Opir (which means Resistance) is made of duct tape, which people used to protect their windows from the blast wave, and the Nastup (which means Offensive) is built of concrete, like roadblocks, bunkers and pillboxes.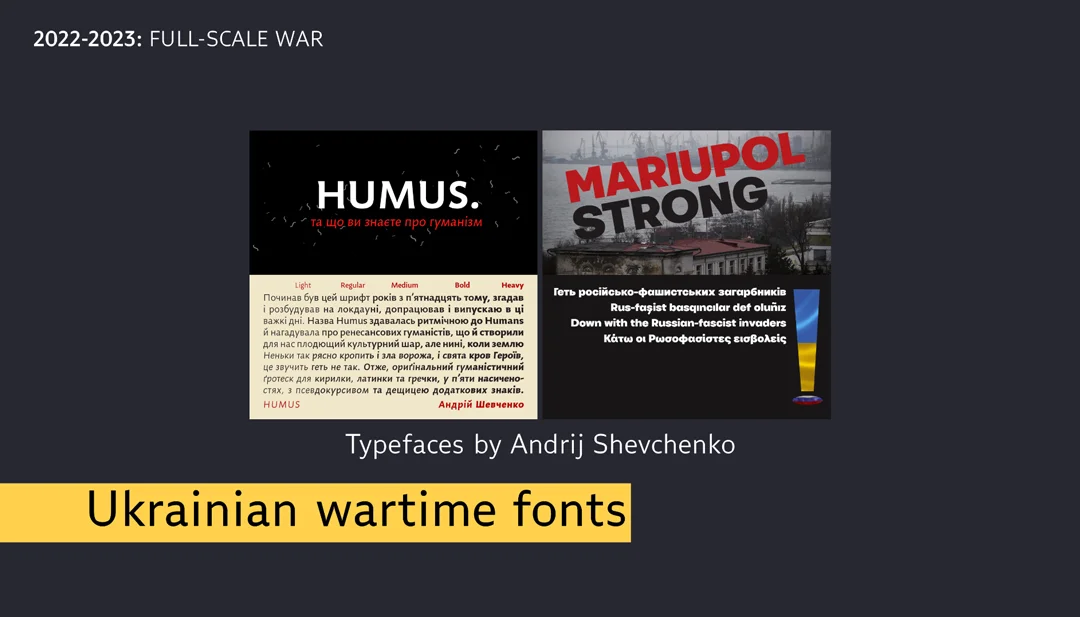 Humus and Mariupol Strong by Andrij Shevchenko have no direct visual signs of war, although Andrij began to design the Mariupol Strong font in the occupied city. These two fonts rely on context and have non-obvious purely typographic features. Humus is a somewhat rough humanist sans serif with asymmetrical elements typical for Ukrainian fonts. And Mariupol Strong is an Extra Bold version of the Mariupol typeface, which was made for the former Mariupol, a peaceful city that had not yet been destroyed by the russian invaders.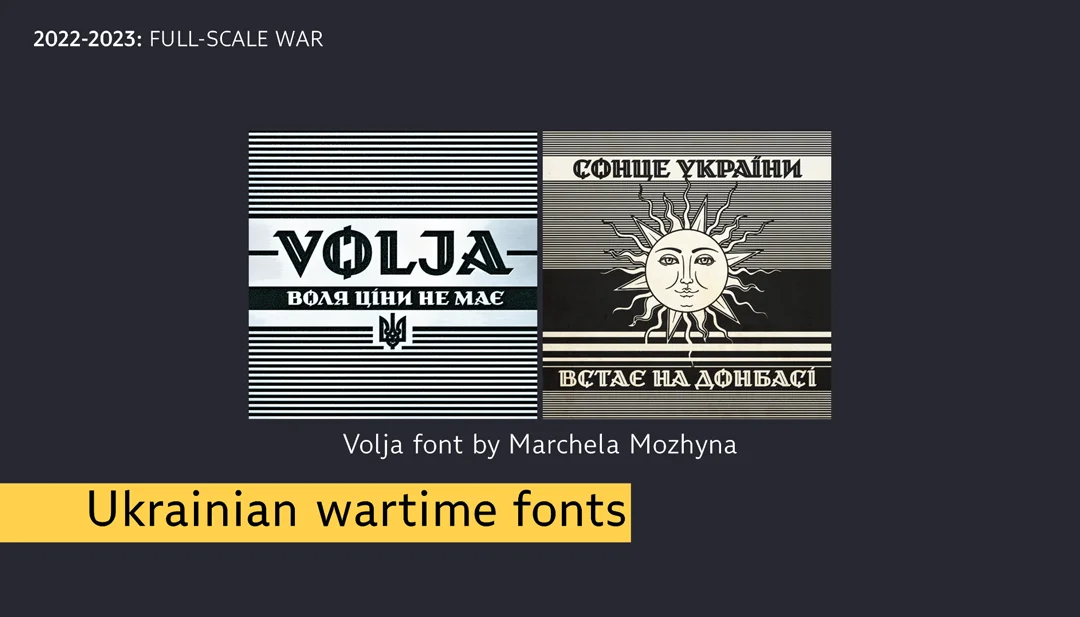 Volja by Marchela Mozhyna. It was created out of the letterings of the famous designer and fighter for Ukraine Nil Hasevich. This font combines both external and historical signs of struggle. The sharp steel shapes of the letters resemble weapons. In addition, these letters, but not digital, had already called Ukrainians to fight, in the middle of the 20th century. The name of the font also speaks for itself. Воля (which means Freedom and Will) is the main value of Ukraine.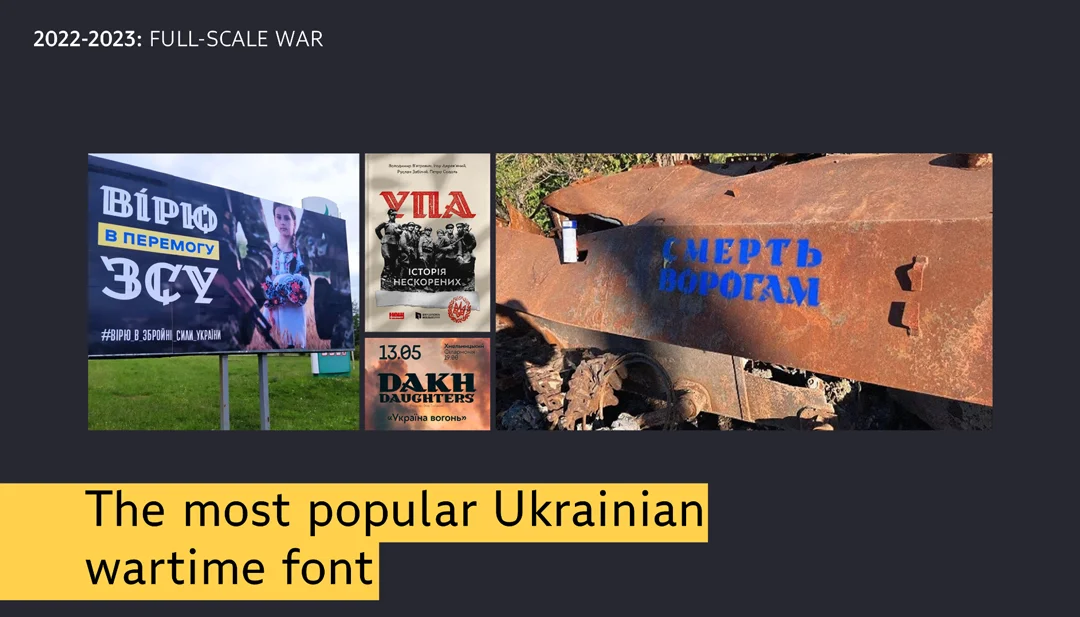 The character of the letters and the moment of creation (it was made when our forces were defending Azovstal in Mariupol) made Volja the main font of 2022, according to most Ukrainian type designers. The new typeface was loved by soldiers because it looked cool on military equipment and armed forces advertising.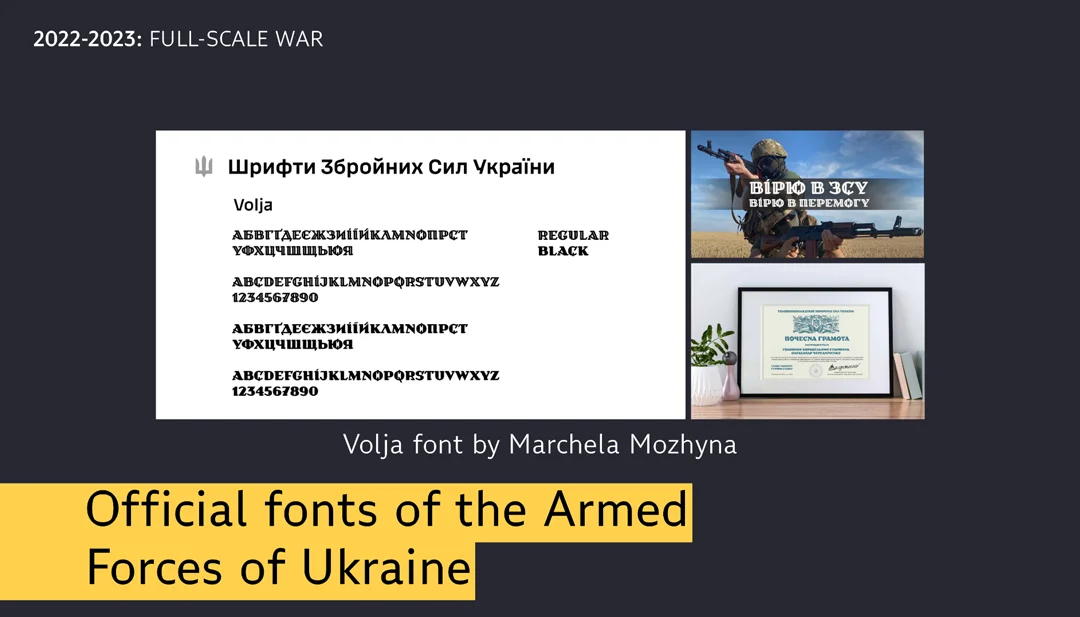 This popularity led Volja to become a part of the updated brand of the Armed Forces of Ukraine.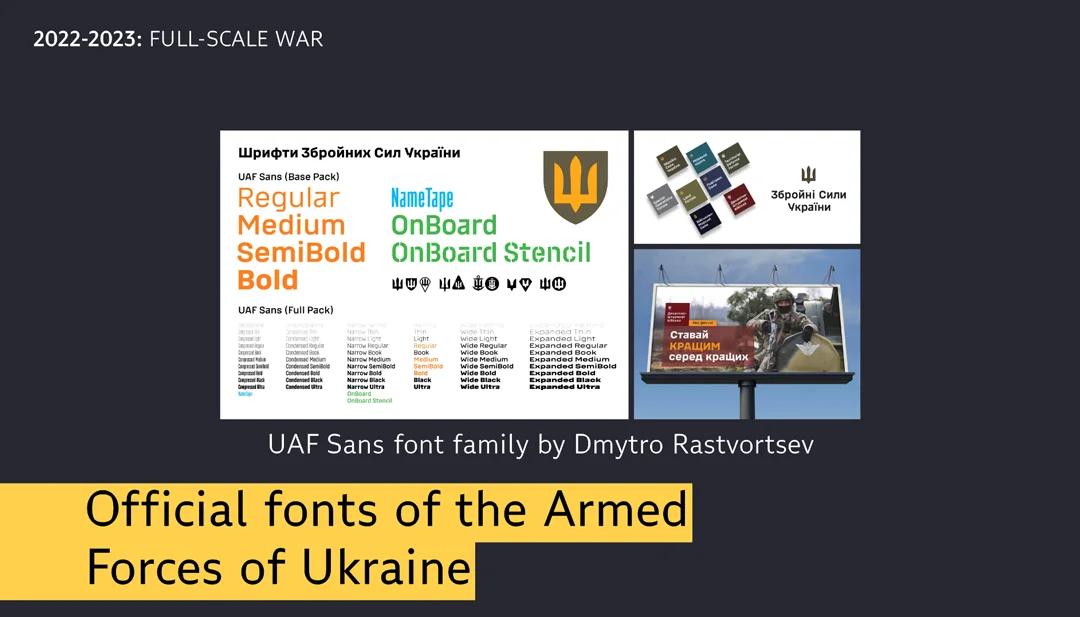 UAF Sans by Dmytro Rastvortsev is a font family with a wide range of styles for different use, created exclusively for the Armed Forces of Ukraine. The typeface is based on the Ukrainian version of Cyrillic, which is widely accepted by most of our type designers today, and has signs of early 20th century modernism.
Popularization of the Ukrainian typography outside Ukraine
In this time of war, every citizen of Ukraine feels responsible for their country and tries to do the best within their competence. For me and my colleagues, this means popularizing everything Ukrainian: language, history, art, design, and fonts. A good example of popularization of Ukrainian typographic heritage abroad is the Museum of Ukrainian Letters in Germany, created by type designer Kateryna Korolevtseva.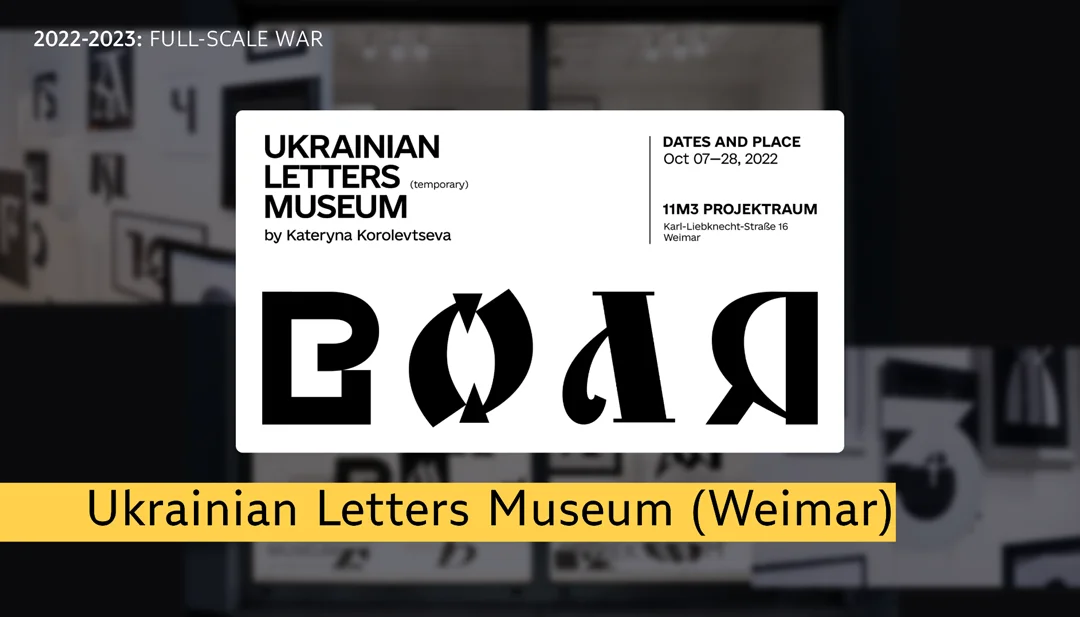 You may know her Misto Font. Outside of Ukraine, it is the most popular among the fonts of Ukrainian cities.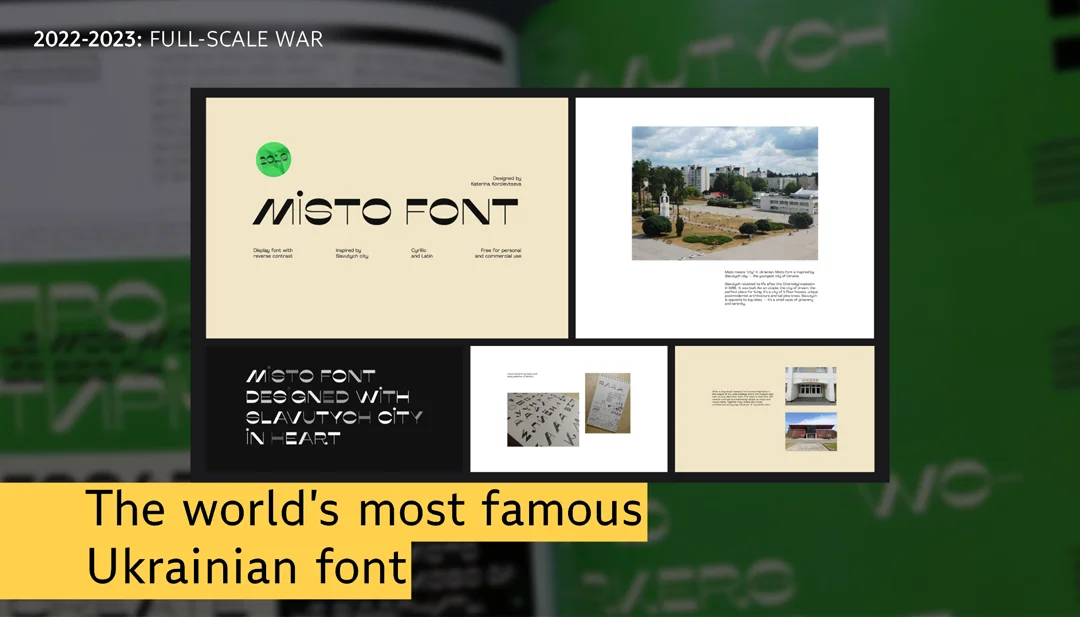 Having traveled abroad or remotely, our designers talk about Ukrainian fonts and find a grateful audience. Foreign media began to study Ukrainian type designers and their fonts.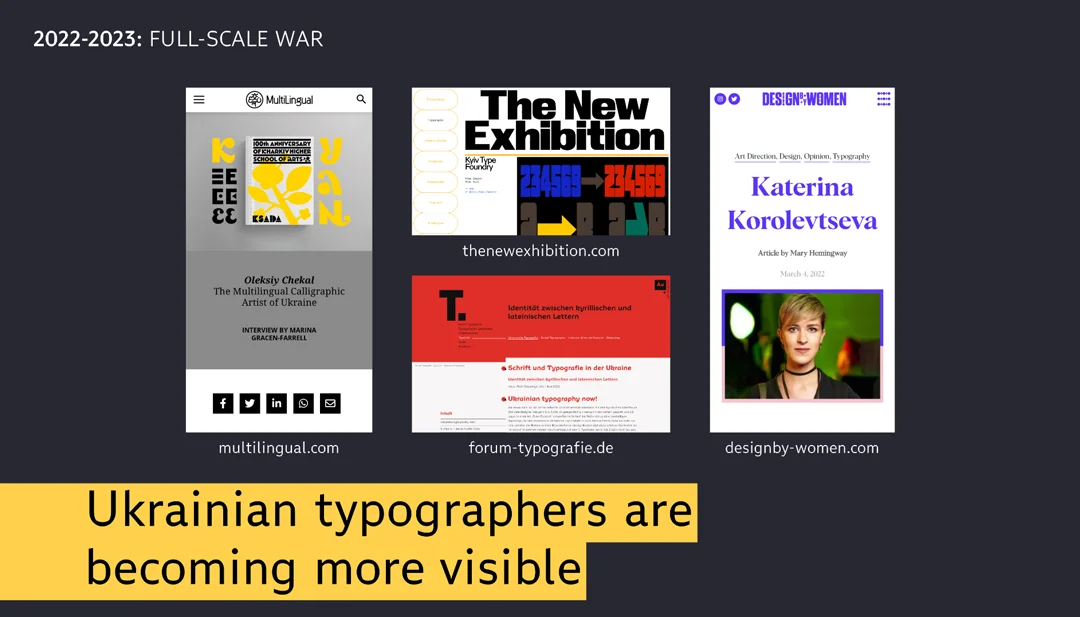 The world is gradually realizing important things that were unconscious before.
Conclusions
Ukrainians have come a long way from unconscious Soviet-distorted people who don't understand design, to a political nation that is aware of its own values, defends them, and communicates them to the world.
And now, we are helping all democratic countries to remember our shared values and fix our mistakes. Because of these mistakes, russia – this aggressive dictatorship, is still in the United Nations Security Council.
Professor Timothy Snyder, a well-known Ukrainologist, considers Ukraine to be the site of the most important events in European history. And that's why, paradoxically, Europe ignores us.
The invisibility of Ukraine in Europe is very similar to the invisibility of fonts in design. To understand design, study fonts, and to understand Europe, study Ukraine!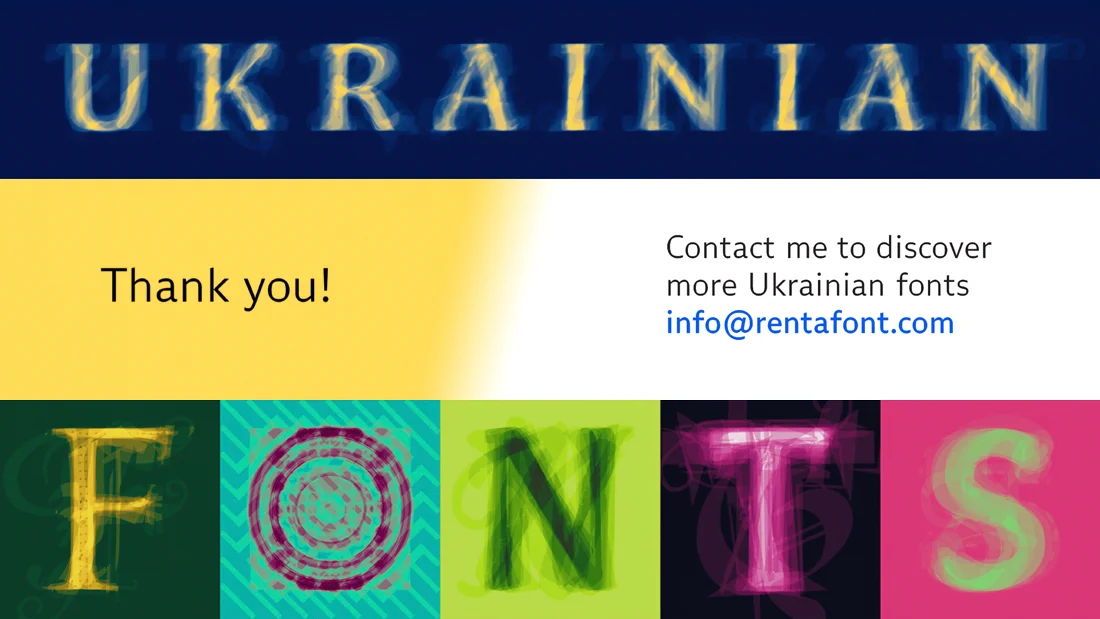 Thanks for your attention, and your support of Ukraine!
Useful links: