Ready to Use Typefaces for Ukrainian Cities (2022)
05 April, 2022 · Yevgen Sadko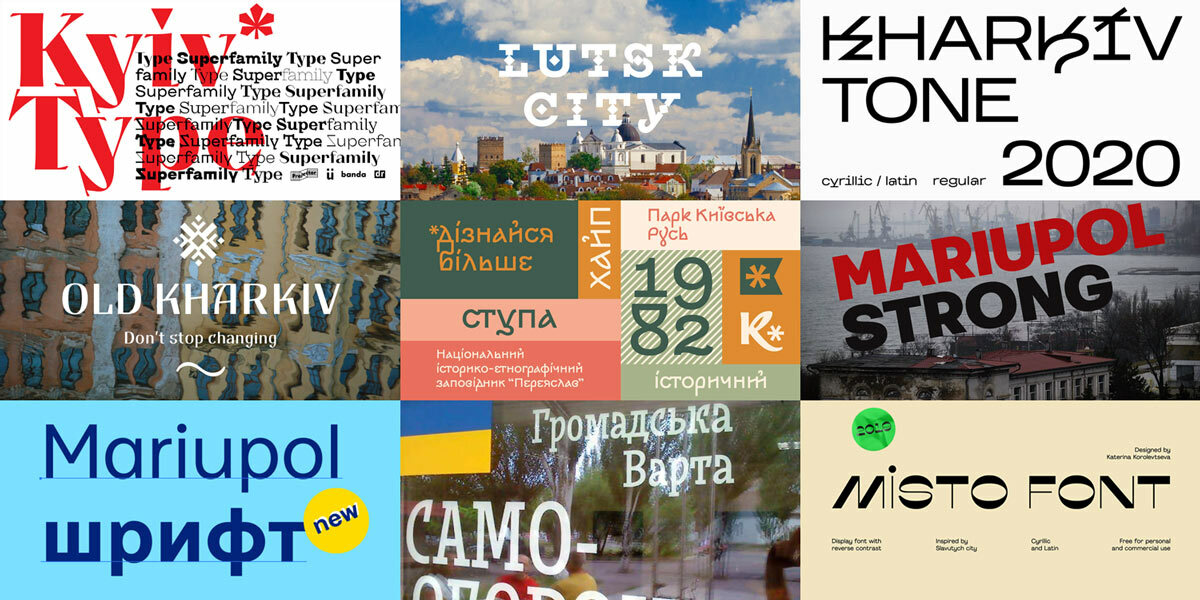 After the russian invasion of Ukraine, many of our cities became known to the whole world. This fame, unfortunately, came to us because of the destruction, tragedies and war crimes of russia. Today, designers from all over the world are trying to support Ukraine, and we want to show them that Ukrainian cities from the news have not only beautiful parks, museums, universities, hospitals, but also their own fonts.
The invaders are destroying Mariupol, Kharkiv, Kyiv, but they can't get to the fonts of these cities! These fonts should convey to the whole world through your design a call for help to Ukraine in the struggle for the freedom of our country and all of Europe.
Rentafont, being a font service based in Ukraine, wants to support our country and our type designers, we have decided to create a special collection of Ukrainian territorial fonts.
Mariupol Strong Display Font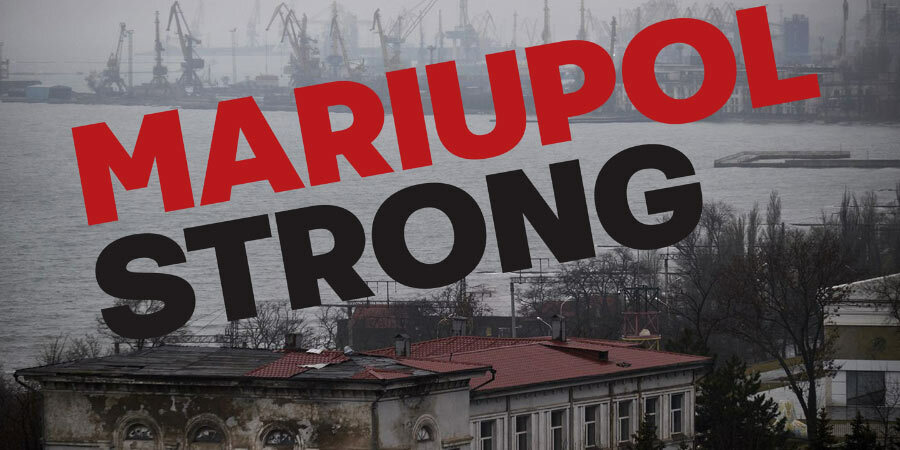 So far, this is the only typeface for a Ukrainian city, created during the Russian-Ukrainian war. An extra-bold version of the expressive grotesque, suitable for both battle posters and sophisticated contemporary designs. The character set includes basic Latin, Slavic Cyrillic, monotonic Greek and a bunch of goodies: the most relevant ligatures, initial and final swashes, alternative glyphs, etc. The font was designed by Andrij Shevchenko in 2022.
---
Kharkiv Tone Free Display Font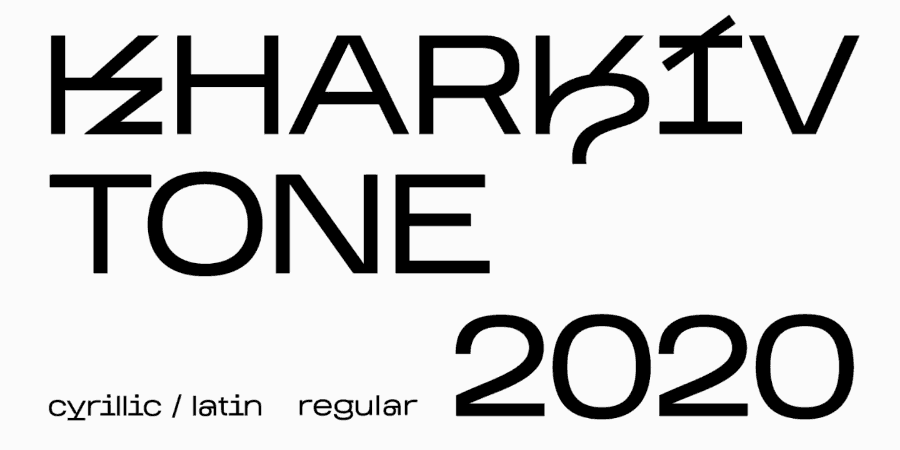 Kharkiv is an eclectic city with its own mood. The incompatible is combined here, as in Kharkiv Tone font. The letters are inspired by graffiti, technical and handwritten fonts from the city walls. This font is the voice of the city. Therefore Kharkiv Tone can be used as the main element of territorial branding. The typeface was designed by Catherine Drozd in 2020.
---
Kyiv Region Type Free Display Font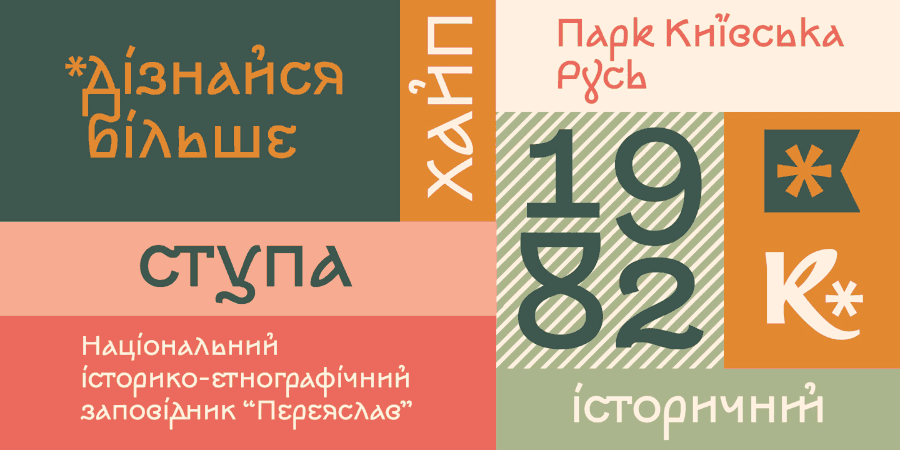 An original free font created specifically for the territorial branding of the Kyiv Region. This visual identity was designed by White Studio Design. Kyiv Region Type combines ancient history with avant-garde experiments. The forms of half ustav and skoropys, characteristic of the times of Kyivan Rus and Ukrainian Baroque, are combined with constructivism of 20th century, which a hundred years later is trendy again. The result is a modern geometric sans serif with swashes, alternatives, ligatures and historical forms, which can be used to design pointers, ads, packaging, souvenirs and even historical texts in Church Slavonic. Kyiv Region Type is under free SIL Open Font License. The font was designed by Dmytro Rastvortsev in 2021.
---
Kyiv Type Free Variable Font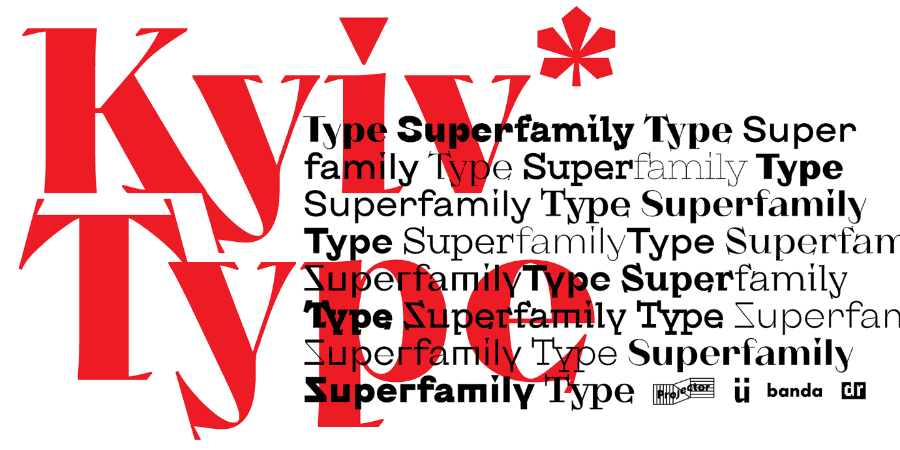 A typeface for Kyiv with many faces with sharp temper appeared when Dmitry Rastvortsev joined the #newkyivlogo project (chestnut leaf as the logo of Kyiv). "Kyiv is different. A little rude. A bit intelligent. A bit party. A bit hipster. A bit traditional. It is an eclectic city. It easily includes different things and people — this creates the Kiev that I love. The typeface is the same — a little rough, a little intelligent, a little party, a little traditional, a little wild. And very, very different." — this is how the project is described by Alexander Tregub — the founder of Projector and the ideological inspirer of the new Kyiv logo.
Download the typeface and get 63 fonts + Variable Fonts for desktop and web. Kyiv Type is absolutely free for any use. Kyiv*Type was created with love for Kyiv, with the support of Banda, Bulanov creative büro and Projector. The font was designed by Dmytro Rastvortsev in 2019–2020.
---
Misto Font Free Display Typeface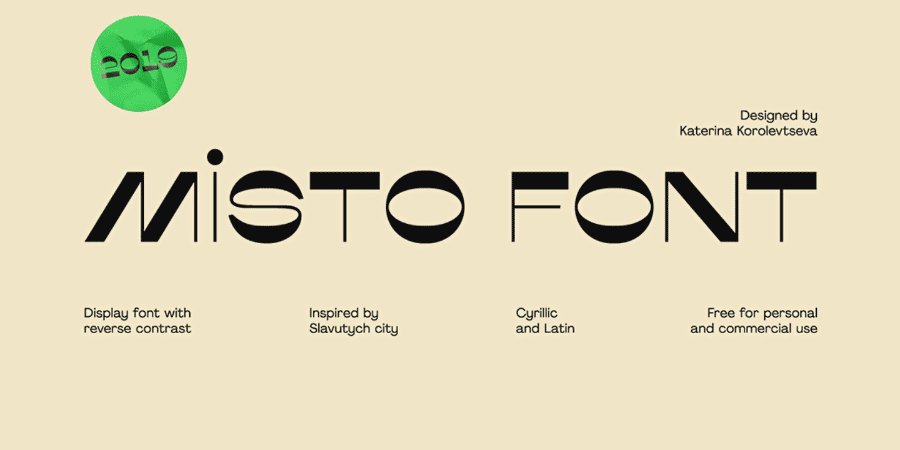 Misto Font was inspired by Slavutych city, but was not designed specifically for it. Slavutych is the youngest city in Ukraine. It was erected after the tragedy at Chernobyl nuclear power plant as a dream city, utopian city. For the construction, the eight republics of the USSR united and managed it in record time. The city is divided into 13 blocks: Vilnius, Yerevan, Kyiv and others. Each reflects the unique architecture and flavor of the country that built it. This is a city of post-modern architecture, five-story buildings, tall pines, higher than houses, the lack of visual noise and transport. Sometimes it's called a city in a forest and a forest in a city.
The font has the opposite contrast, and Slavutych is the exact opposite of the big fussy cities. Non-standard wide proportions, which were inspired by low 5-storey houses and especially sports and recreation centers. They are almost the same everywhere, although the architecture of the quarters is different. Drops in some letter details, round diacritics are a characteristic detail of this font, which reflects the young feeling of the city. The letter "Й" on the МУЗЕЙ (museum) sign prompted these rounds. The typeface was designed by Katerina Korolevtseva in 2019.
---
Lutsk Type Free Display Font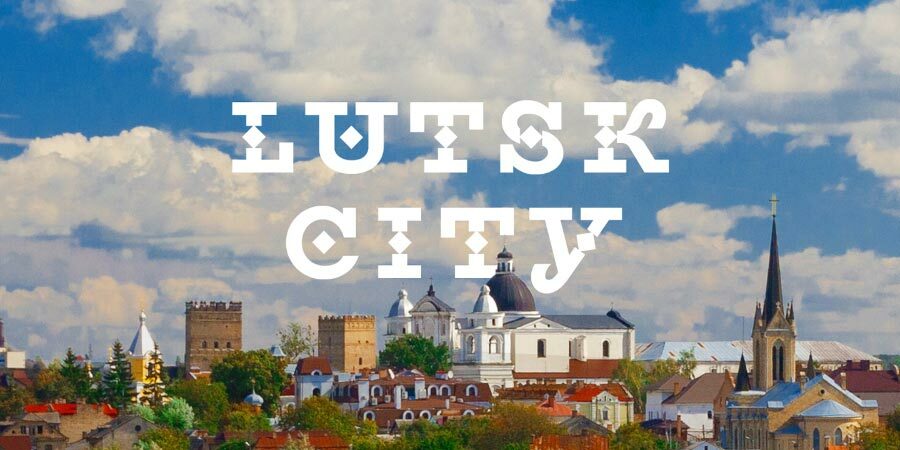 Lutsk is one of the most ancient cities of Ukraine. The city is one of the largest in the Western Ukraine. Lutsk Type perfectly combines archaic and modernistic feeling. Lutsk Type is an all caps typeface and was designed as a display font, it can be used in many ways. This font works perfectly in book covers, greeting cards, invitations, weddings, posters, magazines, fashion world, logos, packagings, letterpress,etc The typeface was designed by Kyrylo Tkachov in 2017.
---
Mariupol Free Way-finding Typeface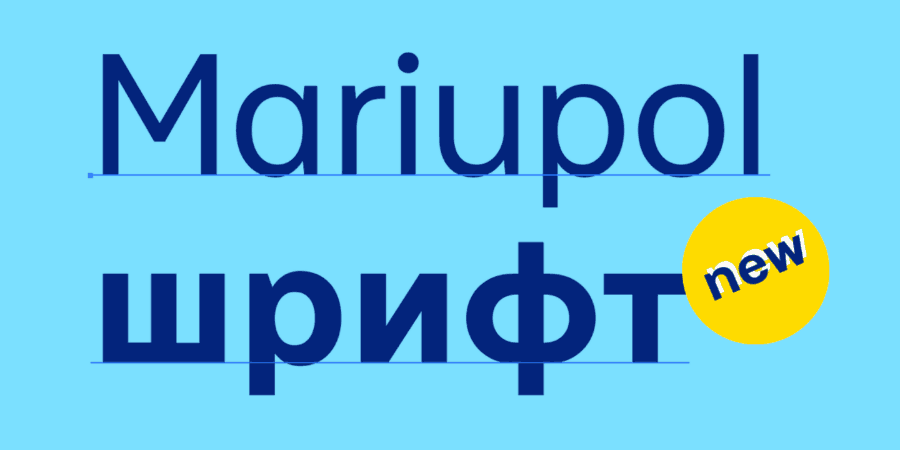 Mariupol is a geometric sans, inspired, on the one hand, by Swiss and German poster graphics, on the other hand by modern technological typefaces like San Francisco, Graphik, Walsheim. Available in three basic styles: Regular, Medium and Bold. Typeface also includes a special font style with icons (Symbols). Ukrainian, English, Greek, Russian languages are supported. Now the font is officially presented in the city wayfinding of Mariupol, it can be seen on trams and boards with the mayor's greetings. Moreover, anyone can download this font and independently write something mariupolish. The font was designed by Andrij Shevchenko and Sergiy Rodionov in 2017.
---
Proba Pro Multifunctional Typeface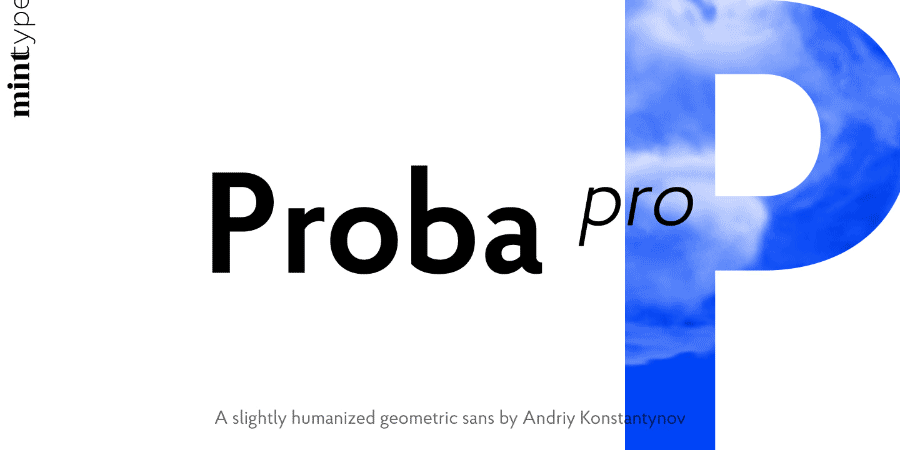 This typeface was the basis for Proba Nav — a special version for city way-finding in Kyiv. Proba Nav currently is not a public font, but you can use it's original — Proba Pro. This is a geometric sans with lowered x-height, prominent ascenders and descenders and a subtle humanist touch. It comes in 7 weights + matching italics each supporting numerous Latin-based languages as well as major Cyrillic languages.
It is packed with OpenType features like ligatures, small caps, 4 sets of digits, 2 stylistic sets, superiors and inferiors, fractions, ordinals, and respective punctuation varieties including all-cap punctuation. There are also language-specific alternates for Romanian and Catalan, and correct small-cap versions for i/ı in Turk languages. Proba Pro was designed and released by Andriy Konstantynov in Mint Type foundry in 2014.
---
Old Kharkiv Display Font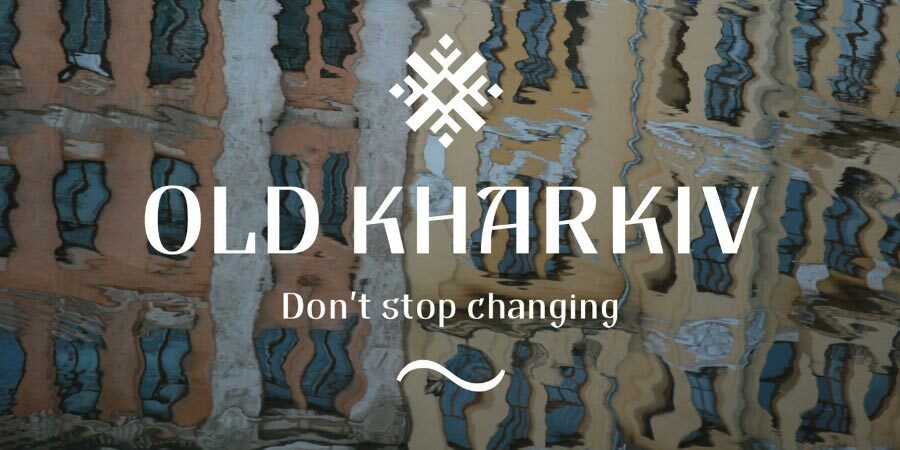 Old Kharkiv was inspired by the first half of the 20th century photo with a signage on the building of the Ivan Kotlyarevsky Kharkiv National University of Arts. During the design, the font has acquired unique features not from the original signage, for example, drops in uppercase were replaced with sharp serifs. This font contains the letters of all the main European languages, Cyrillic and special characters.
Some uppercase letters (where allowed their form) have decorative elements (swashes) to use them as drop caps or initials. There are stylistic alternatives for some Ukrainian letters (Щ, Ц, Л, С, Ж). Also, as a bonus, this font contains up to a dozen graphic elements that you can use in your layout. The font was designed by Bohdan Hdal in 2016–2017.
---
Lugatype Free Display Font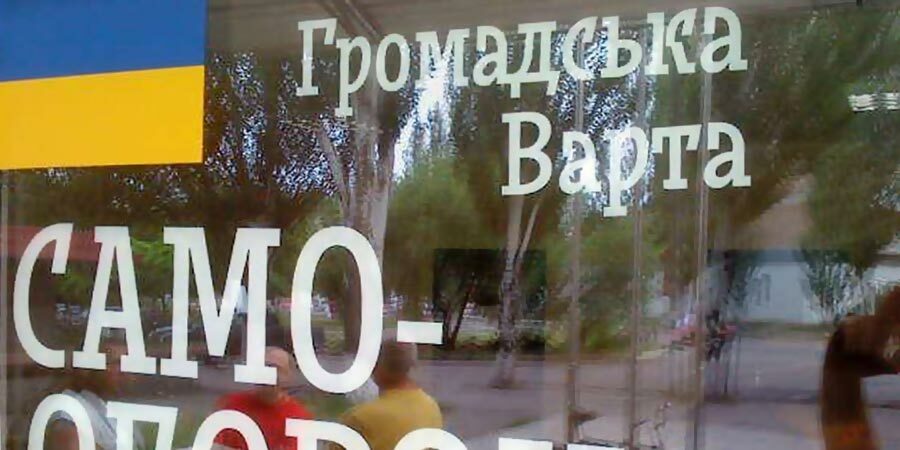 Lugatype is the unique slab serif font with narrow proportions. It has strong masculine Ukrainian style. This typeface will be the best solution for posters, signage, magazine, product branding, corporate branding, logos and titles. Lugatype was designed by Kyrylo Tkachov in 2014.
---
Kyiv Multifunctional Typeface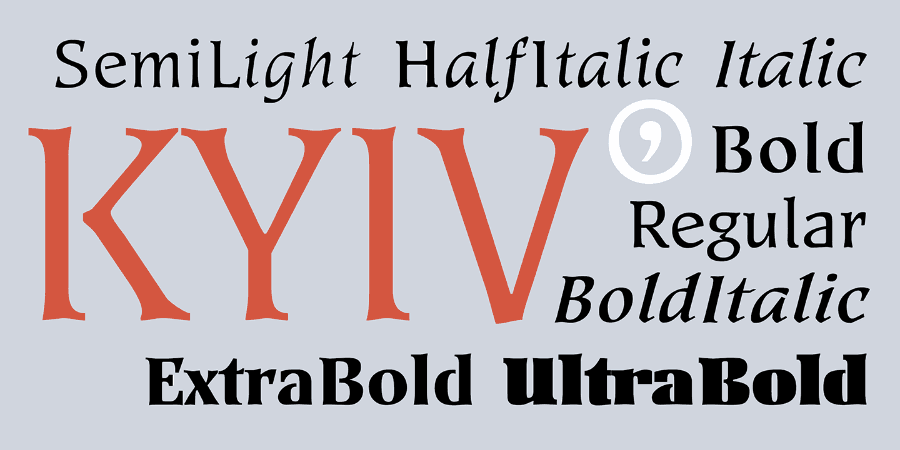 Kyiv is an attempt to unite old-style antiqua with the Ukrainian tradition and modern requirements. Besides having usual italics the Renaissance tradition of "semi-italics" renewed, compact weights are also provided. Special charm is added by decorative motives of chestnut leaves and flowers. The weights are included to promote the solution of various tasks both text and display. Kyiv was awarded as a text fonts in the Ukrainian type competition Ruthenia 2010. The typeface was designed by Viktor Kharyk in 2010–2016.
---
Other Fonts for Ukrainian Cities and Regions
The stories behind the creation of city typefaces are quite diverse. In some cases these are works submitted for competitions, in others, it is purely their author's initiative. These include the "workhorses" for city wayfinding and display fonts for tourism brands.
When peace comes to Ukraine, our cities will be restored, transformed and become even better than before. These changes will certainly affect the territorial brands, and hence their fonts.
Glory to our Hero Cities! Glory to Ukraine!
Useful Links: