Fonts by Female Type Designers
08 March, 2020 · Yevgen Sadko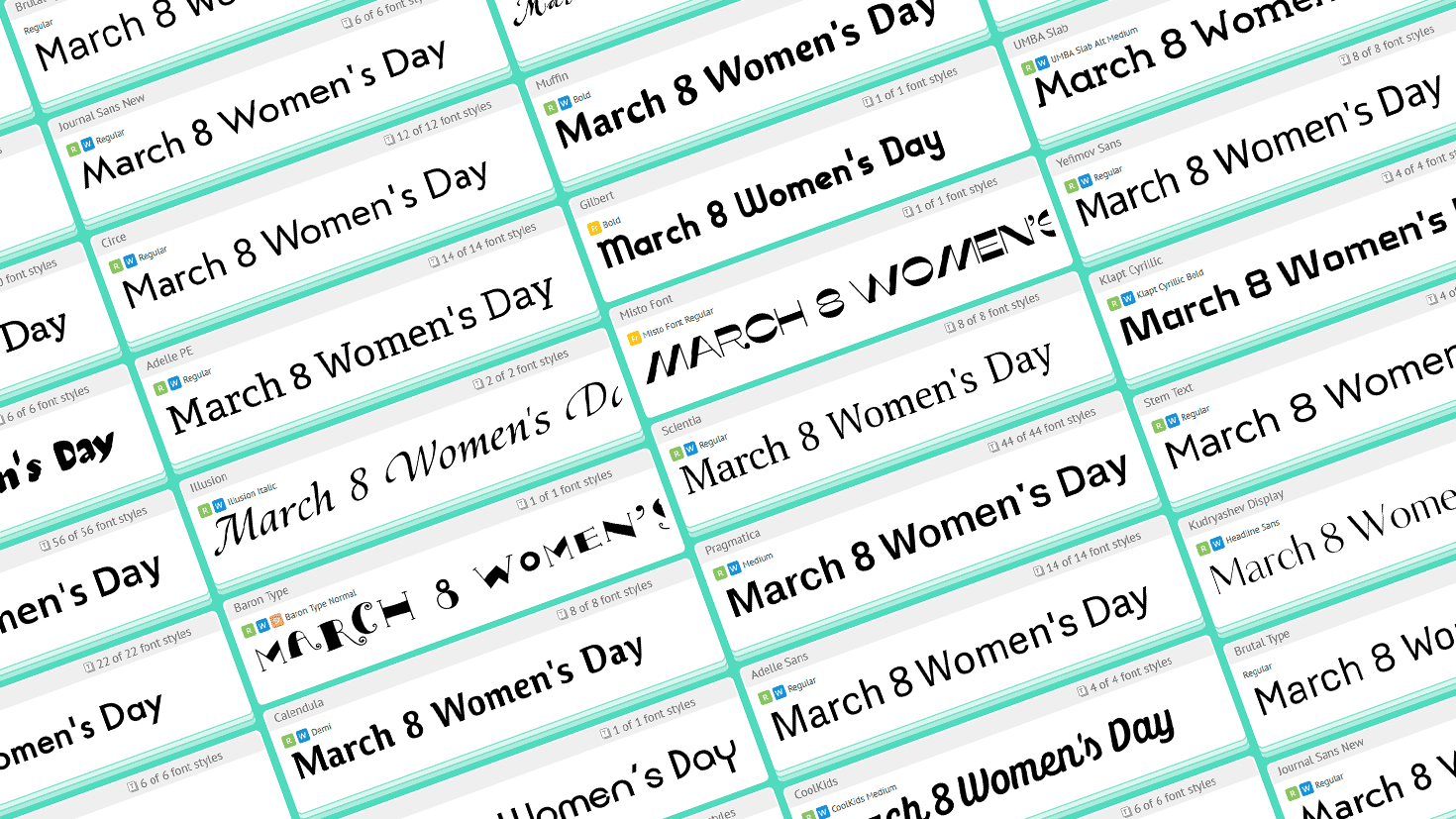 On the occasion of International Women's Day, we decided to pay attention to women type designers and their fonts. I hope it is a useful and pleasant gift!
Previously, type design has been predominantly a "male profession". The production of fonts has always been a complex creative process related to technology, requiring special education and high qualification. In a patriarchal society, women had almost no access to complex creative professions. But fortunately in recent decades, this unjustified gender bias is gradually leveling out.
In Ukraine, only men used to be engaged in type design on a permanent basis. Women have just recently started to enter this profession, after many years of work with calligraphy or illustration. I hope they will come also with programming and other experiences too.
Svetlana Akatieva
Arina Alaferdova
Alexandra Alexandrova
Anastasia Babaljan
Gayane Bagdasaryan
Marina Bakhirev
Galina Bannikova
Zhanar Bereketova
Veronika Burian
Isabella Chaeva
Iraida Chepil
Svetlana Ermolaeva
Catherine Galuyan
Tetiana Ivanenko
Anita Jürgeleit
Katerina Korolevtseva
Alexandra Korolkova
Lyubov Kuznetsova
Tatiana Liskova
Tatiana Lyashenko
Debora Manetti
Lyudmila Mikhailova
Svetlana Morozova
Marchela Mozhyna
Marina Mykhalska
Akiko Nakashima
Vitória Neves
Yana Nosenko
Olga Pankova
Catherine Pulenko
Maria Selezeneva
Elvira Slysh
Irina Smirnova
Maria Sokil
Elena Tsaregorodtseva
Olga Umpeleva
Natalia Vasilieva
Olexa Volochay
Alexandra Yegorova
Emma Zakharova
Let's research the fonts created by women on the example of Rentafont's font collection. Today it is 3921 fonts of all types for all purposes.
The authors or co-authors of every fourth font are women. What kind of fonts do women create? Do they gravitate to particular class or mood?
Common Font Classification
→ 557 Sans Serif Fonts — 56.3% of fonts created by women are grotesques
→ 354 Serif Fonts — 35.8% of fonts created by women are serifs
→ 63 Handwritten Fonts — 6.4% of fonts created by women are calligraphic
→ 14 Decorative Fonts — 1.4% of fonts created by women are decorative
Popular Associations
→ 738 Adult Fonts — 74.7% of fonts created by women look mature
→ 49 Teens Fonts — 4.9% of fonts created by women are for teenagers
→ 19 Childish Fonts — 1.9% of fonts created by women are for kids
→ 798 Unisex Fonts — 80.7% of fonts created by women are gender neutral
→ 150 Masculine Fonts — 15.2% of fonts created by women are masculine
→ 40 Feminine Fonts — 4.0% of fonts created by women are feminine
Conclusions
Women create high-quality and popular fonts of widespread use, not only cute naive calligraphy, as some people could think. And these 25% of fonts generate 70% of total Rentafont's income!

These figures indicate that men and women in collaboration can create more popular, fashionable and successful fonts than single authors, or teams of the same gender.
Women also do not tend to make fonts associated with "women's stuff" "women's magazines", "women's novels". In addition, among the fonts created by women, there are much more masculine (15.2%) than feminine (4.0%) fonts. Children's fonts are even more interestingly distributed; men make 10 times more fonts for children than women!
I believe that the entry of women into professions that previously were occupied by men is as beneficial to society as the discovery of new lands, the invention of new energy source or new material.
Happy Women's Day, dear colleagues!