About Rentafont
How It Works
Pricing
Terms and Licenses
Collaboration
Ask a question
About Rentafont
Rentafont is a convenient tool for designers and typographers, since the designers deserve better than a mess in the Fonts folder, and type designers deserve a more stable income and a greater number of legal users.
There has always been a lot of problems with fonts. Firstly, not all designers could afford licensed fonts. Secondly, it is nearly impossible to keep fonts in order and they can be stolen easily. Thirdly, the value of a purchased font cannot be guaranteed. You might use one font often, while some other could only be used once. That is why font piracy is so common in the world today.
Rentafont offers a single solution for all your font problems and makes piracy pointless.
With Rentafont you can:
Find and save fonts in a convenient font manager
Rent fonts for any period of time, starting with 10 minutes
Buy fonts after use with a cumulative discount
Install web fonts on websites using the @font-face method
Earn money from your fonts
Rentafont is a new approach to working with fonts. It has already been appreciated by numerous designers, stockers, publishers, and foundries.
Our fonts
The Rentafont collection has more than 5900 multilingual fonts in both desktop and web formats. This number is constantly growing thanks to our collaboration with leading type designers and foundries from different countries.
Designations of font functionalities and terms of their use:
— You can rent this font at your computer. — The font has a Web format and is ready for use on your websites. — The font is included to the Stocker's Collection. — You can download such font free of charge. — The font was designed by Ukrainian type designer. — The font has been withdrawn from sale due to sanctions against the russian federation.
These icons indicate options other than purchasing font licenses. If there are no icons on the font page, then you can only buy it.
Desktop font rental
A designer does not have to buy fonts permanently to make Websites, logos or posters. Having access to them is sufficient.
Font rental is the best possible way to make legal fonts affordable. Indeed, a couple of cents per hour for any font from a huge collection is better than a hundred dollars for a couple of font styles.
A low rental cost frees designers from long search for free fonts, as well as helps them unlearn the habit of downloading illegal fonts. It is much more convenient and satisfying to use quality commercial fonts in one's work.
For font authors, font rental allows expanding the circle of legal users, as well as helps protect their work from piracy.
Here is an example of using rented fonts with the Rentafont Agent application: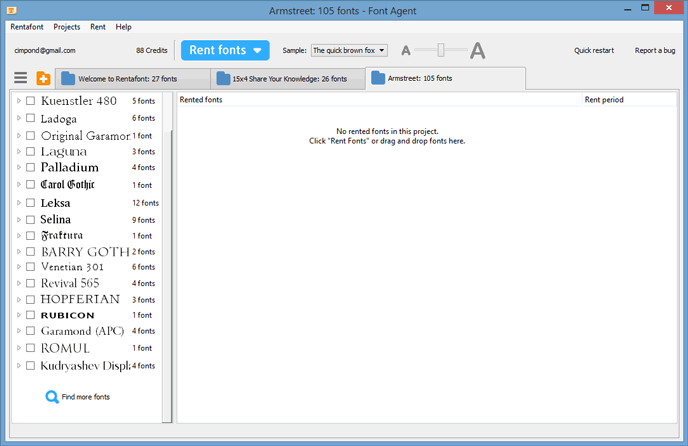 You can rent fonts and work with them as long as is needed, using standard rental periods of 10 minutes, 1 hour, 1 day, and 1 week. The rental period can be prolonged at any moment. After you have completed work, the font does not disappear and remains at your account, always accessible for repeated rent.
When using fonts without contact with files, one does not have to bother with font licenses! The same terms apply to all rented fonts from Rentafont.
After the layout is created, the client or designer might need a licensed copy. The font license allows printing any number of various products (books, magazines, packages etc.) or use the font in any other manner (in film, TV show, mobile applications etc.).
Web font service
Rentafont provides access to one of the largest collection of multilingual fonts on very favorable terms. You no longer need to buy web fonts one by one. Rentafont users are given access to the whole collection of web fonts and they can use any Web font for the required number of previews.
Even after installation on a website, web fonts can be easily replaced or new fonts can be added, website address changed or number of previews increased.
Web fonts from Rentafont suit both websites with constantly high traffic and advertisement campaigns or A/B testing when web fonts are required for 50,000 impressions only.
Fonts in subscription
In addition to renting fonts one by one, Rentafont allows you to use large font collections in subscription. It's like a long-term rental of desktop and web fonts for 1 month or 1 year.
Unlike a standard rental, subscription allows you to activate fonts in one click and work with them on several computers at the same time.
The collection of fonts for rent and subscription is constantly growing. Today there are
over 2700 Desktop Fonts and over 2900 Web Fonts.
Font search
Rentafont offers a unique search system, where everyone, irrespective of his/her level of professionalism and mindset, can find a suitable font.
The main search methods:
1. Search by shape. Do you have good visual memory and clearly visualize how the font you need should look like? Then, you can find it by its special features. For example, boldness, serif type, stroke contrast etc.
2. Associative search. What are the feelings and associations that the fonts you need provoke? If your client wants to see "good," "sporty," or "feminine" font on the packaging, you can find it by gender, temperament, nationality, and other features.
3. Application in design. You are a designer, and font is your tool. Then, you know that one font works better for headlines, and the other for body text, while the third is exceptional for infographic. Look for the fonts, which suit your specific task.
4. History and origin. Are you a connoisseur of font art? Then you can easily find the required font by its author, studio, year of creation or its place in history.
5. Traditional text search. Enter the font name or any keyword in the search line and enjoy classical search option. Here you can even find your font by the brand where it was used (Nike, Panasonic, Skype), by number of styles etc.
To make the search as accurate as possible, each font style has a semantic core of an average 450 tags from 50 categories in the English, Russian, and Ukrainian languages. You can read some of these descriptions in the Rentafont Alphabetical Font Catalog. Also you can discover the font collections, compiled using our unique search engine.
Font search examples
Font management
Fonts, as a rule, are not required for their own sake but for specific projects, such as a logo, packaging, banner etc. Therefore, a convenient font manager, where you can save fonts in projects, is part of each Rentafont account. Projects can be found in the user menu in the top right-hand part of the website.
Having found the required fonts, the user can save them in one of his/her projects in order to rent them for design, connect to websites or simply save for the future. You can create and remove projects, add fonts to them, as well as copy, move, and delete them from your projects.
When setting up a new account, a Welcome to Rentafont! demo project will appear. It will help the user to try all Rentafont services based on the example of several fonts.
We recommend creating a new project for each order, as it will help to quickly find fonts by the name of your order rather than by font names.
Font manager features:
An unlimited number of user projects
An unlimited number of fonts in projects
Up to 100 rented styles per day
An unlimited number of Web font orders per project
Quick font packaging for client (under development)
Creation of font pairs (under development)
Font search by project (under development)
Project font sharing (under development)
Integration with user portfolio (under development)
How it works
Application for rental of desktop fonts
All Rentafont fonts are kept on a server. Having rented fonts, the user can work with them in Photoshop, Illustrator, InDesign, and other programs as with normal fonts. However, the user has no access to font files and cannot copy them.
This operational principle is convenient for designers and absolutely secure for authors. It has become possible thanks to Rentafont's unique technology of protected authorized distribution of desktop fonts called the Rentafont Agent.
This simple free application will synchronize your rented fonts with the computer it runs on. The Rentafont Agent runs on both PC and Mac computers.
Rentafont Agent features:
| | |
| --- | --- |
| Work with design applications (PS, AI, ID, Corel, ...) | Yes |
| Work with office applications (Word, Notepad, Excel, ...) | Yes |
| Windows 7 — 11 | Yes |
| Mac-OS 10.13 — 14.0 | Yes |
| Rentafont Agent installation on your computers | Any number |
| Simultaneous running of Rentafont Agent on your computers | Any one computer |
| Trial rent period | 10 minutes, 1 hour |
| Standard rent period | 1 day, 1 week |
| Repeated or prolonged rental | Yes |
| Use of proxy server for corporate networks | Port 9999 |
Download Rentafont Agent
Desktop Font Rental Instructions
1. Download, install, and run the Rentafont Agent application.
2. Find the required fonts and rent them as shown in this example.
3. Press the "Rent fonts" button and wait for a couple of seconds while the fonts are synchronized with the Rentafont Agent application running on your computer.
4. Go to the Rentafont Agent, choose the required rental period in the dialog and click "Rent fonts". You will see the rented fonts appear on your computer.
About 90% of Rentafont fonts are available for rent via Rentafont Agent and they are identified by the abbreviation. The remaining fonts are either free (they can be simply downloaded) or they are not available for rental at this time but may become available later on.
Selecting the Rental Period
You can rent fonts and work with them as long as needed using standard rent periods of 10 minutes, 1 hour, 1 day, and 1 week. The differences in the features offered by different periods are summarized in the table below:
| Rental period | Features | Usage hints |
| --- | --- | --- |
| 10 minutes (Quick Rent) | Unlimited extension | A quick font test or quick layout correction. |
| 1 hour (Quick Rent) | Unlimited extension | A detailed familiarization with the font or choice of several fonts, e.g., for a poster. |
| One day (Day Rent) | Unlimited extension, User initiated pause, Automatic pause on exiting Rentafont Agent | A small layout, e.g., business card, invitation, greeting card. |
| One week (Week Rent) | Unlimited extension, User initiated pause, Automatic pause on exiting Rentafont Agent | Work on a large project when the decision has been approved and finished layouts have to be made. |
You can prolong the rent period at any moment. However, the rent periods of different fonts may differ, e.g., one font could be rented for 1 hour + 1 day + 2 weeks, while the other font for 1 week.
Behavior of rented fonts
There are several ways to find out whether you currently have any rented fonts or not.
Firstly, there is an indicator in the main window of Rentafont Agent, to the right of each font, showing how much time is left until the rent period expires.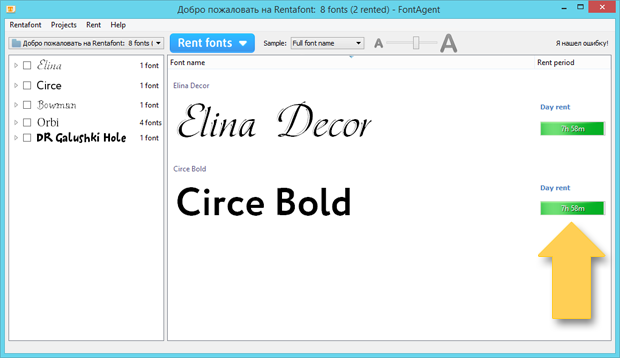 Secondly, you can see the legend "Currently rented" on the website in your projects over the font sample, and a green indicator of operational Rentafont Agent application.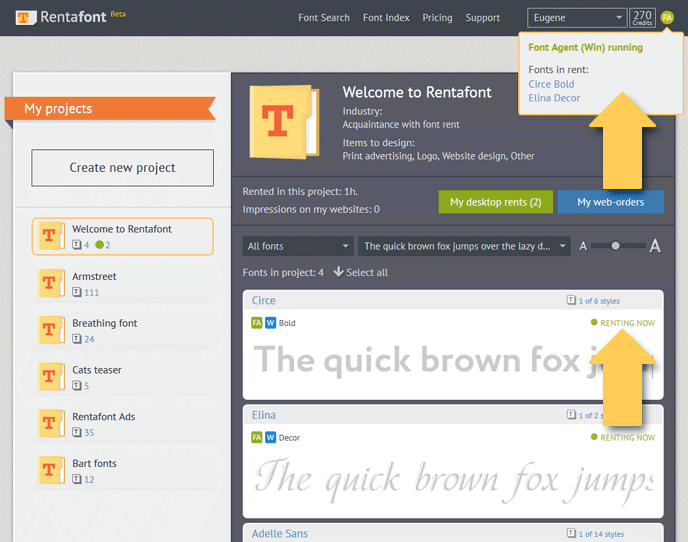 Please note that the Rentafont Agent is always showing the project you worked on last. However, you can decide to select any project and rent fonts for it with no restrictions whatsoever. That project will be in focus next time you run the Rentafont Agent.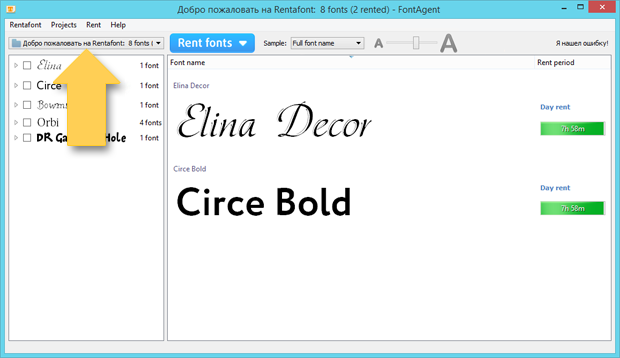 Ending the font rent
The end of rent of any font will not catch you unawares. The Rentafont Agent will generate an advance notification that certain fonts are to be removed from the system shortly. If you still need those fonts for your work, you can prolong the rent period.
Even if the rent expired when you were away from your computer or you have closed the Rentafont Agent, your layout will not suffer. All designer applications are made so that if a font is removed from the system, the entered text will retain its settings. It does not matter whether the layout is open or not, the text will "remember" the required font.
Upon rent expiry, pausing or exiting the Rentafont Agent, any changes of layout text blocks will only be superficial. The application will automatically substitute some other font instead of the one that disappeared. As soon as the required font is rented again, the text blocks will change and assume the required appearance.
Therefore, don't be in a hurry to convert your posters, magazines or books to curves. Simply rent the fonts for the length of time needed for work.
Possible rent problems
Occasionally, when launching the Rentafont Agent for the first time, the rented fonts may not appear in the relevant application. If this is the case, make sure that rent period has already started: both the fonts and their rental periods should be shown in the Rentafont Agent's main window.
If the rent period is running and the fonts still don't work, simply restart the application, which has not received the fonts. If this does not help, restart the Rentafont Agent.
Should the problem persist, press the "Report a bug" button in the right-hand top portion of the Rentafont Agent window, describe your problem, and send out an error report.
Be Sure to Share Your Impressions:
About renting fonts via Rentafont Agent Windows: http://goo.gl/forms/5dxq67Kvzi
About renting font via Rentafont Agent Mac OS: http://goo.gl/forms/a4TtkUpGBs
Working with web fonts
You can build in any web fonts from the Rentafont collection into your websites using the @font-face + CSS mechanism.
Features of Rentafont web fonts:
| | |
| --- | --- |
| Standard web font order volume | 50K to 50M previews |
| Number of user websites | Any number |
| Web fonts per user's websites | Up to 5 / Unlimited* |
| Number of available web fonts | Whole collection |
| Adding, removing, and replacing fonts | Yes |
| Adding the number of impressions | Yes |
| Changing the target website | Yes |
| Accurate count of access to fonts | Yes |
| Font subsets | On preorder |
| Order validity period | Unlimited |
| Script hosting on user website | Allowed |
| Hosting of web fonts | Rentafont server |
* Unlimited number of web fonts can be ordered after adding funds by $20 or more.
About 75% of Rentafont fonts have web format and they are marked by
legend. The remaining fonts are either
(they can be simply downloaded) or they have no Web format yet, but it may appear later. If you have found a suitable font, but it has no Web version, simply
contact us
.
Step-by step directions for using web fonts
1. Find and add to your new project any fonts suitable for your website.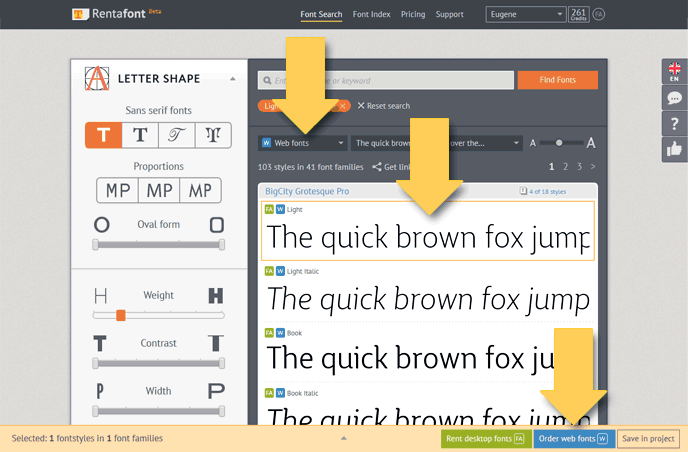 2. Rent them via the Rentafont Agent application and prepare design of website pages.
3. When the design is approved and sent for coding, select the font used in the layout and create an order for web fonts with the required number of previews, e.g., 50,000. Specify the address of the local version of your website and press "Checkout".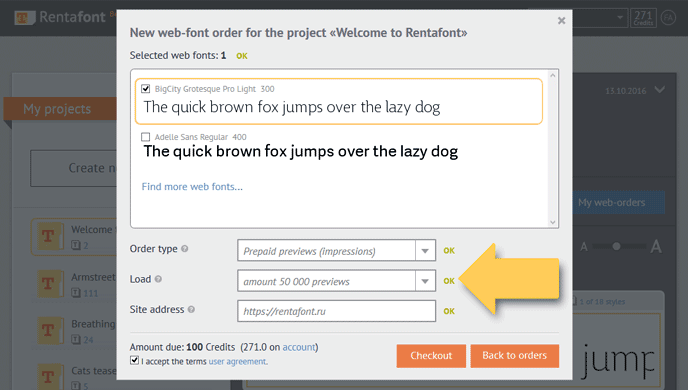 4. When the website has been coded, edit your online order by replacing the address of you local server with the address of the public version of your website and adding the required number of previews.
You can at any moment change the web fonts, change the website address or increase the number of impressions.
Buying fonts
You may not only rent fonts from Rentafont, but also buy them permanently, e.g., for use in packaging design or for book publication. Rental of fonts before buying will help you to make sure that purchased fonts will work well in our layouts, i.e., bring benefits rather than simply sit in the Fonts folder.
To buy a font, click "Rent/Buy" button on any font sample or in the bottom palette of selected fonts. Also on the font pages in the Font Index you can see the buttons "Buy Font" and "Rent/Buy Family".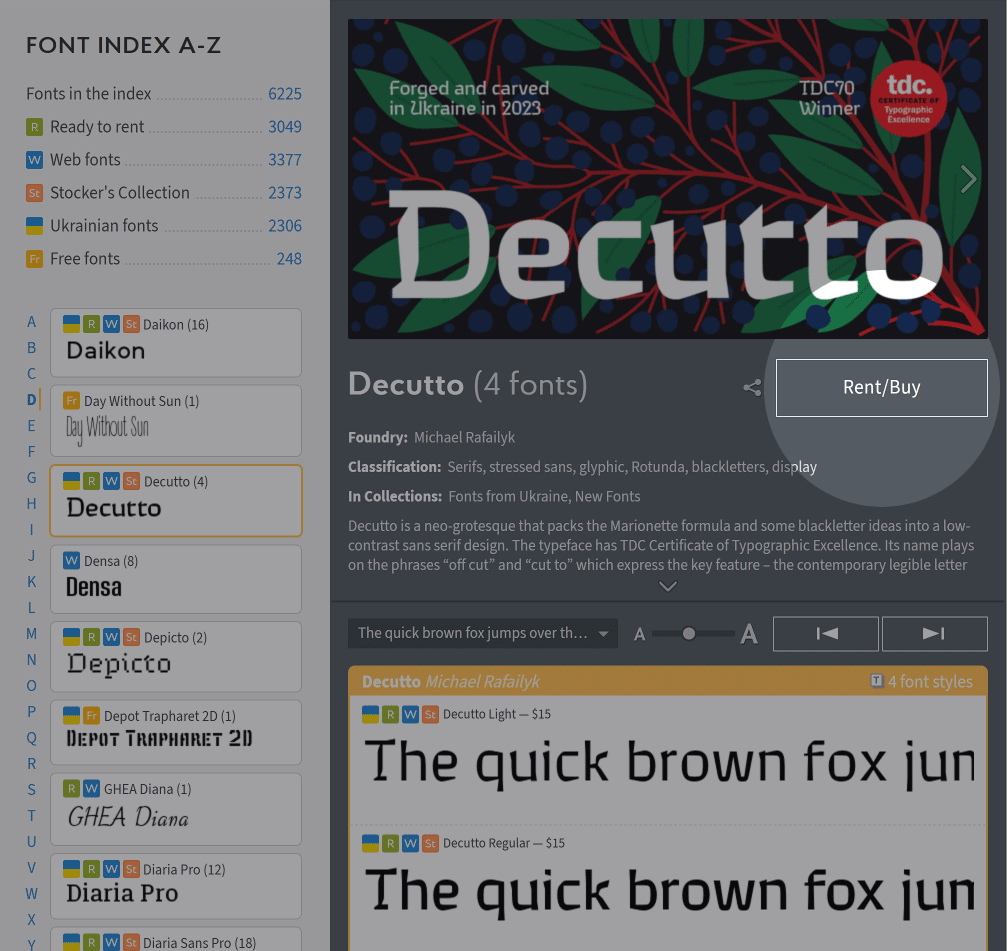 Rent users are offered a cumulative discount when buying licenses for the previously rented fonts. By combining rent and buying, you can achieve significant savings of both time and money.
Security of renting fonts
All the desktop and web fonts at Rentafont are securely protected from illegal copying thanks to unique technologies: The Rentafont Agent system of secure authorized access to desktop fonts and improved script @FontFace. All the work with fonts, as well as the whole procedure of payment for Rentafont services are protected by SSL Certificate.
The Rentafont fonts are stored on server only, therefore, you can work with them as you would with normal fonts; however, they cannot be copied either accidentally or intentionally.
Collaboration with Rentafont
For type designers
Rentafont is expanding the range of legal users of your fonts through font rent for the time of their work. The rent does not replace the purchase of licenses, rather it simplifies buyer's choice.
A graphic designer makes a layout and pays for the time of work with fonts, and then, the layout customer buys the required licenses or uses web fonts. In this way, rental is beneficial for both designers, clients, and font designers.
Rentafont brings in illegal font users from the cold. Who will want to look for pirated font copies and break the law, if rent is more than affordable? Besides, the Rentafont fonts are included in a database with unique search engine in English, Russian and Ukrainian languages and are associated with user's projects. All fonts are securely stored on the server and are available anytime and anywhere. These advantages make piracy unprofitable.
Our font collection contains hundreds of multilingual typefaces in desktop and web format. We work with type designers and foundries from around the world, including Paratype, TypeType, TypeTogether. Add your fonts to the Rentafont collection and earn a respectable royalty under normal collaborative terms and a huge one under exclusive terms.
Send your application with a reference to samples of your fonts to info@rentafont.com, and we will contact you within two days.
For partners
Rentafont is always happy to work with people passionate about fonts: from calligraphy to web design. If you have commercial, educational or esthetic interest in fonts, typography or any other kind of design, we could offer you information partnership, joint projects, and special terms for using fonts.
Rentafont partners
Projector — http://prjctr.com.ua/
Projector school — the way it should be. We know our subject (web design, programming, marketing), we are passionate about education and we do love people! We are not indifferent — so that is why gathered here so many talented people. On both sides of the class.
For any cooperation or partnership matters, please contact info@rentafont.com.