36 Days of Type on Rentafont
21 March, 2020 · Yevgen Sadko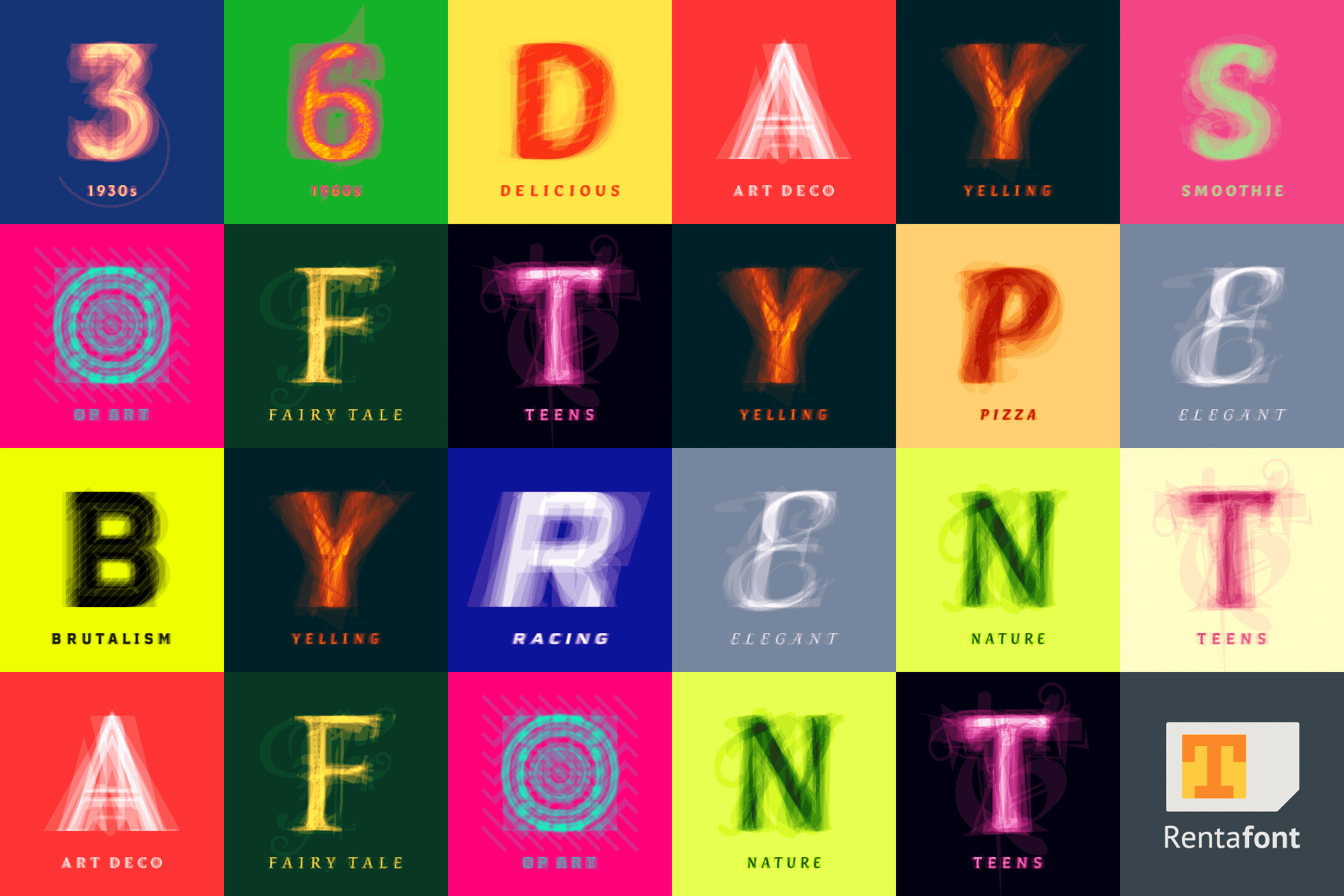 Participating in a worldwide designer challenge #36daysoftype we decided not to draw letters, but to mix Rentafont's typefaces in a certain way. For each letter we took a popular search tag, opened rentafont.com, and searched fonts for that tag. Then we've chosen 10-15 typical font styles and created a new font image, using equable blending. That's how generalized font stereotypes appeared. These are delicious, fabulous, childish, martian, jazz, classical forms, as well as forms typical for the decades of the 20th century: fonts of the 1930s, fonts of the 1950s, fonts of the 1980s etc.
On the Ukrainian font stereotype, you can see how averaged images come out from fonts in Ukrainian style.

This year we did not just make posts on social networks, but immediately printed the entire set of letters in the form of a Rentafont Collections Catalog. This relaxing video shows how it looks:
26 Font Collections for Latin Alphabet
10 Font Collections for all Decades of 20th Century
Bonus Font Collection
Fonts in the late Soviet style. Many of them are featured in the Chernobyl series by HBO, and one typeface is very similar to it's title. They perfectly convey the harsh post-apocalyptic atmosphere! You can see the fonts from this collection in the bonus video:
One of the main advantages of Rentafont is Font Search with very detailed font description base, consisting of 12,000 unique keywords and options in English, Russian, Ukrainian. More than 4000 fonts with Latin and Cyrillic are described in this way.
To get an access to the full updatable database of font descriptions, font search API, datasets for machine-learning, write to info@rentafont.com.
See Also Other Font Collections: